New England is well into fall yet today the mercury hit 74℉. It's supposed to be warm again tomorrow, despite that the typical average high for this time in November is 55℉. Mind you, I'm not complaining. It's no secret that I hate being cold, so this is like a warm embrace after frost on the ground last week.
But even to me this is weird. The leaves are falling rapidly; the colors past their peak. The trail in the woods where I take my dogs is barely discernible under the leaf-blanket. And so are the tripping hazards.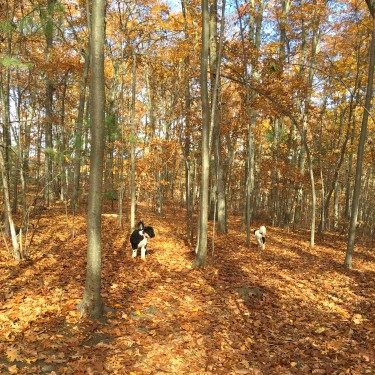 Which dog do you think is on the trail?
Today, I was traipsing through the leaves in shorts and that is strange, no matter how much my body and soul love this kind of weather.
___
This is yeah write's NoMo writing challenge Day 5.