Trunk Club Review #2: December 2015
I was really excited back in September when I learned Trunk Club had started styling women! So of course I signed up. Then it took forever to get my first trunk. And then none of it really worked for me (reviewed here). So naturally, I was anxious to get another trunk. But my stylist was clearly too busy because my second trunk still hadn't arrived two months later. So at my prodding, she handed me off to her colleague, Halley, and last week I received my second trunk!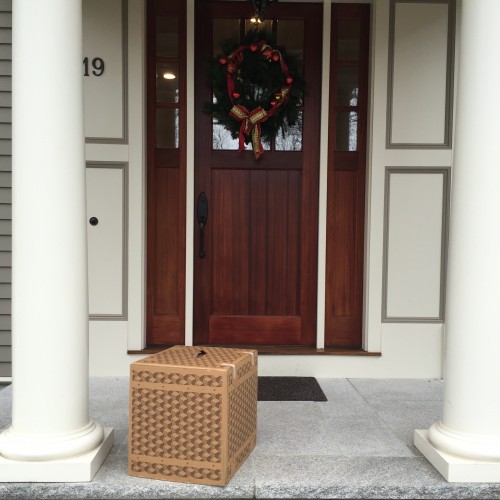 Trunk Club is owned by Nordstrom and is similar to some other styling boxes in that you create a profile online and then are paired with a stylist. But in this case you can directly contact your stylist via email, phone or text! And there is no styling fee (and also no buy-all discount). It's free shipping and free returns and you only keep what you want. But retail (Nordstrom!) prices, although they will automatically price match if something goes on sale, the way they do at Nordstrom now. Basically, there is no downside because you can send it all back for free. If you'd like to give it a try, and don't mind using my referral link, I'll get a small credit (at no cost to you!) the first time you buy something.
So let's get on with my second Trunk Club review!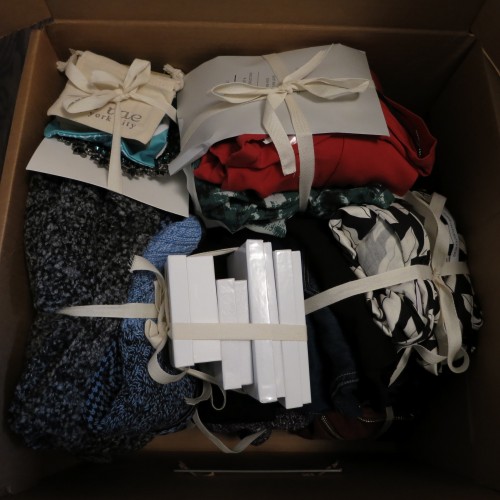 I received 25 items, including quite a bit of jewelry because I had requested statement pieces (which are sadly lacking in my wardrobe)! The number of items varies from trunk to trunk but from what I've read, 15 is about average. I have to apologize that the photos are not as bright as I usually like. It was a dark rainy day and I was unable to take pictures outside. I think you can still get the idea though. Halley mentioned that she sent a variety of price points so I can see the range of quality so some of what I received was quite expensive. I do want to add that I intentionally tried everything on and formed an opinion BEFORE I looked at the prices.
First up: Diane Von Furstenberg wrap dress: $398 when it first arrived but on sale for $239 when I checked out.
I had mentioned to Halley that my husband's holiday party was in January and she suggested this dress as a possibility.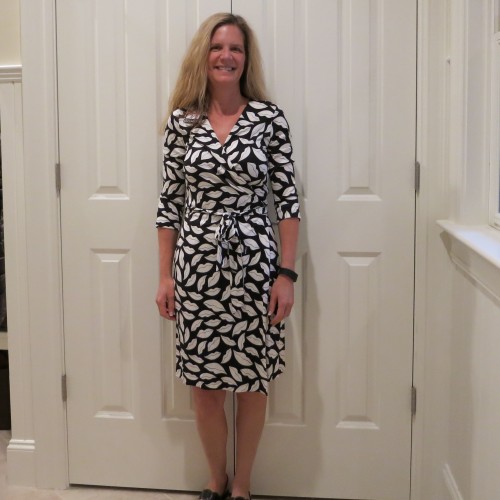 The fabric of this dress was heavier and felt really good on.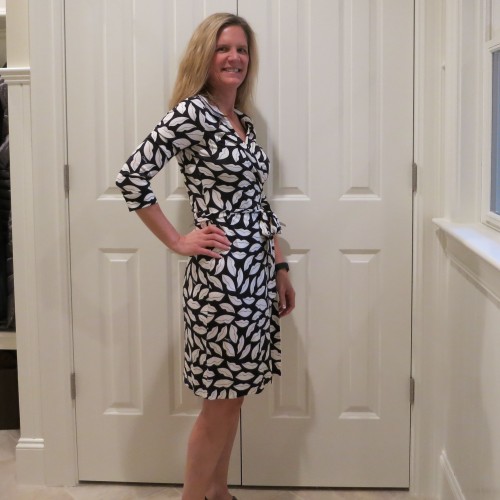 But I just don't love wrap dresses on me. And also, it didn't really seem like a holiday party dress to me so I returned this.
Next: 7 For All Mankind Slim Illusion "A" Pocket Flare jean ($198); Joie Devitri Floral Print Silk Blouse ($278); Joie Coraline Cotton Cami ($21)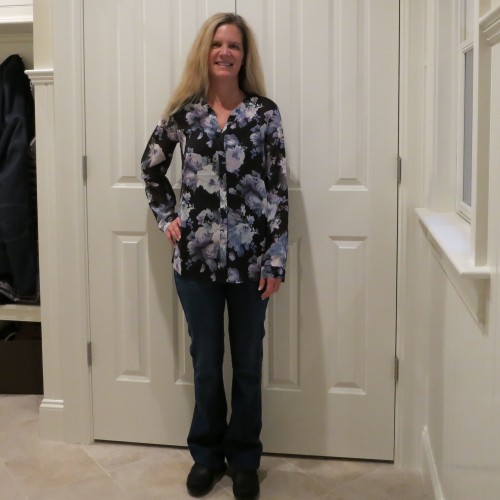 I loved the fit and feel of the jeans, which are a bit hard to really see in this photo. They were way too long, so I did my best to roll them under. In the end, I sent them back because I found the exact same jeans on sale on the 7 website for $139 and Nordstrom wasn't price matching them.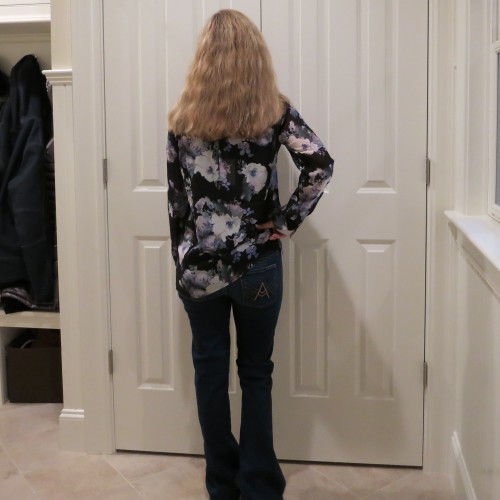 I loved the floral pattern and feel of this shirt (well, duh, it's silk). BUT it was very sheer. Yes, she sent a cami to wear underneath but here's the thing: I don't like wearing camis, so typically I don't buy things so sheer. I also very rarely wear blouses, although this one is cute enough that I might have considered splurging if it had been less sheer. In the end, I sent the blouse and cami back because I knew the cami would put me off.
Next I tried on the Pleione blouse ($58)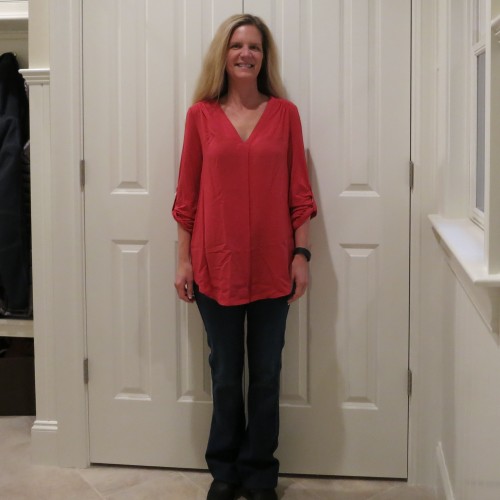 This blouse just didn't grab me. It was a bit too flowy for my taste and as I mentioned, I rarely wear blouses so the few I have need to be awesome. Needless to say, I returned this.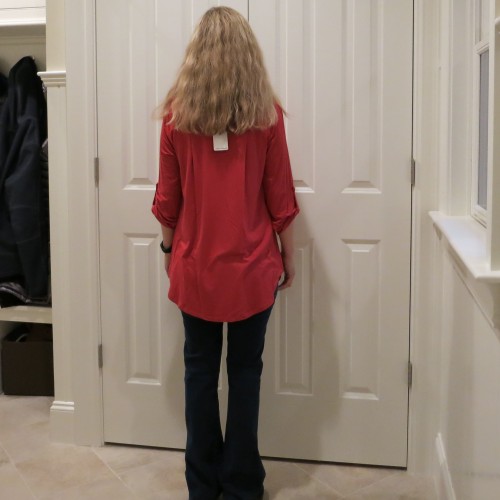 I kept this outfit on to try the Trouve Collarless Leather Jacket ($298)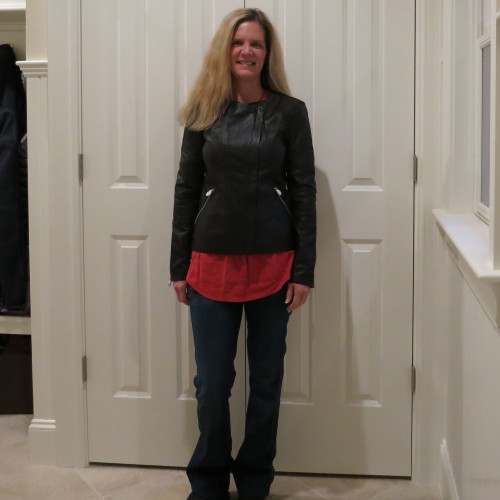 Not sure it's obvious in the photo but this was too snug when zipped, which is odd because I'm usually a S (the size sent), the sleeves are perfect, and I'm not super busty. But it was tight across the chest!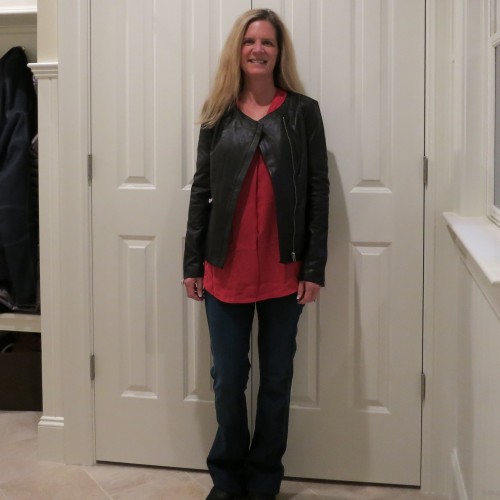 When it was open, I couldn't get the collar to fold back like it showed in the picture online. I thought it looked odd this way. I sent it back.
Next I tried on the Paige Transcend Indio Skinny Jeans ($219) and the Equipment white silk blouse ($214).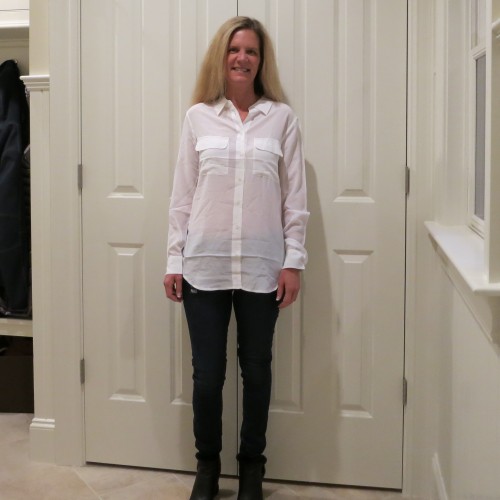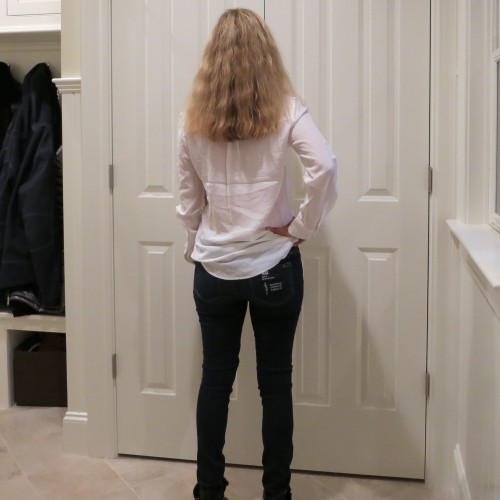 This blouse was too sheer for me. I didn't have a tan cami to try it on with but since I'm not a cami-under-blouse type of gal, once I saw how sheer it was I knew I wouldn't be keeping it. Plus, I just don't wear a lot of white except for the occasional layering tee. I realize that a basic white blouse is viewed as a closet must-have but as I said, I don't wear blouses all that much so I prefer the few I have to be fun. And the jeans? First, I have never felt such amazing denim in my life. I can see why people pay so much for Paige's Transcend denim. They are so so soft. Unfortunately, I didn't like the way these wrinkled up all along the backs of my thighs (the picture is too dark to show this). I am not sure if it's because these jeans are super-skinny (my other skinnys are regular skinnys) or if it was the fabric. I hope the former because I would love to have a pair of jeans in this fabric.
The other leather jacket that Halley sent (according to the preview and invoice) was the Veda Max Classic in burgundy ($898) (I know!)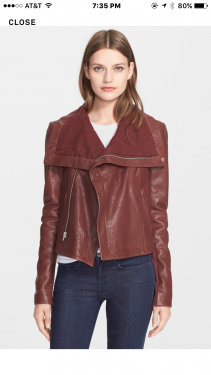 Only what arrived was not that jacket. What arrived was the Jayne Suede Moto jacket. Same brand, same color, same price (when I looked online), but not the same jacket.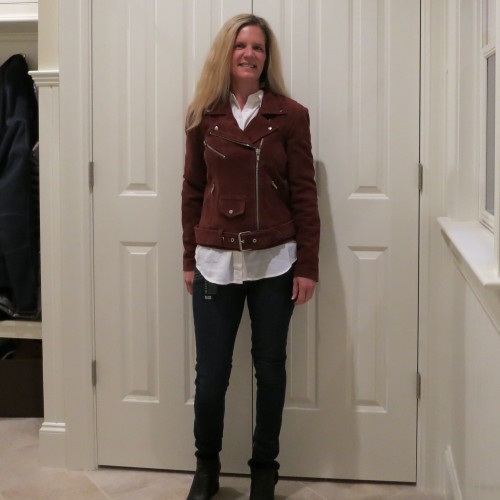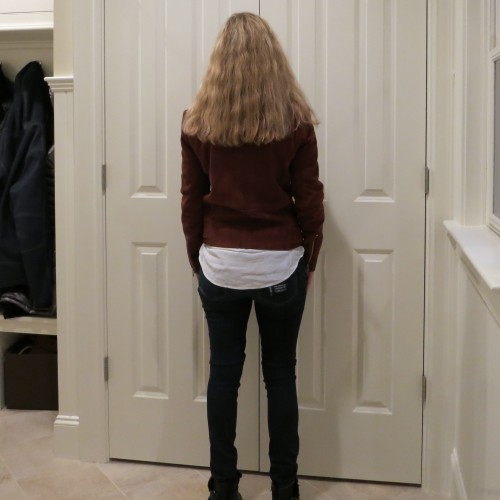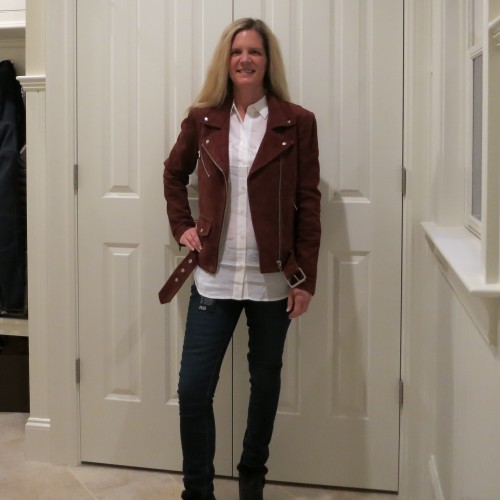 This was cute but not nearly as cute as the one Halley picked out, and I certainly didn't think this one was worth the hefty price tag. Bye.
Next I put on the Classiques Entier Mix Stitch Merino Wool Sweater ($128) with the Kendra Scott Rebecca Bib Necklace ($225).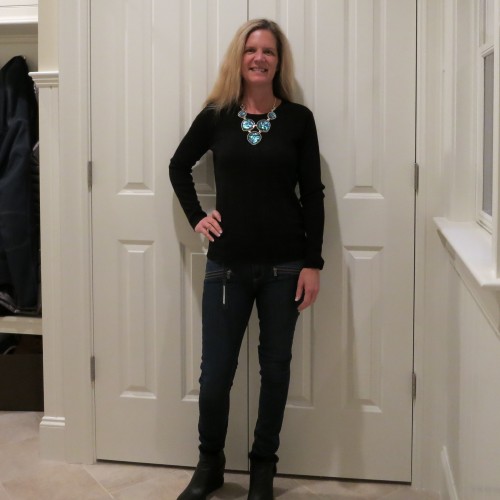 This basic black sweater was itchy, which is a no go for me. Also, I have quite a few basic black sweaters already and even if it hadn't been itchy, it needed to have something "different" or fun about it. It was textured but it's pretty subtle. The necklace was my favorite out of the box of all the jewelry Halley sent. When I first saw it, I thought I'd probably keep it. But  I didn't like it as much on me. It was distractingly bright and I wasn't sure I could pull it off. I didn't end up keeping it but I'm really glad she sent this necklace because style-wise it was totally the right idea. I'll mention right now I didn't keep any of the jewelry. There were several necklaces and several pairs of earrings and in the end I just didn't love any of them. I didn't take pictures. This post is already so many pictures. I am super picky about jewelry and in retrospect, it probably wasn't logical to have a stylist pick jewelry for me. I guess I have to actually go shopping.
Next I put on the NIC ZOE Blue Ombre Long Cardigan ($188)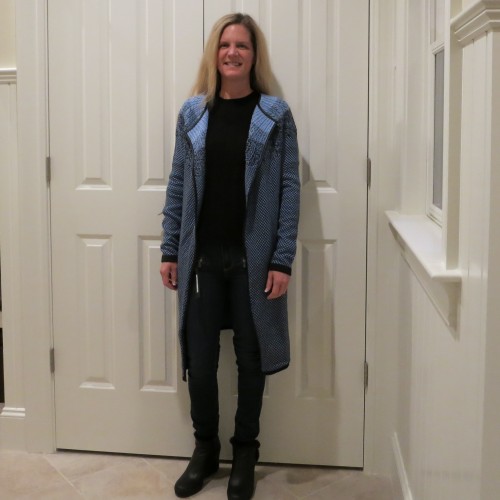 This sweater wasn't fitted enough for my liking. It was too shapeless for being so long. Returned.
Vince Colorblock Boatneck Pullover ($165)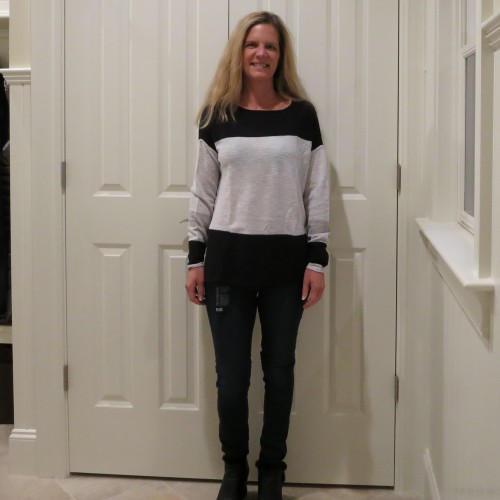 This sweater was very thin and too shapeless for my taste. It looks more fitted in the photo than it really was.
Trouve Zip Front High/Low Tunic ($78)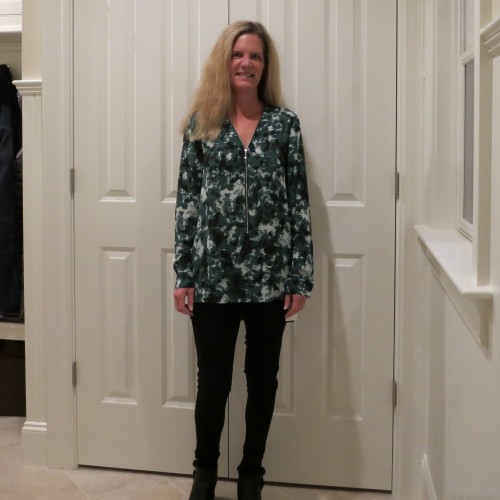 When I first saw this tunic, I loved the pattern but thought a zipper in the front was an odd touch. But when I put it on, I really liked it. You can adjust it to be higher or lower cut, which is pretty cool. Also, it was a fun look.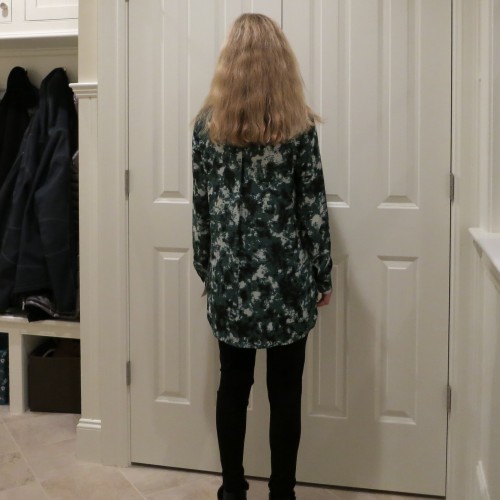 It's quite a bit longer in the back. The material is polyester but it feels nice, not icky. I couldn't tell it was polyester, but that's what the label says. So bonus for easy care polyester that doesn't feel like polyester. I kept this top! Then I threw on the Voie Vangeline Cardigan ($248)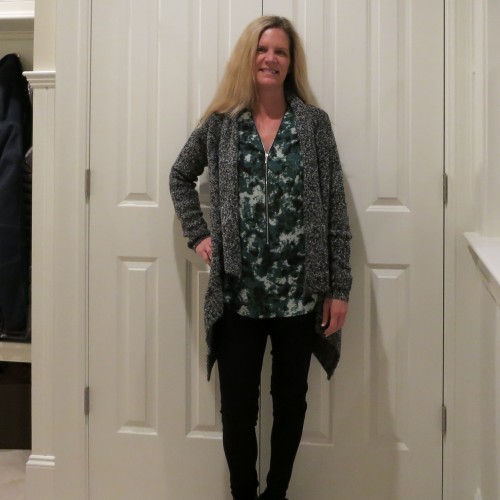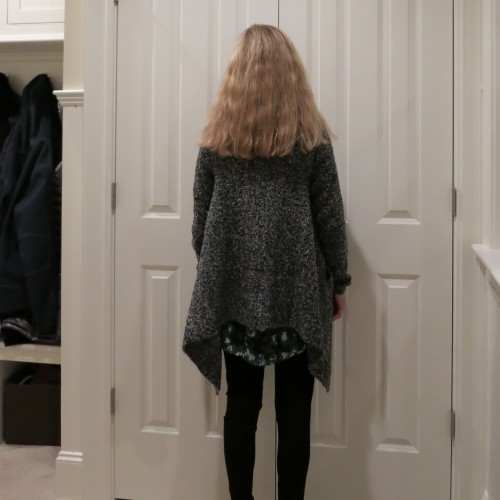 I didn't love the way this draped or how much shorter is was in the back. I didn't keep it.
Caslon Turtleneck Tunic Sweater ($78)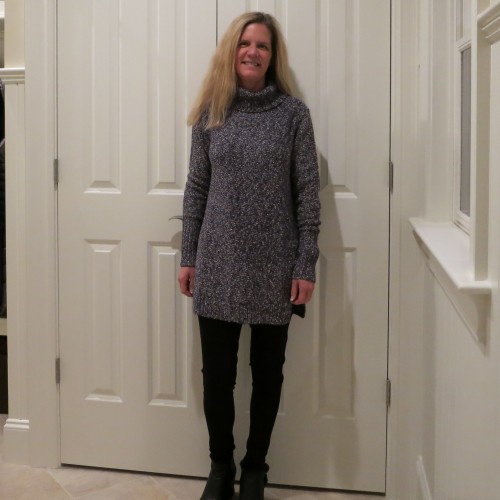 This sweater was very cozy. I loved the length and the slits on the sides.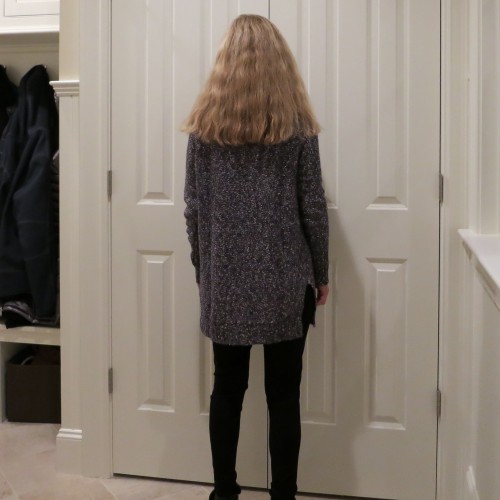 I just didn't love the color (or lack thereof). I probably would have kept this if it had been a more interesting color because there is definitely more room in my closet for legging-friendly cozy sweaters!
Speaking of leggings, Halley sent a pair of Vince Camuto seamed black leggings but they were too big (no photo). Also, I have plenty of leggings, especially black ones, and don't really need more. I would only be tempted by leggings that were different and interesting relative to what I already have.
Halley also sent two pairs of booties, both of which I returned. The Eileen Fisher Leaf Booties were not comfortable. I think they were a tad small. The Faux Fur trimmed Aquatalia wedge booties were super-cute. But they were too small (7.5 and I'm an 8). Also, when my second trunk didn't arrive before November, I went out and bought a very similar pair of Aquatalia wedge booties. So as much as I love them, I don't need two nearly identical booties.
Overall, I thought Halley did a great job. I liked the variety she sent. This is her first time styling me so there was no way she was aware of all of my likes/dislikes. I am thrilled with the one thing I kept!