I worked in research in the pharmaceutical industry for many years, so of course I believe in the power of modern medicine.
Some drugs prove more challenging than others, it's true. In particular, drugs for psychiatric illnesses are notoriously difficult to administer successfully since the doses vary so greatly from person to person and even an individual's dose can change over time.
But anti-nausea meds?  Straightforward.
So when the nurse pushed the first dose of chemo into my vein and told me that the strong anti-nausea meds in my IV would prevent me from feeling sick for at least 24 hours, I believed her. I left the cancer center feeling good, armed with pills to take the next morning, if I felt nauseous.
In fact, I felt good enough to go out to lunch with Rich before he went back to work – because I'd be fine.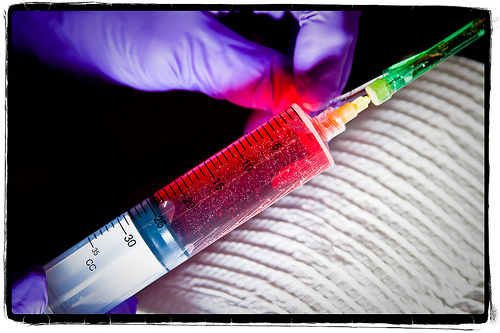 Two hours later, I threw up my lunch. I didn't blame the red death. After all, I had powerful anti-emetics coursing through my bloodstream. I figured maybe I ate something that didn't agree with me since I felt fine after that involuntary purge.
I drank a ton of water to flush out my system but expelled the water twenty minutes later. Just like the first time, the nausea had hit hard and with very little warning.
Twenty minutes after that, I heaved relentlessly until bile came up.
After that episode,  I called the cancer center. Instead of offering me a solution or any other form of comfort, the nurse insisted that my vomiting was psychosomatic. Anyone that knows me at all will recognize the absurdity of that suggestion. I am the last person in the world who would have that type of reaction. I had believed in those meds.
Until they didn't work. For three entire days, I threw up violently every twenty minutes until I was so dehydrated that I had to be hospitalized.
My oncologist told me he'd never seen anyone get so sick while taking anti-emetics. So one month later, the second time the nurse poisoned me with the red death, he told me to start taking the pills right away rather than waiting until the next day.
The pills didn't help one bit.
After 24 hours of intense heaving despite the "best" drugs, my oncologist admitted me to the hospital for the next two days. Miraculously, as long as I received the anti-emetics continuously by IV, I didn't get sick.
For my last two treatments, I begged to stay in the hospital for those three days post-chemo. At first my oncologist refused – doctors don't like to go outside of their treatment paradigms when no precedence exists, especially if there's an associated cost.  So I argued as if my life depended on it. In the end he couldn't deny that for some strange reason the traditional administration of anti-nausa meds had failed me badly, leaving me dangerously dehydrated. For my effort, I won two all expenses paid trips to the hospital.
Of course, the last two chemo cycles in the hospital weren't exactly fun. I did have to contend with nurses frequently waking me up in the middle of the night to check my vitals, but at least I didn't get violently ill.
And hospital food never tasted so good.
___
Thankfully, I am nearly 15 years cancer-free. Click on the links if you'd like to read about my diagnosis, an acquaintance's missed diagnosis, or how I can't bear to part with my pre-cancer ponytail.
I'm in my usual Tuesday spot, hanging out with all of the cool kids at yeah write. Go check out all of the awesome blogs on the grid!