The cabinet underneath my bathroom sink contains a green bag lodged somewhere near the back.
It's been there for more than 14 years, although not always under the same exact sink. We've moved twice during that time, but the bag always comes with me and takes up residence under the new sink.
I forget about the green bag, sometimes even for years. But invariably, I stumble across it again when I am doing something mundane, like looking for a new bottle of shampoo or a fresh tube of toothpaste.
When that happens, I'll typically stop what I'm doing. Then, I'll sit on the bathroom floor and open the bag, withdrawing my pre-cancer ponytail.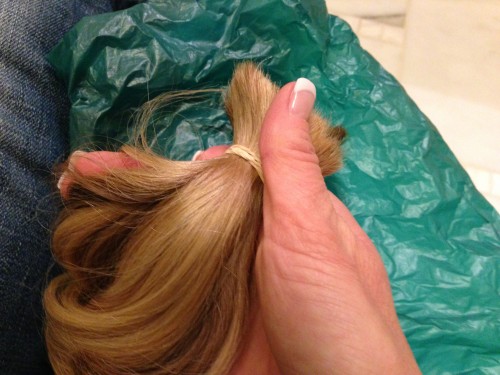 I'll put the ponytail up to my nose and sniff deeply. It smells sweet and of innocence, different from my hair now. It's blonder, naturally so, whereas now I achieve that same hue with salon highlights. It's straighter – not perfectly straight – but my hair grew back much wavier than it was before I had chemo. I am not opposed to my new hair, but for some reason I can't let my old hair go.
Logically, I know I should throw it away. It's one thing to keep clippings from baby's first haircut but what kind of crazy person keeps their own hair?
Hair of the dog doesn't apply to cancer treatment. Chemotherapy is a bitch with a capital B. No one knows beforehand how they'll specifically handle chemo, either physically or mentally. Physically, I became extremely sick, but that's another story. Mentally, I was a wreck, but that's hardly surprising. The one and only thing that IS predictable with the drugs that I received is that everyone loses their hair about 3 weeks after the first treatment.
EVERYONE. It's not a maybe.
Before chemo, my hair fell in loose waves almost down to my traitorous breast.
Two weeks after chemo, I went to Supercuts to get my hair cut really short before it fell out. I definitely wasn't going to pay salon prices for a haircut destined to fly out of my head a week later.
When it was my turn, I found the shortest haircut in the styles magazine, pointed, and stated with as much confidence as I could muster, "Like this, only a good inch and a half shorter."
I think I sent the poor haircut girl directly into therapy. She was very young. She didn't really believe I wanted my long hair cut so short, and she was right – only she didn't know I had no choice. I thought about telling her the truth but 1) I was afraid I'd start crying and 2) I was worried about freaking her out, although probably she'd have been much happier if I'd told her my reason (but see #1).
She first put my hair in a low loose ponytail before confirming, "Are you sure?"
"Oh yes, cut it all off please." I'd never been more certain when it comes to my hair.
She trembled slightly when she picked up the scissors. Then with one firm snip, she cut my ponytail off. I thought she was going to cry. I thought I might too. She gently put the ponytail into a green bag and silently handed it to me, somehow knowing I needed to take it home.
And I did.
When I got home, I laid the bag to rest in the vanity cabinet. As I stood up, I looked in the mirror at the sassy survivor staring back at me and smiled.  Then I walked out of the bathroom, promptly forgetting my ponytail.
This morning, so very many years after that moment, I found myself once again sitting on the bathroom floor feeling the soft silkiness of my ponytail, breathing in its familiar scent. I knew it was finally time to part ways, toss it out, leave the past in the past.
Instead, I placed my ponytail back in the green bag and put it under the sink behind the sunscreen.
___
My entire family was incredibly supportive during my cancer diagnosis and treatment. I want to thank and acknowledge my sister Robynne, who went with me to Supercuts that day to get my hair cut. She is very much a part of the story, even though I left her out for the sake of brevity. If you are interested, you can read my diagnosis story here.
I'm linking up again with yeah write, my favorite writing community. Head on over to read an entire collection of awesome quality blogs!