[This post is a rewrite of yesterday's post into a piece of fiction for yeah write. Regularly scheduled programming will resume tomorrow. I will explain myself then!]
I loved Disneyland but was WAY too old for stupid kiddie rides.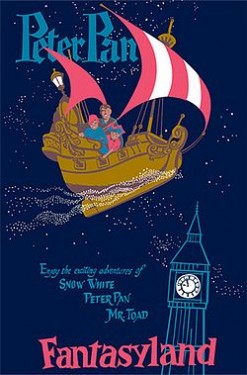 [source]
My baby sister believed she would fly if she went on Peter Pan's Flight. Literally.
"Peter Pan is not real, Neverland is not real, fairies are not real. It's just a dumb ride," I said. My sister was far too happy to be bothered by my mean remarks. She believed.
"It is only the gay and innocent and heartless who can fly."*
It was crazy to wait so long just so my sister could "fly." I was a big girl and knew the difference between real and make-believe.
"All children, except one, grow up."*
We waited for more than an hour, while the summer sun burned fiercely without respite. I couldn't fathom why my parents would allow this unpleasantness. If I had kids, I would never permit it.
"Never is an awfully long time."*
I shuffled along, miserable, until reaching the inner sanctum and welcome shade it provided.
Eventually, we were next. The attendant helped my sister into the miniature galleon. I didn't need help, obviously. My sister was giddy with excitement. I was embarrassed for her.
The galleon moved slowly forward into the Darling's bedroom, which consisted of cartoon cutouts. The track on the ceiling indicated that we would "fly" out the bedroom window, into the "night."
"Wendy, Wendy, when you are sleeping in your silly bed you might be flying about with me saying funny things to the stars."*
Then, through bad speakers, came the voice we had heard repeated 1000 times while waiting in line.
"Come on, everybody! Here we goooooooooooo!"**
The galleon jerked forward towards the window and "flew" out, just as I knew it would, ascending over "London."
The room was dark with fake stars everywhere, little holes in black material backlit with lightbulbs. When I heard "Peter's" voice delivering directions, I knew we were heading for "Neverland," or whatever representation the Disney set technicians had recreated from the movie.
"Second star to the right and straight on 'til morning. "*
Unbelievably silly.
Then suddenly, as if by magic, the galleon disappeared and I was transported to Neverland.
"Neverland is always more or less an island, with astonishing splashes of colour."*
And I was flying beside my sister, who said "See?!!!"
Dazzling colors swirled around Neverland. We flew playfully, hand in hand, through the kaleidoscope sky.  Enraptured.
"Can anything harm us, mother, after the night-lights are lit?"*
Through the colors, quite suddenly, Captain Hook materialized. I darted rapidly, saving my sister from his menacing hook.  With long golden hair streaming behind us, we escaped.  Away into the glittering rainbow, along with the fairies.
"I do believe in fairies! I do! I do!"*
Maybe I'm not grown up quite yet.
"It is only the gay and innocent and heartless who can fly."*
Turns out, it wasn't stupid at all.
*J.M. Barrie, Peter Pan
**Peter Pan's Flight, Disneyland