The sensationalism around the current Ebola epidemic has got to stop.
Look, I get that Ebola is scary. The mortality rate for the 26 outbreaks in Africa over the last ~30 years has ranged from 25-90%. So yeah, Ebola is deadly. But that is no excuse to ignore scientific facts and spew nonsense.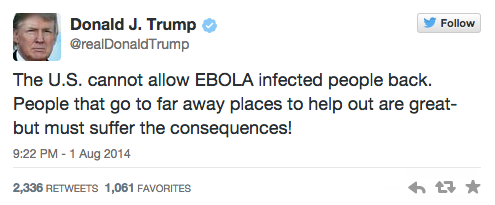 Really, Donald? We should abandon American citizens who volunteer their time and expertise to help people in poor countries with inadequate medical resources? These people are heroes who deserve our full support.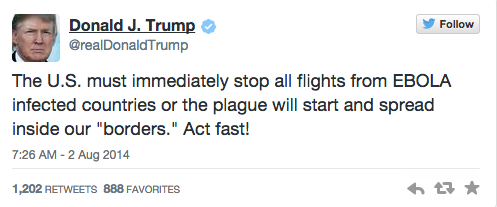 Seriously, Donald? Inciting panic is both juvenile and counterproductive. Oh, and Donald? A plague is a contagious bacterial epidemic. Ebola is a virus.
Recent events certainly haven't helped silence those who choose hysteria over rationality. Last month, a man from Liberia flew to Texas and unknowingly brought Ebola to the US for the first time. But he was asymptomatic upon arrival and the virus isn't contagious until symptoms appear. He sought medical attention when he first started feeling sick but the hospital initially sent him away with antibiotics (which are ineffective against viruses) even though he told them he had just come from Liberia. He did everything right but his case was mishandled, and he paid with his life. Two nurses who treated him became infected because proper protocols were not yet in place. But let's also keep in mind the additional ~74 people that came into contact with him for the same reason (not knowing he was infected and improper protocol) and never got sick. Six additional Americans who contracted Ebola while working with patients in West Africa are in various stages of treatment here in the US.
(OMG, one's in Donald's city!)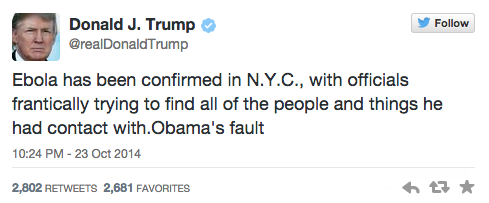 (Excuse me but) Shut the fuck up already, Donald. Maybe consider spending some of your billions to help instead of lobbying to deny fellow Americans (who are helping) the best possible care. And? Cut the crap, Christie-Cuomo and give our humanitarians the respect they deserve. People in positions of influence need to calm down, not fuel the fire.
Can we finally stop the Ebola hype and look at the facts?
Unlike the flu, Ebola is not an airborne virus. It's transmitted by direct contact with bodily fluids. Let me translate that: Relative to the flu, it's not so easy to contract. Also? It hasn't been a death sentence for people receiving immediate care in the US. There have been 9 cases treated here. The only death was the first guy, the one initially misdiagnosed. Everyone else recovered. That's 100% survival for people with immediate access to care in the US. Think about that compared to the 50% mortality in West Africa right now. The people that don't have access to all of the advantages of Western medicine are the ones dying. We shouldn't be punishing the heroes who help them.
We should be putting policies in place to encourage more people to do the same.
____
Check out more nonfiction stories at yeah write.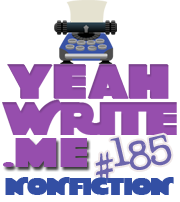 photo credit: hukuzatuna via photopin cc