Stitch Fix #40 Review: September 2017
Stitch Fix review time! Where is the color?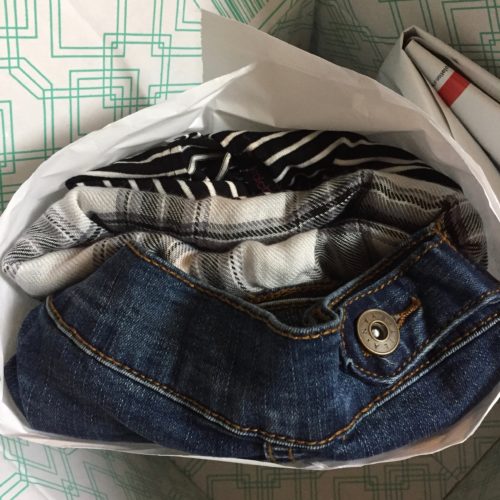 If you've heard of Stitch Fix, skip this paragraph! Never heard of Stitch Fix? Briefly, Stitch Fix is a styling subscription service in which you fill out a profile (sizes, styles, and price point) and receive a customized fix of 5 items (clothes/accessories) delivered right to your doorstep. There is a $20 styling fee but it's credited towards anything you keep. Keeping all 5 items gives you a 25% discount, which is awesome when it happens. You dictate the frequency of your fixes. If you'd like to try it, I have a referral link here and also at the end of this post and if you sign up through my link I get a small commission at no cost to you. Yay! And now for my review of my 39th Stitch Fix box!
Here is my note from Austyn, my current stylist.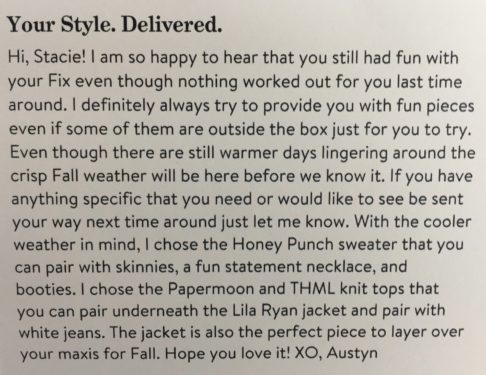 Here is what Austyn sent:
THML Kareem Pleated Embroidery Knit Top, XS, black, $54 ($41 with discount)
Papermoon Shiba Swing Knit Top, XS, teal green, $44 ($36)
Honey Punch Dempsey Plaid Back Pullover, XS, black, $58 ($44)
Lila Ryan Avianna Cropped Denim Jacket, XS, blue, $78 ($59)
Fraiche by J Benie Criss-Cross Knit Top, XS, black, $54 ($41)
There were two colorful tops after all! They were just buried.
First I tried on the Kareem Pleated Embroidery Knit Top.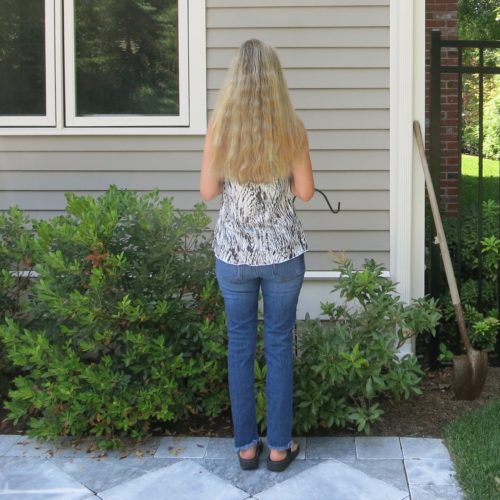 I liked the color/pattern of this top, but I didn't like the way it flared out at the bottom, even though it's not so obvious in the photos.
Next I tried on the Shiba Swing Knit Top (because all the color first!).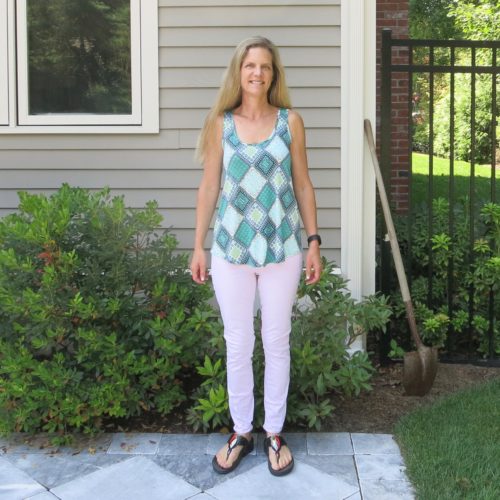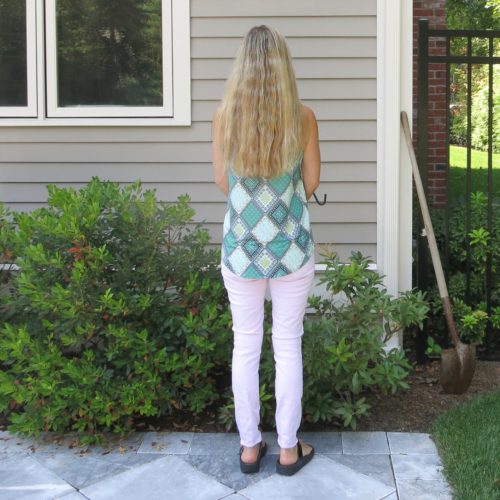 I adore this color and print. But this top ran large. It's hard to tell from the photo but this was too big for me.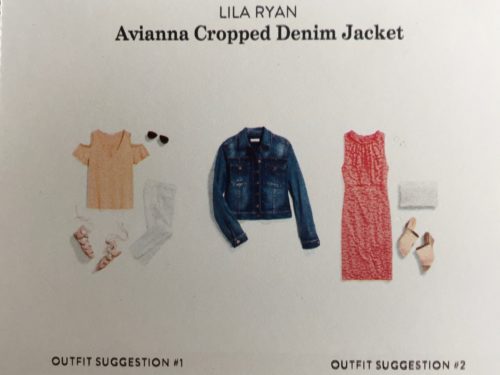 When I saw a denim jacket in this fix, I almost groaned. I have two already, although neither are cropped and both are lighter in color. I threw the Avianna Cropped Denim Jacket on over the Shiba Swing Top and voila: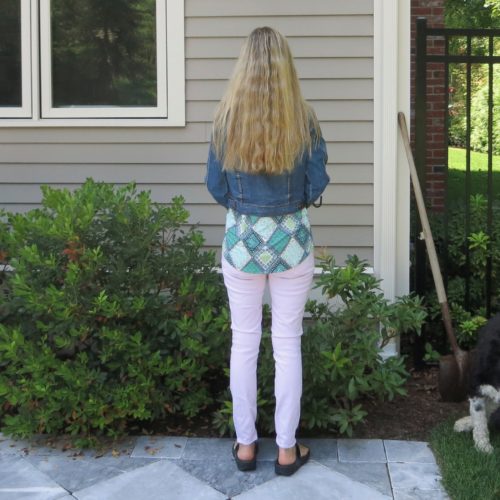 It's true I don't NEED this, but I really like this trendy little jacket! And it will be so cute paired with my maxi dresses too (Sorry you don't get to see that here; I was too lazy to change again).
I didn't love the Honey Punch Dempsey Plaid Back Pullover when I pulled it out of the box.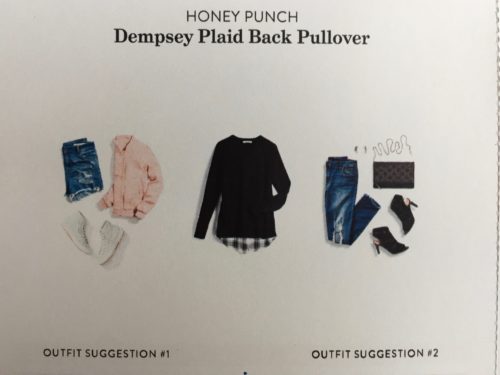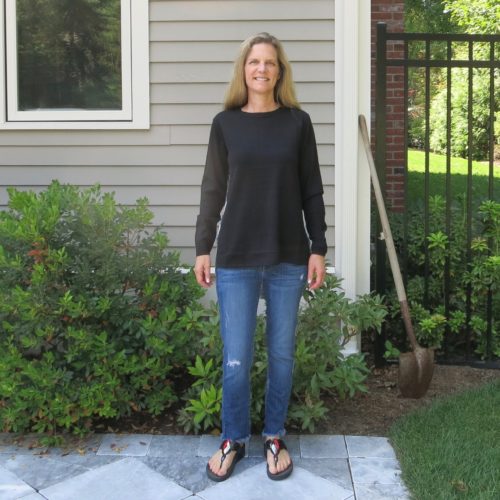 The front is kind of boring and the fabric is itchy, which is a no go for me every time. I like the plaid in the back but that won't save it.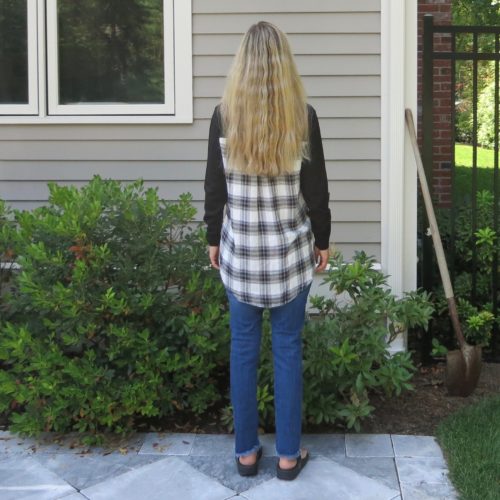 It's got that high-low thing going on but it's not super flattering from the side, especially if I remove my hand from my hip.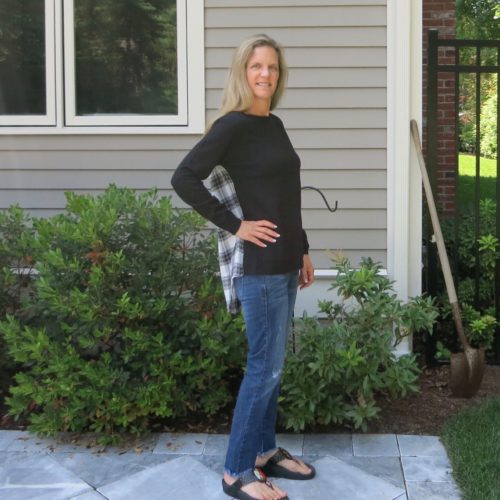 The last thing I tried on was the Benie Criss-Cross Knit Top.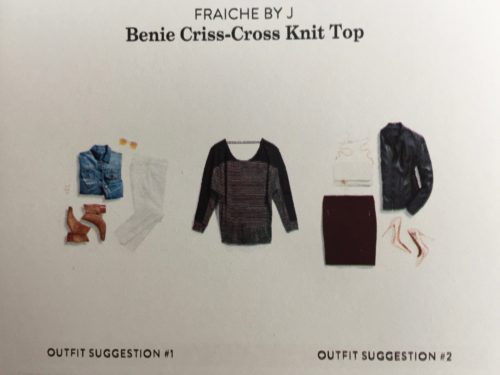 Cute top!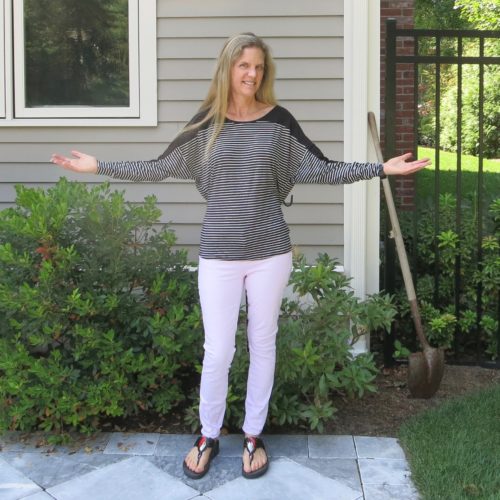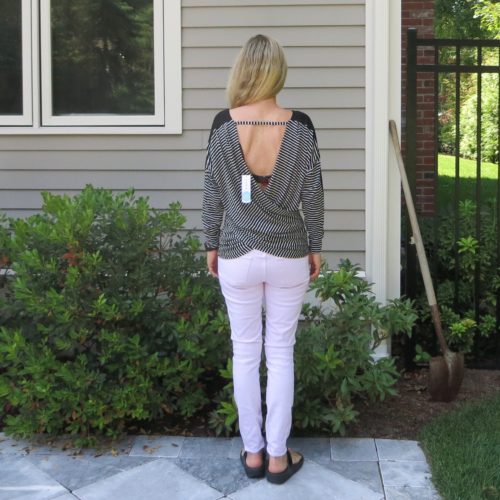 I have a feeling this is going to be the top that everyone says I should have kept. BUT I didn't. Whereas I like it in the photos, this was one of those tops that would require constant adjusting for it to sit properly. I just don't have the patience for that so back it went.
I wrote this review a week late, so it's only 3 more weeks until my next Stitch Fix Review. Stay tuned! I'm looking forward to some fun fall clothes.
If you'd like to give Stitch Fix a try and don't mind using this link, I'll get a $25 referral credit towards my next fix once yours ships. And that would be awesome.
(I have no affiliation with Stitch Fix other than a referral code. I buy these clothes myself and all opinions are mine).
Here are links to my other Stitch Fix Reviews:
Stitch Fix #39: August 2017
Stitch Fix #25: August 2016
Stitch Fix #24: July 2016
Stitch Fix #23: June 2016
Stitch Fix #22: May 2016
Stitch Fix #21: April 2016
Stitch Fix #20: March 2016 #2
Stitch Fix #19: March 2016
Stitch Fix #18: February 2016
Stitch Fix #17: January 2016
Stitch Fix #16: Holiday 2015 Edition 
Stitch Fix #15: December 2015
Stitch Fix #14: November 2015 Thanksgiving Edition
Stitch Fix #13: November 2015
Stitch Fix #12: October 2015
Stitch Fix #11: September / October 2015
Stitch Fix #10: September 2015
Stitch Fix #9: August 2015: I kept it all!
Stitch Fix #8: July 2015
Stitch Fix #7: June 2015
Stitch Fix #6: May 2015
Stitch Fix #5: May 2015
Stitch Fix #4: April 2015: I kept it all!
Stitch Fix #3: March 2015
Stitch Fix #2: February 2015
Stitch Fix #1: January 2015