Stitch Fix Review #25: August 2016
Oooh lookie!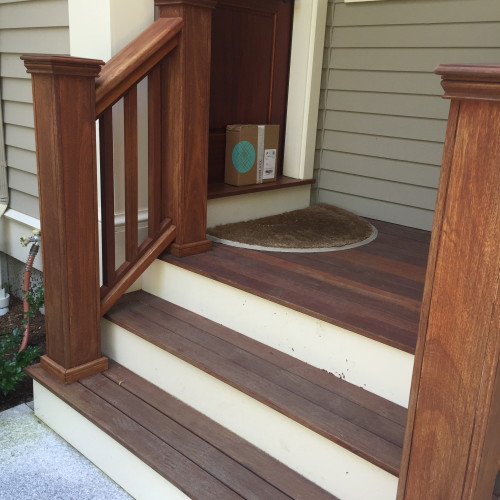 Stitch Fix Review time! I was really curious to see what this box contained because for the first time ever, I didn't write a note. I didn't skip the note on purpose; I was just so busy that I got the "your fix has shipped" email before I had a chance to write one.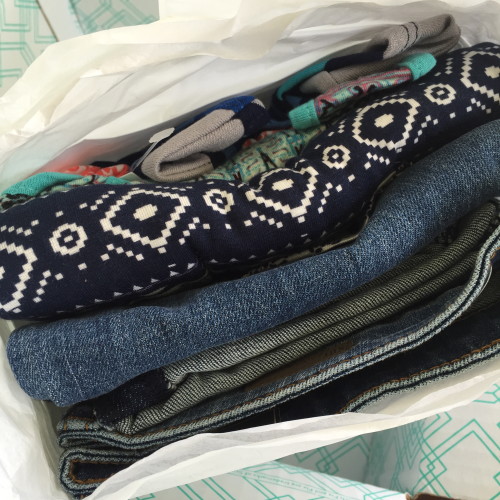 I'm always happy to see colors and patterns in my fix! But ugh, denim in August? I've been saying no jeans all summer – it's way too hot. My fault though, for skipping the note. Sigh.
If you've heard of Stitch Fix, skip this paragraph! Never heard of Stitch Fix? Briefly, Stitch Fix is a styling subscription service in which you fill out a profile (sizes, styles, and price point) and receive a customized fix of 5 items (clothes/accessories) delivered right to your doorstep. There is a $20 styling fee but it's credited towards anything you keep. Keeping all 5 items gives you a 25% discount, which is awesome when it happens. You dictate the frequency of your fixes. If you'd like to try it, I have a referral link here and also at the end of this post and if you sign up through my link I get a small commission at no cost to you. Yay! And now for my 25th Stitch Fix Review!
This month's fix was styled by yet another new-to-me stylist, Jess. I was disappointed that I didn't have Layla again. I'm resigned to the fact that she has either left or is catering to money-making big time bloggers (which I am not). This is three times in a row that I've been assigned someone new.
Jess wrote a nice, albeit brief, note and she looked at my Pinterest boards, which was encouraging.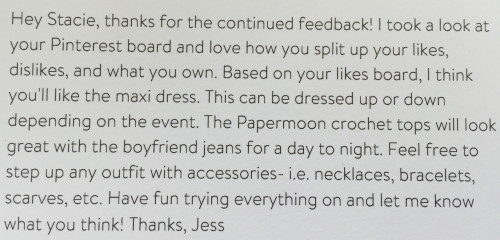 Here is what Jess sent:
Kut From The Kloth Kate Distressed Boyfriend Jean, 4, navy, $88 ($66 with discount)
Papermoon Adelmo Sparkle Detail Knit Top, XS, navy, $54 ($41)
Papermoon Davi Keyhole Knit Top, XS, turquoise, $44 ($33)
Papermoon Westen Crochet Detail Knit Top, XS, orange, $44 ($33)
Gilli Kirstie Knit Maxi Dress, S, $78 ($59)
I didn't even try on the Kut From The Kloth Kate Distressed Boyfriend Jean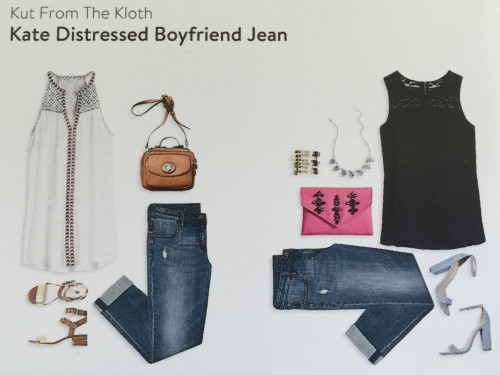 Although, Jess mentioned looking at my "Stitch Fix I Own" board, she clearly didn't look carefully enough. This is the board where I pin Stitch Fix items that I have but didn't necessarily buy directly from Stitch Fix. I had these exact jeans on the board and also mentioned that I have them in three different colors. The last thing I need is another pair. Also, I mention on that pin that I am a 26/2 in Kut (they run big) yet she sent the 27/4 size that is in my profile. I feel like all the stylists should know that these jeans run big. Everyone says so. She never should have sent these particular jeans.
First I tried on the Papermoon Davi Keyhole Knit Top with a pair of shorts I got on sale at The Gap. This top is the one I liked best out of the box.
I loved it on too. The colors are great and it's super soft and a great weight for summer (without needing a cami).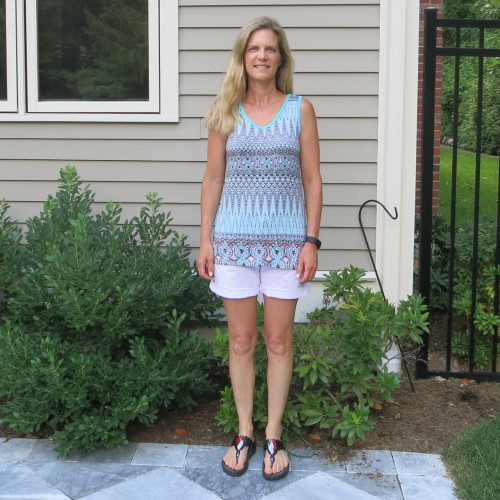 The keyhole in the back is cute too!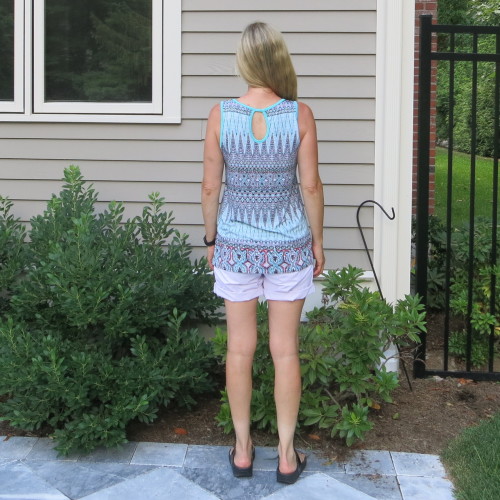 This top was a definite keeper and so perfect for the hot weather we are having. In fact, I'm wearing it right now!
Next, I tried on the Papermoon Adelmo Sparkle Detail Knit Top.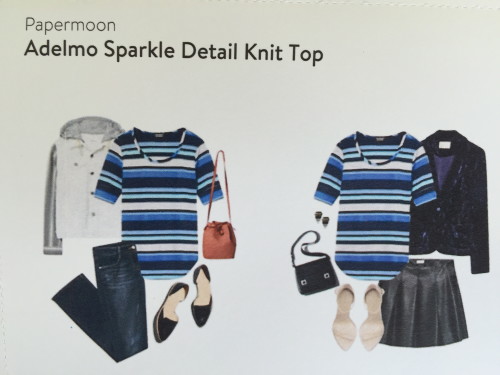 I liked the colors in this top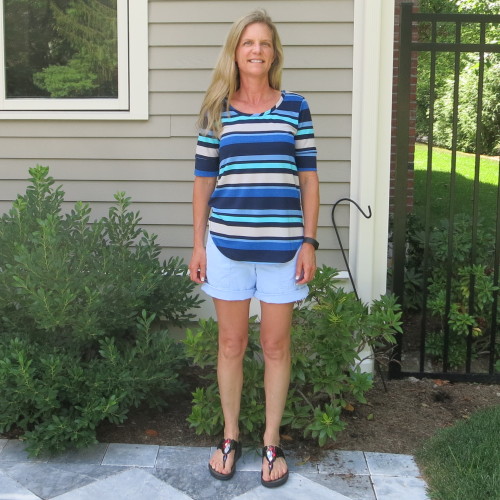 But I didn't like the sleeves at all.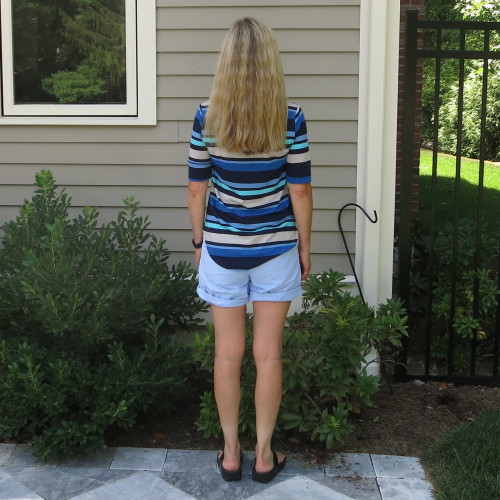 I tried to take a close-up so you can see the sparkle. It's only in the royal blue stripe (near the bottom), but it didn't photograph very well. I liked the sparkle detail.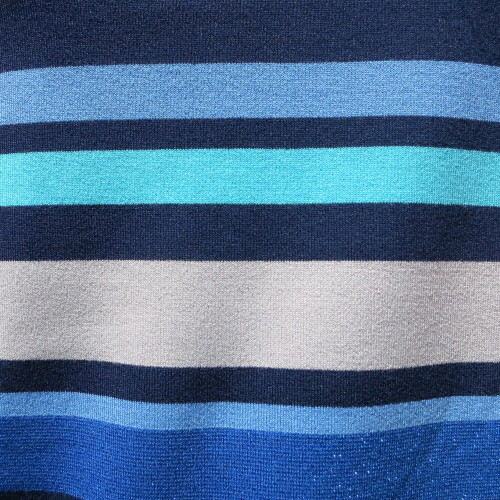 I didn't keep this top though because besides not liking the sleeves, the material was thick and felt yucky.
On to the Papermoon Westen Crochet Detail Knit Top.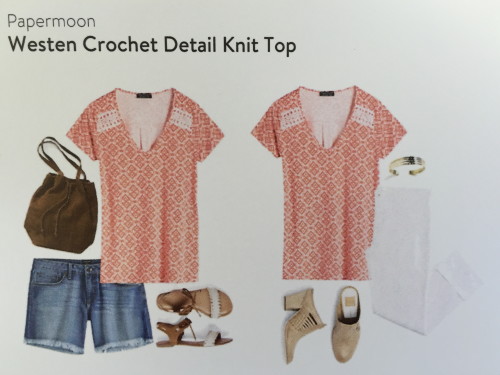 I actually liked that Jess sent three Papermoon tops. I tend to like their tops.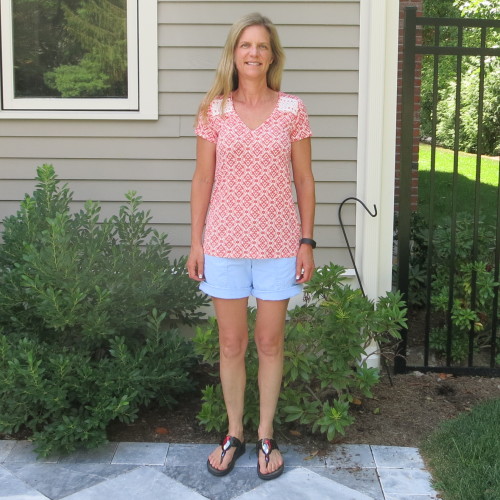 I really liked this top too! It's soft and summery. The crochet detail is really cute too!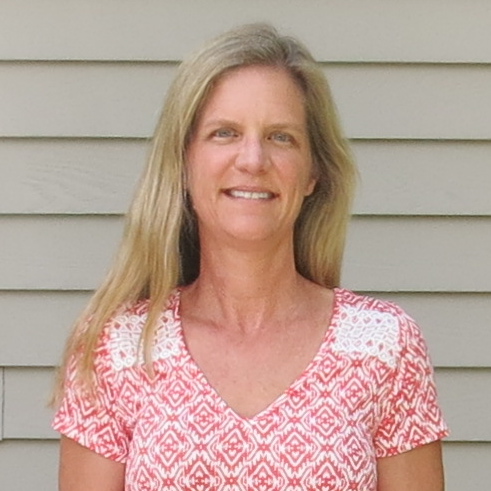 Here it is from the back:
I decided to keep this top too and have already worn it a couple of times.
Finally, Jess sent the Gilli Kirstie Knit Maxi Dress.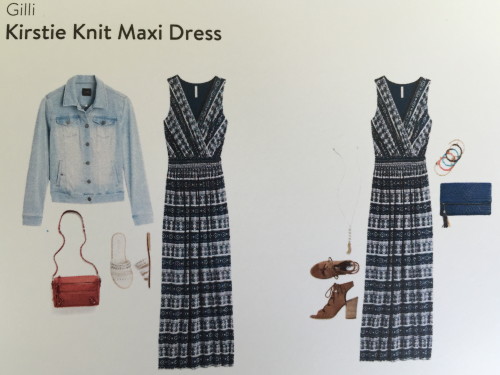 It wasn't a bad idea for her to send a maxi dress since I had two pinned (not this one).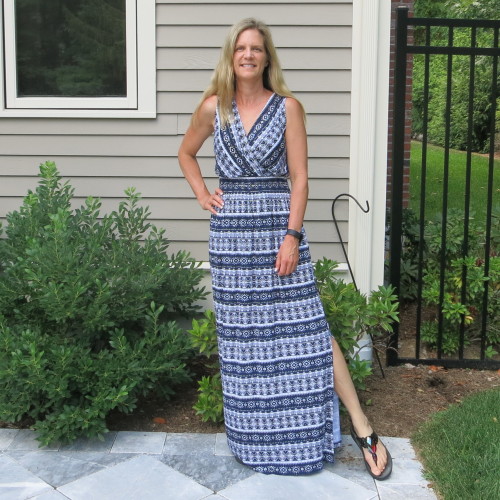 I am posing this way so you can see the slit, haha. What is less obvious from this picture is this dress is too big on me, especially up top. I have one Gilli maxi dress already and I had to size down to XS on that one. Maybe I should change my profile (although some of the S dresses fit to it's a bit of a dilemma).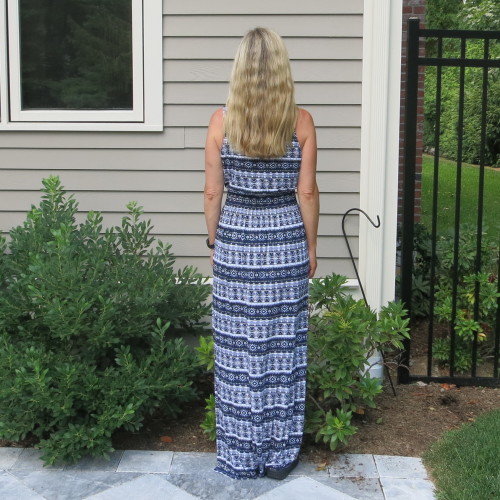 I didn't even try to size down. I just returned this one because I don't really need it.
Overall, I thought Jess did a pretty good job, especially since I didn't write a note. She seems like the type who would listen and learn so I requested her again. My fixes were really better in general when I had the same stylists for longer term. It seems pretty clear that it won't be Layla so I'm going to stick with Jess and see what happens.
If you'd like to give Stitch Fix a try and don't mind using this link, I'll get a $25 referral credit towards my next fix once yours ships. And that would be awesome.
(I have no affiliation with Stitch Fix other than a referral code. I buy these clothes myself and all opinions are mine).
Here are links to my first 24 fixes:
Stitch Fix #24: July 2016
Stitch Fix #23: June 2016
Stitch Fix #22: May 2016
Stitch Fix #21: April 2016
Stitch Fix #20: March 2016 #2
Stitch Fix #19: March 2016
Stitch Fix #18: February 2016
Stitch Fix #17: January 2016
Stitch Fix #16: Holiday 2015 Edition 
Stitch Fix #15: December 2015
Stitch Fix #14: November 2015 Thanksgiving Edition
Stitch Fix #13: November 2015
Stitch Fix #12: October 2015
Stitch Fix #11: September / October 2015
Stitch Fix #10: September 2015
Stitch Fix #9: August 2015: I kept it all!
Stitch Fix #8: July 2015
Stitch Fix #7: June 2015
Stitch Fix #6: May 2015
Stitch Fix #5: May 2015
Stitch Fix #4: April 2015: I kept it all!
Stitch Fix #3: March 2015
Stitch Fix #2: February 2015
Stitch Fix #1: January 2015