Stitch Fix Review #24: July 2016
Stitch Fix Review time!
We had a bit of a June gloom thing going on but summer is here in full force now that it's July, and for me that means tanks and shorts (and the occasional dress).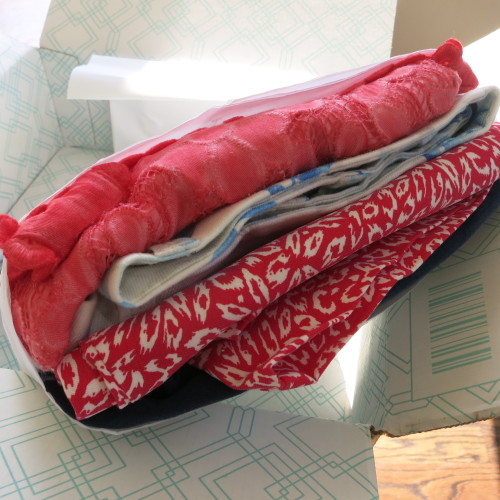 I'm always happy to see colors, texture, and patterns in my fix!
If you've heard of Stitch Fix, skip this paragraph! Never heard of Stitch Fix? Briefly, Stitch Fix is a styling subscription service in which you fill out a profile (sizes, styles, and price point) and receive a customized fix of 5 items (clothes/accessories) delivered right to your doorstep. There is a $20 styling fee but it's credited towards anything you keep. Keeping all 5 items gives you a 25% discount, which is awesome when it happens. You dictate the frequency of your fixes. If you'd like to try it, I have a referral link here and also at the end of this post and if you sign up through my link I get a small commission at no cost to you. Yay! And now for my 23rd Stitch Fix Review!
This month's fix was styled by yet another new stylist, Mel. I was disappointed that I didn't have Layla again. That's twice in a row that I've been assigned someone new. I was pleased that she included a number of sleeveless tops But, just like last month, it was clear she didn't read my profile very carefully. Sigh, again.
Also, Mel's note was the shortest I've ever received, taking up only about half the available space. It felt to me like she was in too much of a hurry to really read my profile and take the time to write a personalized note.

Here is what Mel sent:
Margaret M Emer Printed Straight Leg Pant, S, coral, $98 ($74 with discount)
Unpublished Abtin Fringe Hem Top, XS, navy, $54 ($41)
Level 99 Cindie Linen Printed Short, 4, blue, $78 ($59)
Olive & Oak Bylon Crew Neck Top, XS, light green, $58 ($44)
Skies are Blue Biosca Crochet Detail Top, XS, $58 ($44)
First two items:Margaret M Emer Printed Straight Leg Pant and Unpublished Abtin Fringe Hem Top.
Style cards: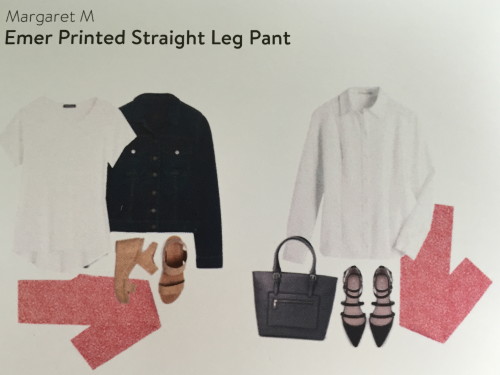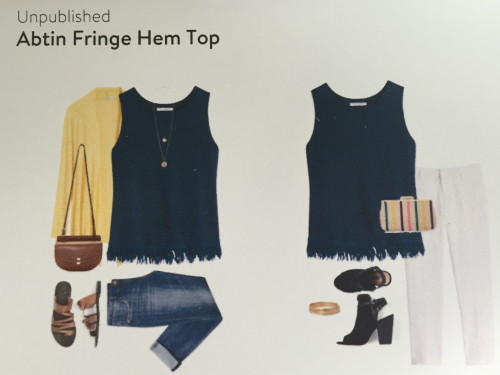 Ummmm.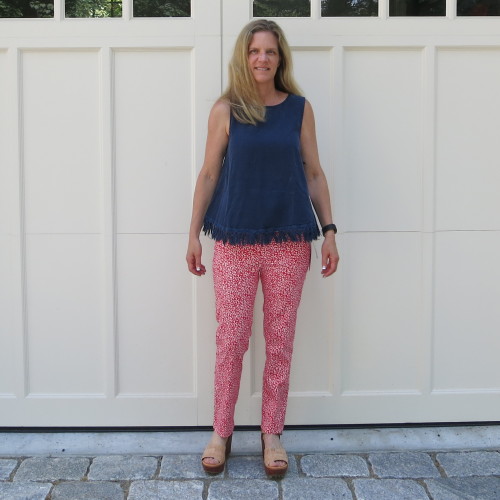 I have a pair of black with polka dot Emers already. I feel like they are a bit loose but not lose enough to size down. This pattern is cute and I like the red, white, and blue combo but there is no way I'll wear these pants this summer; It's way too hot. I never put long pants on in July and August on the East Coast and these pants are not very fall like either, so I sent them back.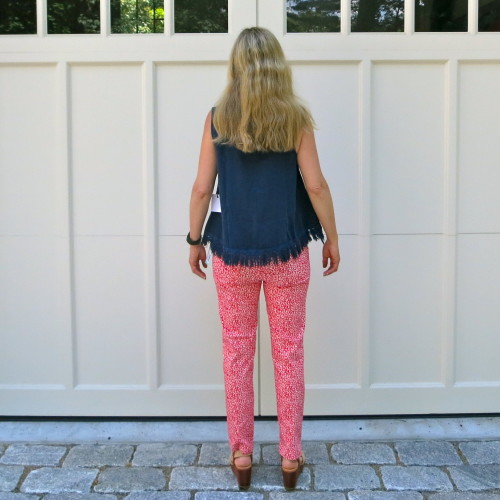 Really though, the top was the worst part of this outfit. The material, which was tencel, is the only thing I liked. Other than that it was WAY too flowy. If Mel had read my profile, she would have known not to send a top this flowy.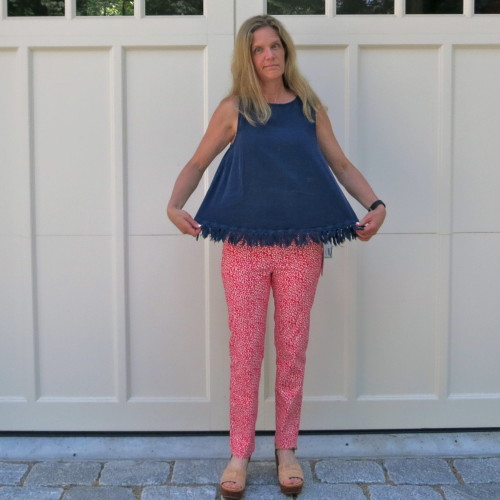 See what I mean? Also, I like fringe but this fringe was uneven in places and it looked cheap. So back it went.
Next, I tried on the Level 99 Cindie Linen Printed Short with the Olive & Oak Bylon Crew Neck Top.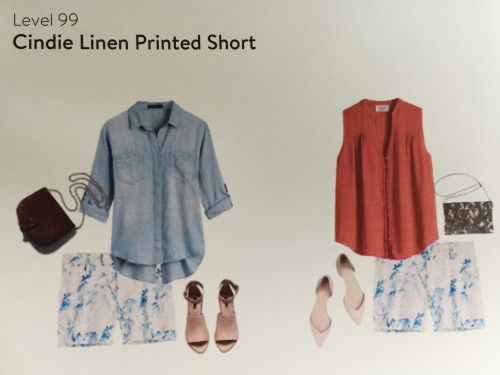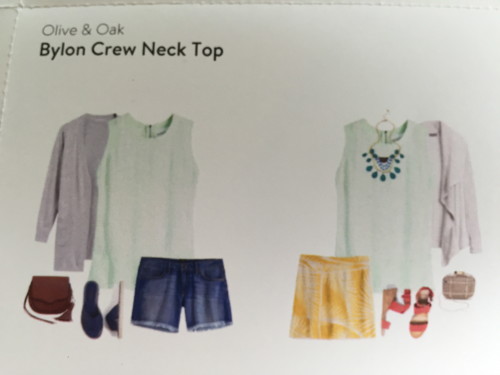 And here I am!
This top is boxier than I like and the neckline seemed too high to me. There's a cute zipper in the back though.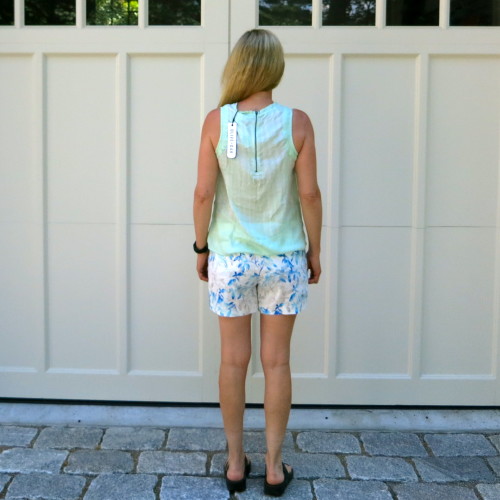 I also liked the mint color but not enough to keep it given all the strikes. In addition to the boxy/neckline issues, this top was very sheer, requiring a cami. In my profile, I specifically state that I don't want anything that needs a cami because I don't like wearing them. Read my profile, Mel! The other thing was that it was very wrinkly right out of the box so I knew the care would be problematic since I don't iron.
As for the shorts, I loved the pattern right out of the box (of course I did, they're floral!). BUT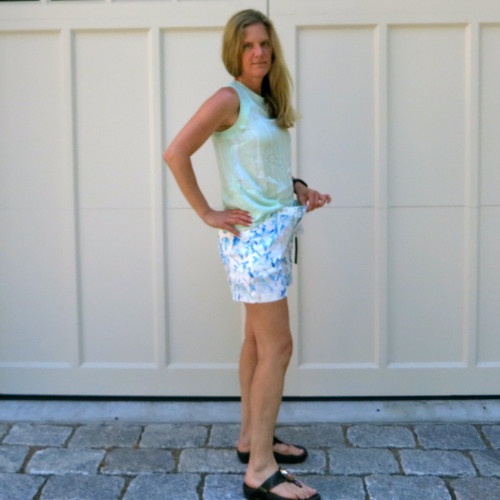 They were too big! The kicker on this is that last month's new-to-me stylist sent these same shorts but in a solid color. I left feedback when I checked out that they were too big. And now this month I get the same shorts in the same too-big size? PAY ATTENTION, STYLISTS! Honestly this is the frustrating thing about not having the same stylist consistently. I thought I was locked in with Layla but I haven't had her for two fixes now.
Mel did send me one top that I loved though, so all was not lost.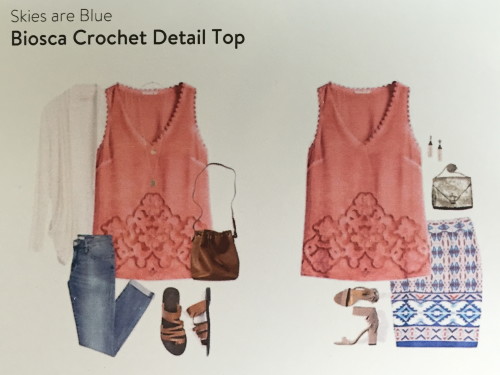 This top is colorful, very well made (it's lined!) and has the cutest crochet detail. Plus it's tapered in enough at the waist that it's not too flowy. I can't wait to wear this top all summer long. It's so fun!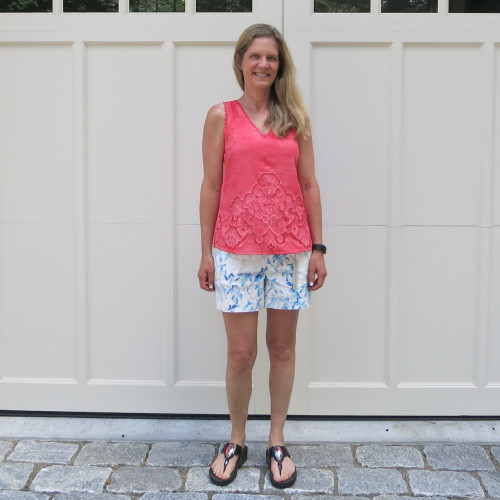 I think it looks a little more flowy than it actually is in the front because I'm still wearing the too-big shorts but from the back you can see the taper better in these photos.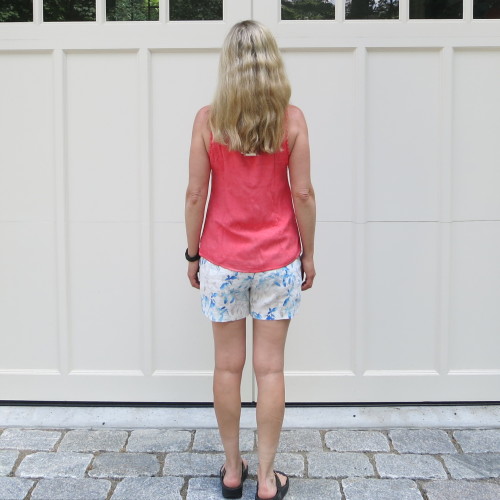 Here is a blow-up of the shirt showing the cute crochet at the bottom of the shirt and along the neckline and sleeves.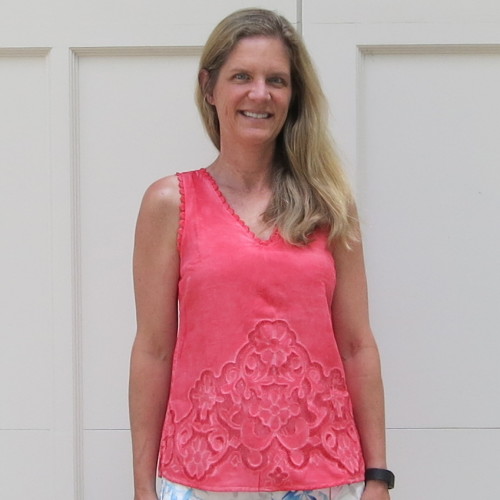 This top saved the fix for me, although I was still disappointed that Mel sent three things that she shouldn't have if she had read my profile more carefully. She could have adjusted the size of the shorts and sent me two less flowy (and less sheer on the one!) tops. I really could use a few more sleeveless tops so this month felt like another missed opportunity in that regard.
If you'd like to give Stitch Fix a try and don't mind using this link, I'll get a $25 referral credit towards my next fix once yours ships. And that would be awesome.
(I have no affiliation with Stitch Fix other than a referral code. I buy these clothes myself and all opinions are mine).
Here are links to my first 23 fixes:
Stitch Fix #23: June 2016
Stitch Fix #22: May 2016
Stitch Fix #21: April 2016
Stitch Fix #20: March 2016 #2
Stitch Fix #19: March 2016
Stitch Fix #18: February 2016
Stitch Fix #17: January 2016
Stitch Fix #16: Holiday 2015 Edition 
Stitch Fix #15: December 2015
Stitch Fix #14: November 2015 Thanksgiving Edition
Stitch Fix #13: November 2015
Stitch Fix #12: October 2015
Stitch Fix #11: September / October 2015
Stitch Fix #10: September 2015
Stitch Fix #9: August 2015: I kept it all!
Stitch Fix #8: July 2015
Stitch Fix #7: June 2015
Stitch Fix #6: May 2015
Stitch Fix #5: May 2015
Stitch Fix #4: April 2015: I kept it all!
Stitch Fix #3: March 2015
Stitch Fix #2: February 2015
Stitch Fix #1: January 2015