Stitch Fix Review #23: June 2016
I have a confession to make.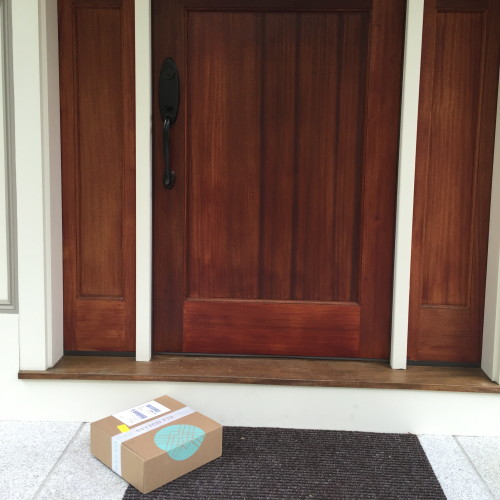 I already knew what was in the box because I peeked online for the first time in 23 fixes. I know I know. It wasn't nearly as fun, which is why I never peek. But in my defense, I had to this time. I had bought a dress from Nordstrom that Stitch Fix carries and I had pinned (and forgot to unpin) it so I needed to see if it was coming in my fix for return purposes.
I was disappointed when I peeked and knew right then that my usual stylist, Layla, must have been too busy to style my fix.
If you've heard of Stitch Fix, skip this paragraph! Never heard of Stitch Fix? Briefly, Stitch Fix is a styling subscription service in which you fill out a profile (sizes, styles, and price point) and receive a customized fix of 5 items (clothes/accessories) delivered right to your doorstep. There is a $20 styling fee but it's credited towards anything you keep. Keeping all 5 items gives you a 25% discount, which is awesome when it happens. You dictate the frequency of your fixes. If you'd like to try it, I have a referral link here and also at the end of this post and if you sign up through my link I get a small commission at no cost to you. Yay! And now for my 23rd Stitch Fix Review!
This month's fix was styled by a new-to-me stylist, Cindy. I was pleased that she paid attention to my note. I asked for shorts and sleeveless tops and mentioned my college reunion was in June. But it was clear even when I peeked that she didn't read my profile very carefully other than to look at sizes. Sigh.
She wrote a nice note though.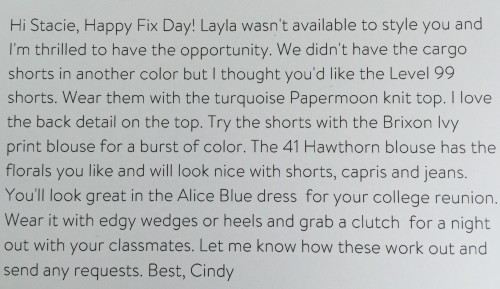 Opening this box blind would have had me excited by the colors.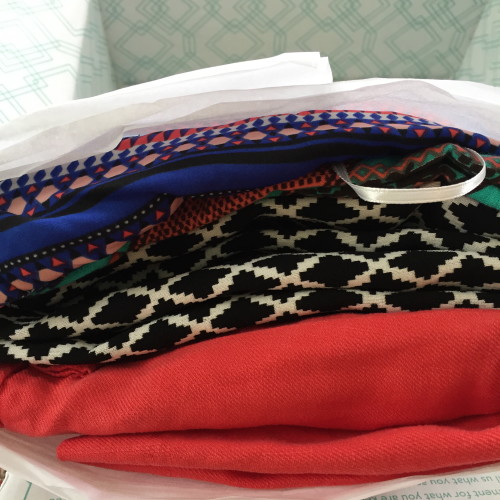 I was pretty certain though, because I peeked, that I wouldn't like at least two of the items.
Here is what Cindy sent:
Level 99 Cindie Linen Short, 4, orange red, $78 ($59 with discount)
Brixon Ivy Fallon Mixed Print Sleeveless Blouse, XS, coral, $44 ($33)
41Hawthorn Edwin Scoop Neck Blouse, XS, white, $58 ($44)
Papermoon Casine Crochet Back Knit Top, XS, turquoise, $44 ($33)
Alice Blue Leeanne Ponte Dress, S, $78 ($59)
First two items: Level 99 Cindie Linen Short and Brixon Ivy Fallon Mixed Print Sleeveless Blouse.
Style cards: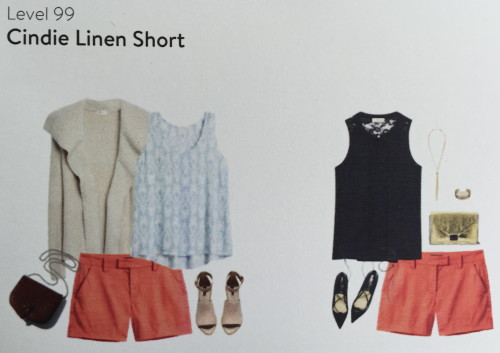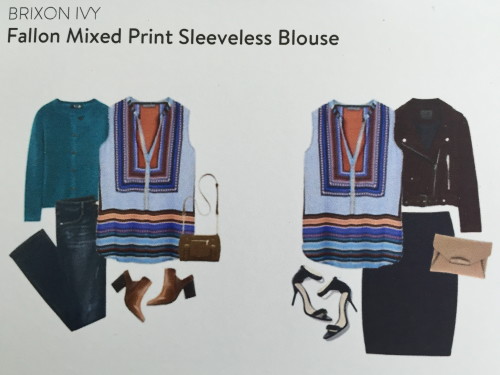 I'm just jumping off the cliff and trying on the top I hated the most when I peeked. I liked the bright colors but I didn't love the pattern and it looked so boxy. I tried it on and, yes, all the things were wrong.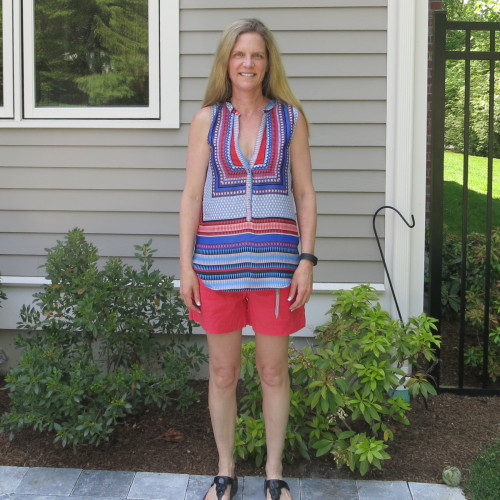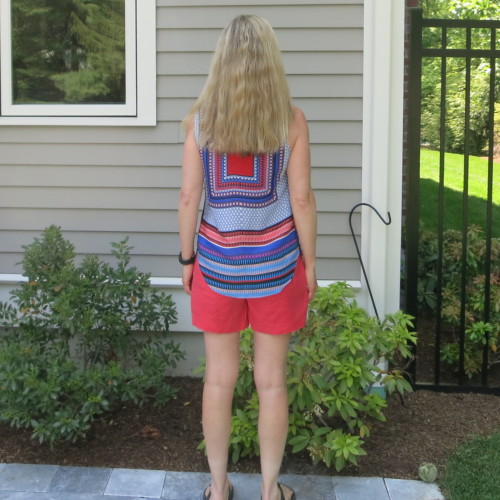 First, my profile states I like fitted, not flowy. Strike 1. Second, my profile states I don't want anything that requires a cami. I hate camis. This top is way too low cut to wear without a cami. Strike 2. Additionally, this blouse is made of the yuckiest polyester. It just feels icky. Strike 3. This was upsetting because Cindy clearly didn't pay attention to my profile. I did like the way the colors went with the shorts. The shorts were way too big though.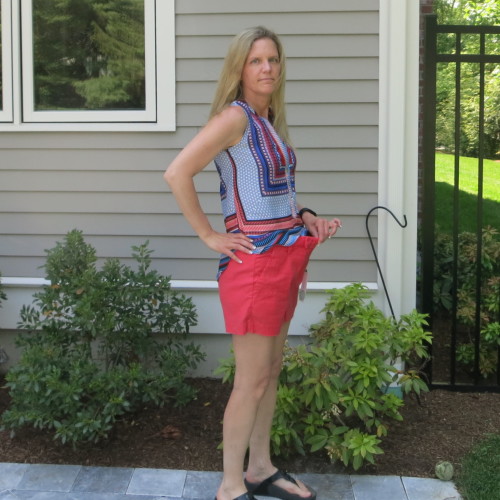 Next, I tried on the 41Hawthorn Edwin Scoop Neck Blouse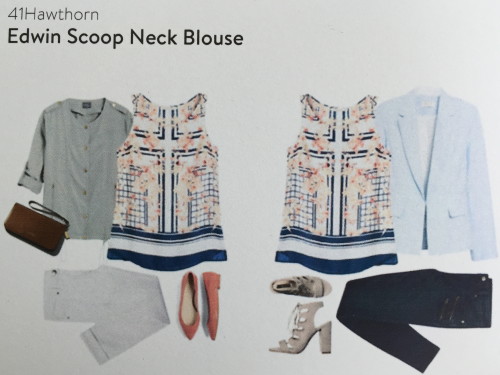 I kept the shorts on.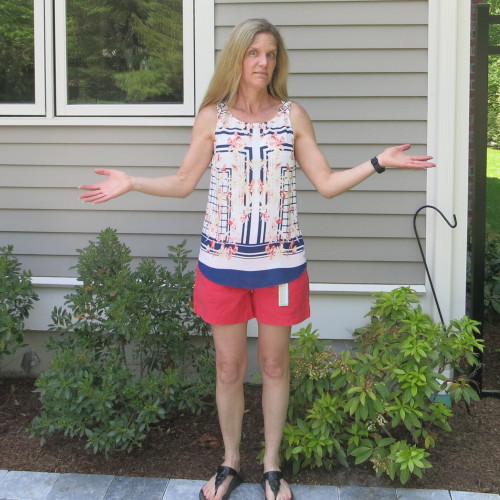 This top wasn't as bad as the other one.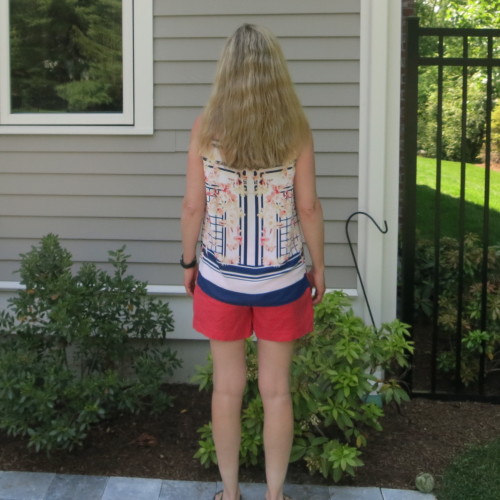 But it's still too flowy AND it's also that icky polyester. Ew. So those were the two tops I was pretty sure I wouldn't like, and I was right.
Cindy did include one top that I thought had potential, the Papermoon Casine Crochet Back Knit Top.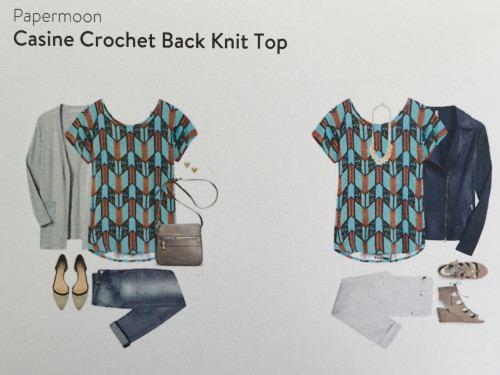 The fabric was so so soft (a rayon blend) and felt especially good after all the polyester.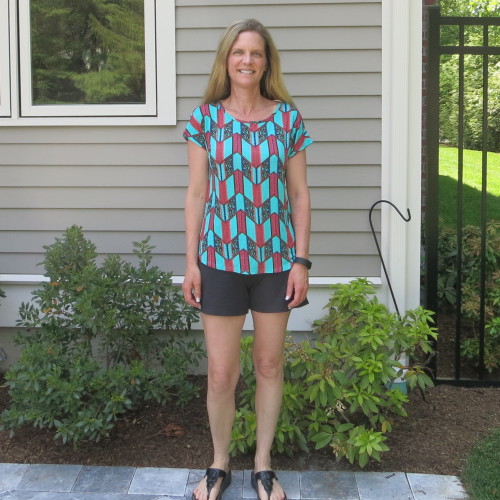 Ahh, that's more like it.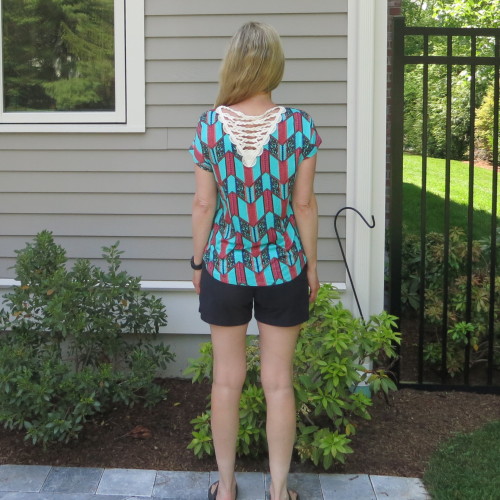 Love the colors and the crochet detailing in the back is really cute too. This one is a keeper!
Finally, I tried on the Alice Blue Leeanne Ponte Dress.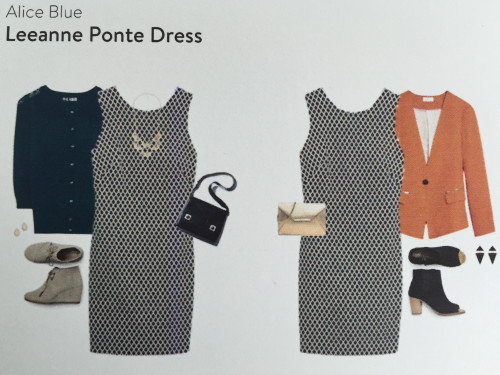 I wasn't overly thrilled by the lack of color for a spring dress, but the style was the right idea for a reunion type of dress.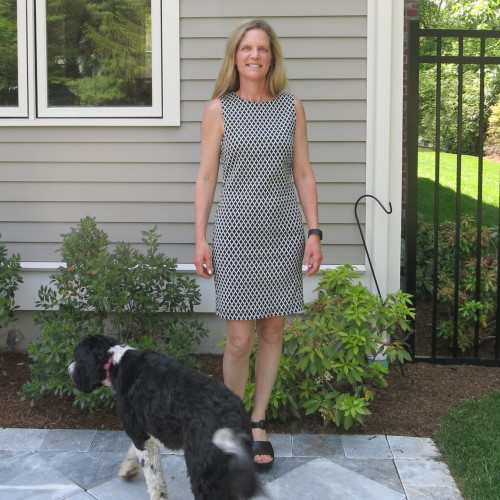 (Excuse the photobomber). The dress looks pretty cute from this angle.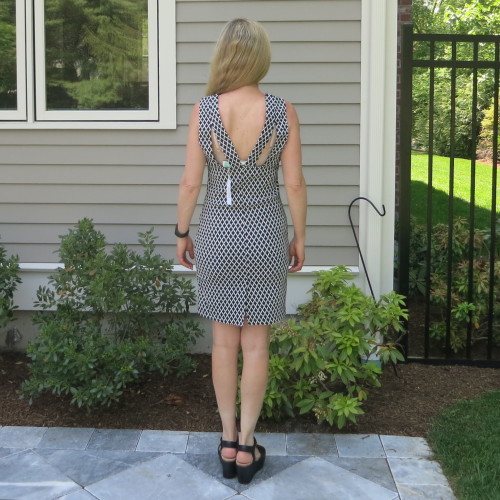 It has cute cutouts in the back, although they weren't bra-friendly and it's stated in my profile that I love cutouts but only if bra-friendly. Also, the top part of the dress was huge on me.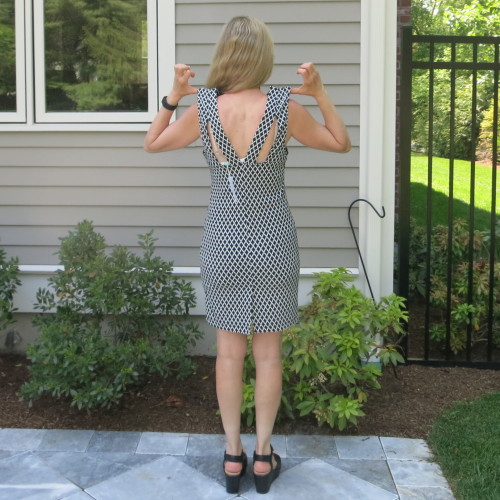 You can see how it pops out in the sleeve area too.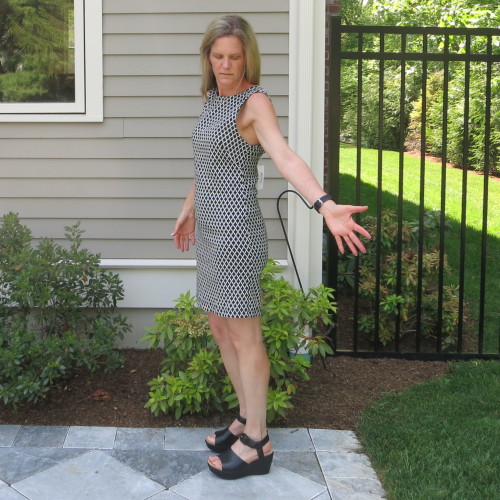 It gaped even more than the photo shows. I actually think this dress might have been a medium. The "made exclusively for Stitch Fix" tag that was sewn in and the Stitch Fix paper tag both said small. But it said medium on the care instructions tag.
So typically, I am happy even if I like only one thing. This time I was disappointed because I felt that Cindy didn't read my profile carefully enough. I don't mind if things don't work out for size reasons or if I don't like the fit, as long as my stylist is paying attention and sending things that fit my profile and the fact that two items were clearly "off" (three if you count the dress, although it might not have been obvious that bra straps would show from looking at the picture) left me feeling like I missed an opportunity to get two things I would have liked. Better luck next time, I hope!
If you'd like to give Stitch Fix a try and don't mind using this link, I'll get a $25 referral credit towards my next fix once yours ships. And that would be awesome.
(I have no affiliation with Stitch Fix other than a referral code. I buy these clothes myself and all opinions are mine).
Here are links to my first 22 fixes:
Stitch Fix #22: May 2016
Stitch Fix #21: April 2016
Stitch Fix #20: March 2016 #2
Stitch Fix #19: March 2016
Stitch Fix #18: February 2016
Stitch Fix #17: January 2016
Stitch Fix #16: Holiday 2015 Edition 
Stitch Fix #15: December 2015
Stitch Fix #14: November 2015 Thanksgiving Edition
Stitch Fix #13: November 2015
Stitch Fix #12: October 2015
Stitch Fix #11: September / October 2015
Stitch Fix #10: September 2015
Stitch Fix #9: August 2015: I kept it all!
Stitch Fix #8: July 2015
Stitch Fix #7: June 2015
Stitch Fix #6: May 2015
Stitch Fix #5: May 2015
Stitch Fix #4: April 2015: I kept it all!
Stitch Fix #3: March 2015
Stitch Fix #2: February 2015
Stitch Fix #1: January 2015