Stitch Fix Review #22: May 2016
Receiving a Stitch Fix box on my doorstep is even better than flowers for May Day!
(Yes, I am a week late writing this post)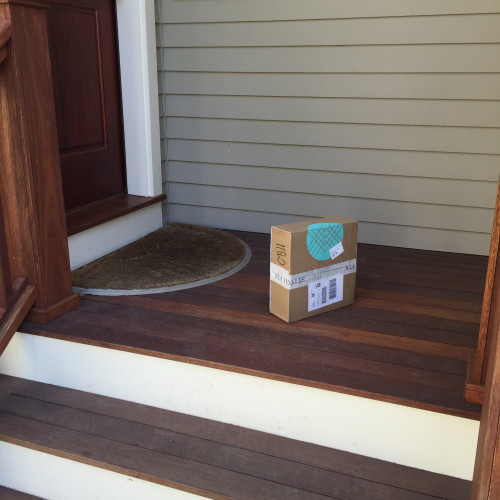 Let's peek inside, shall we?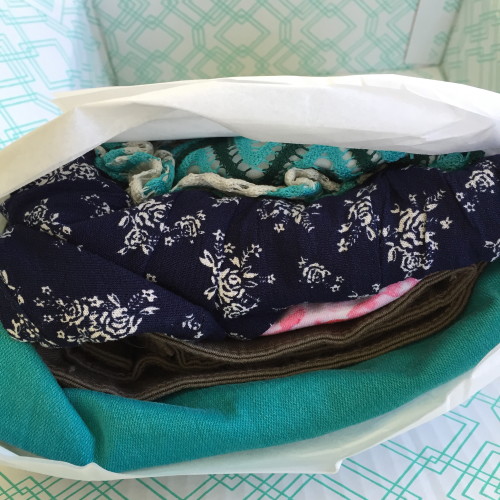 I love that I always get color, like I ask for.
If you've heard of Stitch Fix, skip this paragraph! Never heard of Stitch Fix? Briefly, Stitch Fix is a styling subscription service in which you fill out a profile (sizes, styles, and price point) and receive a customized fix of 5 items (clothes/accessories) delivered right to your doorstep. There is a $20 styling fee but it's credited towards anything you keep. Keeping all 5 items gives you a 25% discount, which is awesome when it happens. You dictate the frequency of your fixes. If you'd like to try it, I have a referral link here and also at the end of this post and if you sign up through my link I get a small commission at no cost to you. Yay! And now for my 22nd Stitch Fix Review!
I was absolutely thrilled to see that Layla was my stylist again this month, especially after being disappointed in my fix last month (not styled by Layla). Layla always pays attention to my Pinterest boards and note and sends just what I ask for.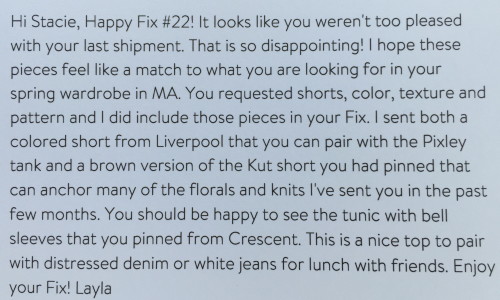 Here is what she sent this time:
Liverpool Taylor Colored Denim Short, 4, turquoise, $58 ($44 with discount)
Pixley Christi Crochet Overlay Knit Top, XS, turquoise, $54 ($41)
Pixley Gables Deep Scoop Back Knit Top, XS, pink, $48 ($36)
Kut From The Kloth Iriss Twill Short, 4, brown, $58 ($44)
Crescent Windsor Bell Sleeve Tunic, XS, $58 ($44)
First two items, first up: Liverpool Taylor Colored Denim Short and Pixley Christi Crochet Overlay Knit Top.
Style cards: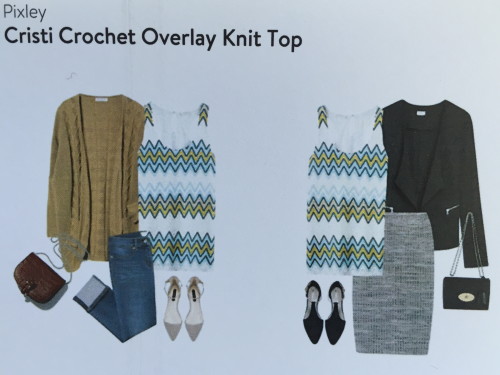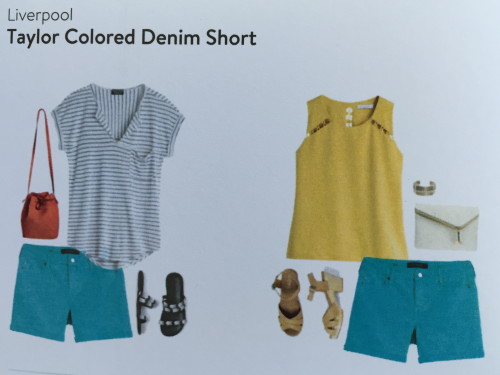 Annnnnd, here they are on.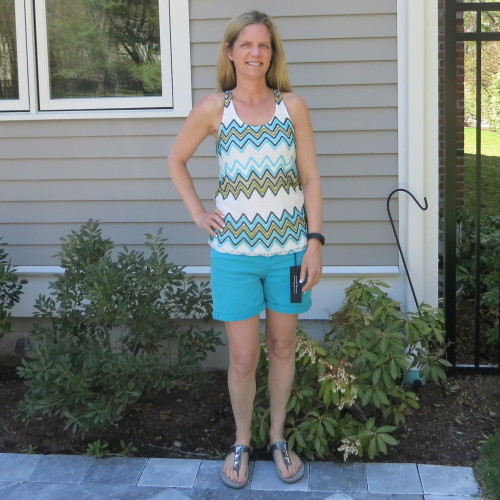 I'm so pale right now! I loved the color of these shorts and that Layla sent a top that matched them perfectly.
But ugh I didn't like this outfit on me at all. It makes me look thick. Also, I didn't think the shorts were great with other tops I have either. Last month, I was upset that I received two pairs of cuffed denim shorts when I don't really like cuffed denim. These are also cuffed denim. They are not as unflattering as the others I received but not worth keeping. The tank did have a fun texture but in the end that wasn't enough.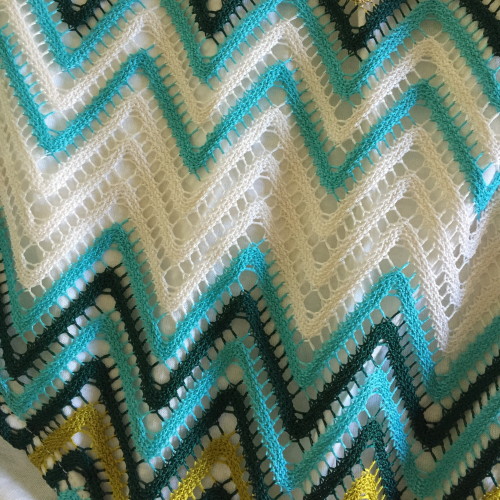 Because I also felt this was not flattering on me and I'm not going to buy something unflatttering, nope.
Next, I tried on the Pixley Gables Deep Scoop Back Knit Top.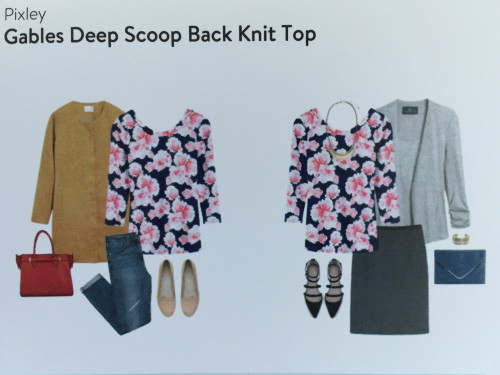 Paired with with my KFTC white cropped boyfriend jeans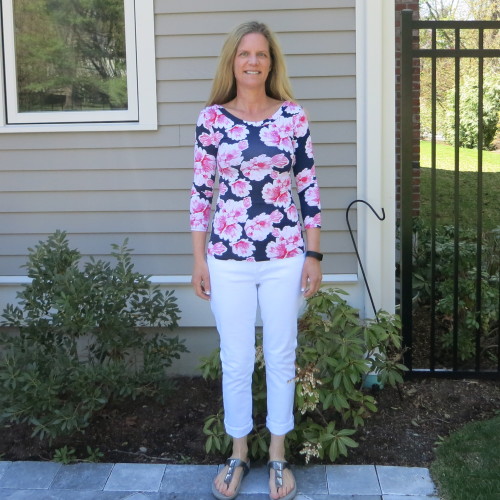 The colors and pattern of this shirt were very "me." The fabric was soft and stretchy and this shirt looks good on.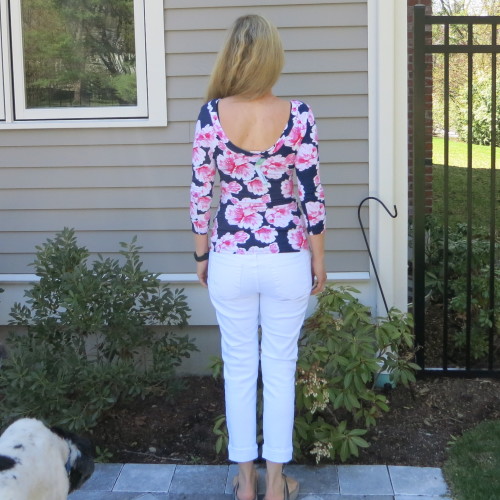 The scoop neck was really cute too! But, this top is barely bra-friendly. My straps kept poking out as I walked around and I knew that would drive me crazy so I didn't keep this top even though I thought it was cute.
Next, I tried on the Kut From The Kloth Iriss Twill Short.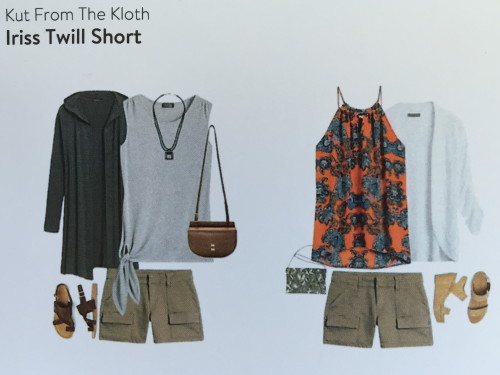 These shorts are comfortable and I liked the fit. They are stretchy, which is nice.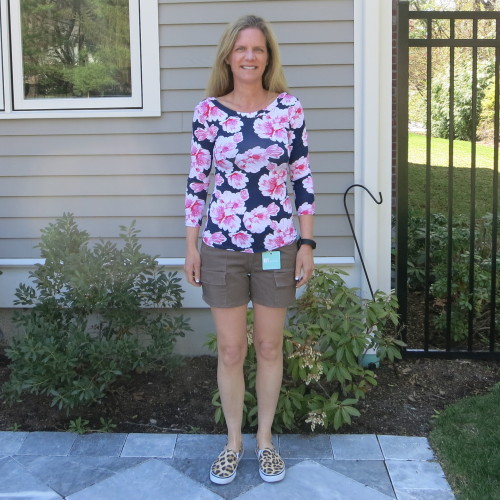 They fit me well.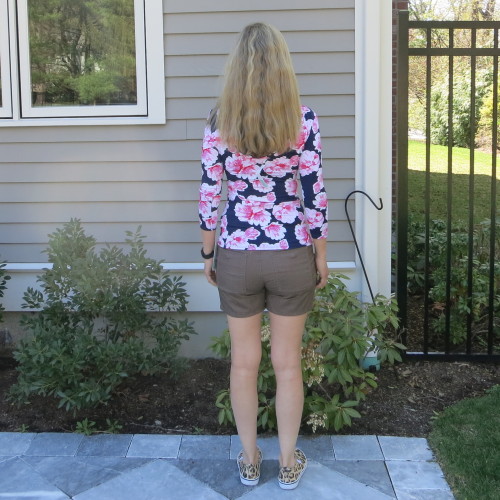 But I had pinned these in turquoise. I am open to other colors a lot of the time but I really don't like this particular brown. I don't love brown clothes in general, on me. I get that these are neutral and I'd have probably kept them if they were khaki. But I didn't think this color looked great with anything in my closet so I sent these back and wrote in my note that I'd love them in a different color.
I know it looks like this fix was a bust (via no fault of Layla's) but I'm totally saving the best for last! Another item I pinned, the Crescent Windsor Bell Sleeve Tunic.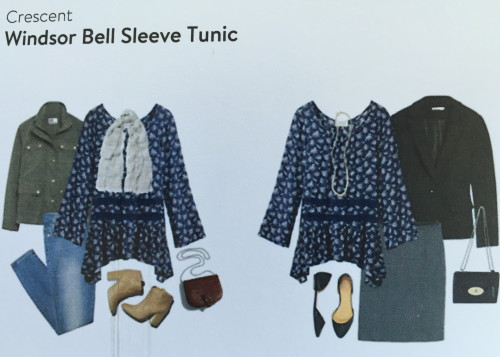 This is a departure from my normal pins. I usually don't like tops that are flowy and I have that in my profile. But when I saw this tunic, I pinned it because it looked like the perfect type of flowy for me.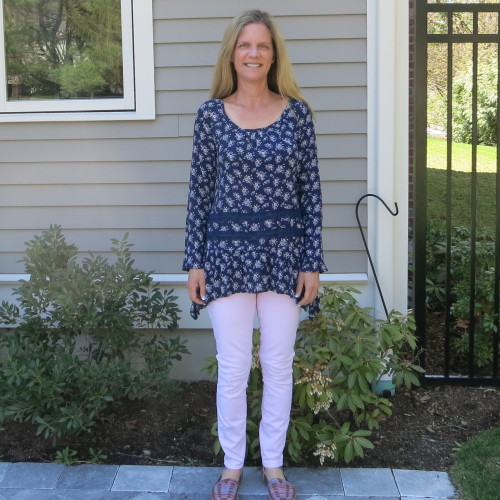 Isn't the uneven hemline cute? This is for sure flowy but tapers in just enough at the waist to not be boxy.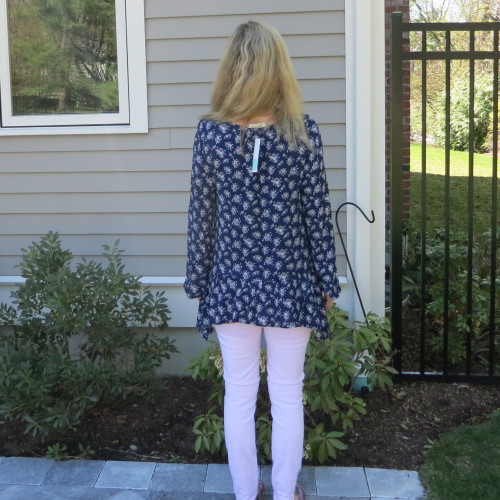 And the sleeves. I think I'm in love. This top is like nothing else I own.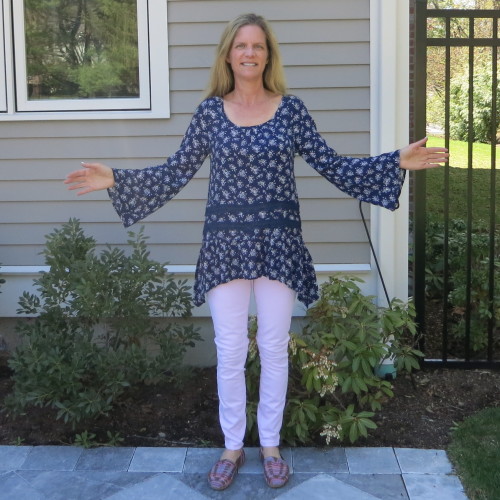 Girls just wanna have fun!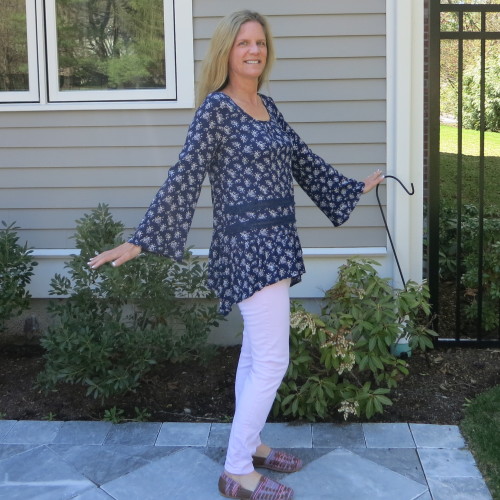 I wish it were easier to strike a more natural pose using a self-timer, haha.
Despite only keeping one item, I thought this was a great fix. Layla sent me what I asked for so it's not her fault that most of it didn't work. I consider a fix successful even if there is only one thing I love as much as I love the tunic I kept. I'm already excited for my next fix. My college reunion is in June so I'll be asking for cute clothes for that!
If you'd like to give Stitch Fix a try and don't mind using this link, I'll get a $25 referral credit towards my next fix once yours ships. And that would be awesome.
(I have no affiliation with Stitch Fix other than a referral code. I buy these clothes myself and all opinions are mine).
Here are links to my first 21 fixes:
Stitch Fix #21: April 2016
Stitch Fix #20: March 2016 #2
Stitch Fix #19: March 2016
Stitch Fix #18: February 2016
Stitch Fix #17: January 2016
Stitch Fix #16: Holiday 2015 Edition 
Stitch Fix #15: December 2015
Stitch Fix #14: November 2015 Thanksgiving Edition
Stitch Fix #13: November 2015
Stitch Fix #12: October 2015
Stitch Fix #11: September / October 2015
Stitch Fix #10: September 2015
Stitch Fix #9: August 2015: I kept it all!
Stitch Fix #8: July 2015
Stitch Fix #7: June 2015
Stitch Fix #6: May 2015
Stitch Fix #5: May 2015
Stitch Fix #4: April 2015: I kept it all!
Stitch Fix #3: March 2015
Stitch Fix #2: February 2015
Stitch Fix #1: January 2015