Stitch Fix Review #21: April 2016
"Oh, snow is me!" ::places back of hand on forehead::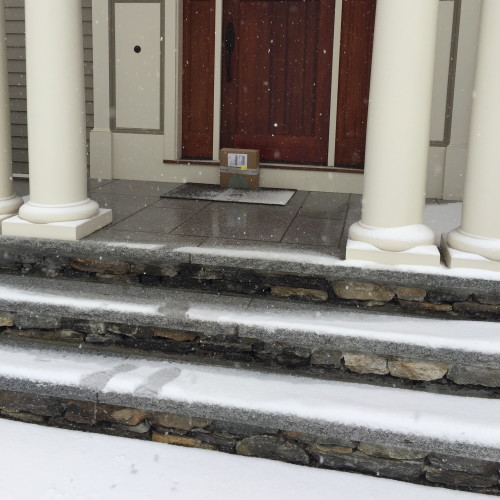 Ironically, Mother Nature delivered five inches of snow on the exact day my first SPRING FIX arrived. I know. It's so unfair. I'd been holding off and holding off, still requesting long sleeves and sweaters all through March (because, Boston) before biting the bullet and requesting shorts and spring tops in my April fix. I wore shorts last Thursday! I had such high hopes. Ugh. But the good news is that this is my 21st Stitch Fix Review and, somehow, that feels like coming of age.
Here is the first impression:
Not bad but but what's the blue denim? I don't need blue denim anything right now.
If you've heard of Stitch Fix, skip this paragraph! Never heard of Stitch Fix? Briefly, Stitch Fix is a styling subscription service in which you fill out a profile (sizes, styles, and price point) and receive a customized fix of 5 items (clothes/accessories) delivered right to your doorstep. There is a $20 styling fee but it's credited towards anything you keep. Keeping all 5 items gives you a 25% discount, which is awesome when it happens. You dictate the frequency of your fixes. If you'd like to try it, I have a referral link here and also at the end of this post and if you sign up through my link I get a small commission at no cost to you. Yay!
When I read the note, I was instantly disappointed which is not how I usually feel at all. This is the second time Jen has styled me when Layla is not available and, although she seems to be trying in her own way, she is making some odd-to-me decisions.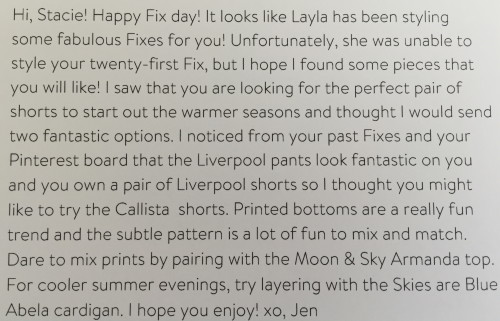 Last time, she sent me a shirt I already had because she didn't pay attention to my Pinterest board where I pin Stitch Fix items that I've purchased elsewhere (FB groups, Amazon, etc). This time, she noted that board (progress?) but then sent me not one but TWO pairs of Liverpool cuffed denim shorts when she noted that I already had a pair. GAH. I wanted shorts but hey, I almost never want items so similar to those I already have – that is exactly why I pin things I already have! If I love something enough to want another similar, I'll pin it and say so. The truth is, I don't find the cuffed denim shorts I already have to be particularly flattering on me so I knew even before trying any of it on, that this fix was at best a 3/5.
Anyway, here is what she sent:
Liverpool Callista Printed Cuffed Denim Short, 4/27, blue, $58 ($44 with discount)
Liverpool Taylor Cuffed Denim Short, 4/27, navy, $48 ($36)
Skies are Blue Carlina Cross Back Knit Top, XS, navy, $48 ($36)
Moon & Sky Armanda Cross Front Tie Knit Top, XS, dark purple, $54 ($41)
Skies are Blue Abela Open Cardigan, XS, magenta, $48 ($36)
First up, the Liverpool Callista Printed Cuffed Denim Shorts and the Skies are Blue Carlina Cross Back Knit Top.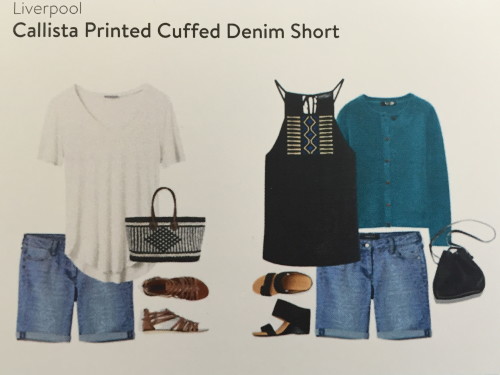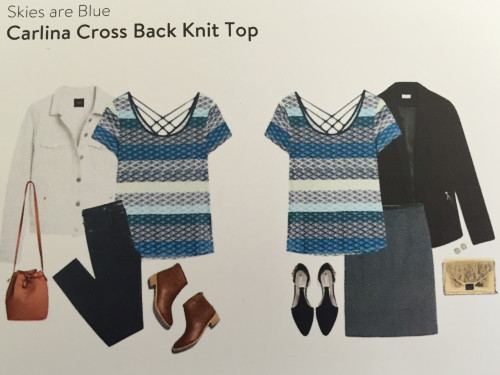 You guys. It was SO cold outside. But this is how much I love you: I modeled the clothes on outside anyway.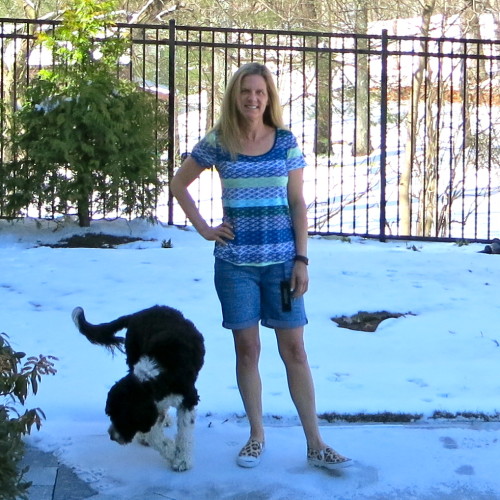 This shirt is really soft and flattering and I love the colors. And here is the first example of me not looking good in cuffed denim shorts. I mean, maybe I need to size down? But these give me hip bulges that I don't actually have. Here is a close-up of the pattern: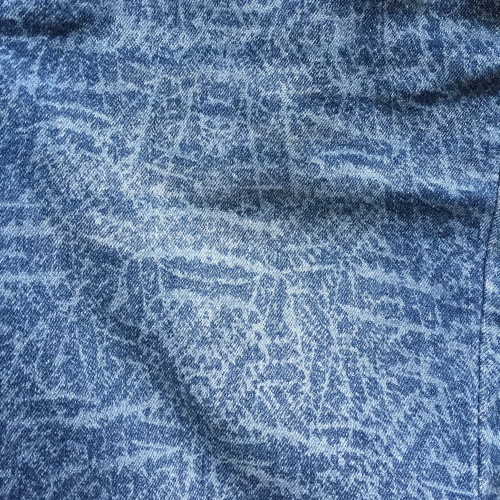 And here is the pattern I already had, which was on my Pinterest: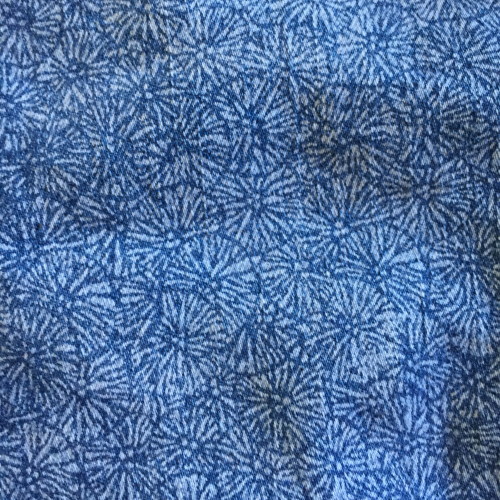 These shorts look identical until you get close enough to see the fine detail of the patterns. UGH, I mean really? And speaking of ugh, here is how I was really feeling: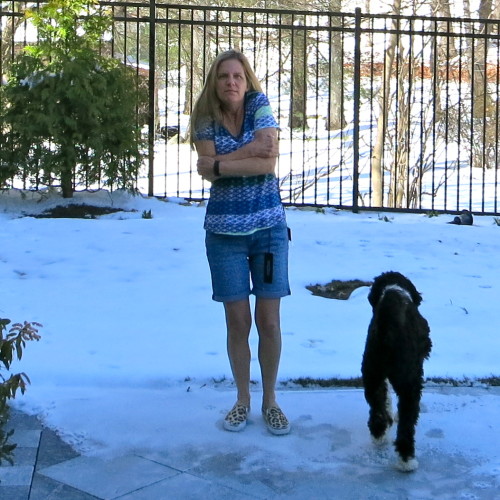 I was not happy. I was FREEZING, which makes me grumpy. The back of the top is cute though, even if the little hanging loop is sticking out, oops.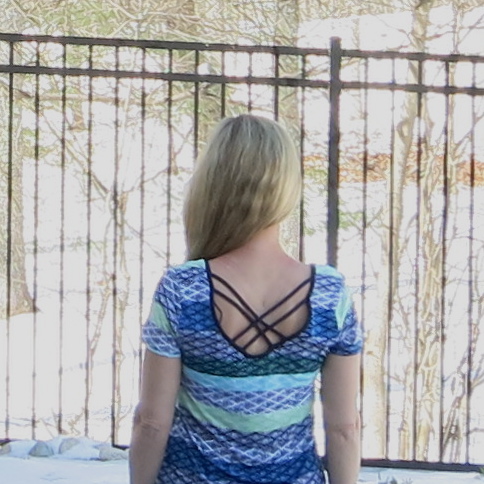 Now for the other top and cuffed denim shorts (Have I said ugh enough yet?).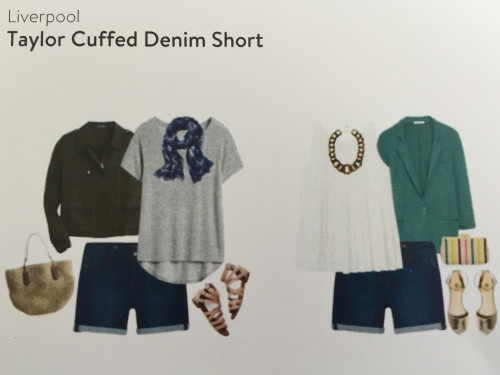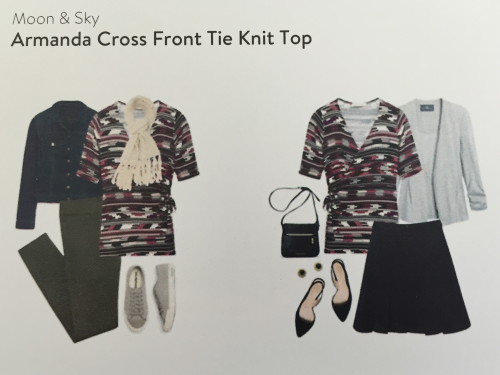 So let me preface this by saying: I wouldn't wear this top with denim shorts. BUT I sacrificed a lot to model these clothes when it was only 30F outside, so I was #1) not going to do extra outfits #2) not waiting for better light and #3) not retaking these pictures to get rid of the dog photobomber. I gave it my best!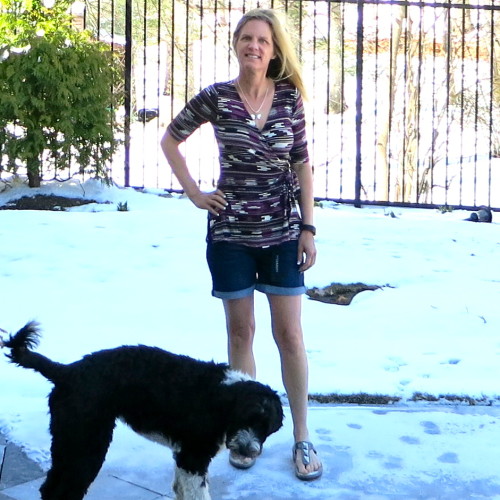 These cuffed denim shorts are a little shorter and a darker wash, but I still don't think they are very flattering on me. The top, on the other hand is super flattering. It would be amazing with skinny jeans or leggings.
Back: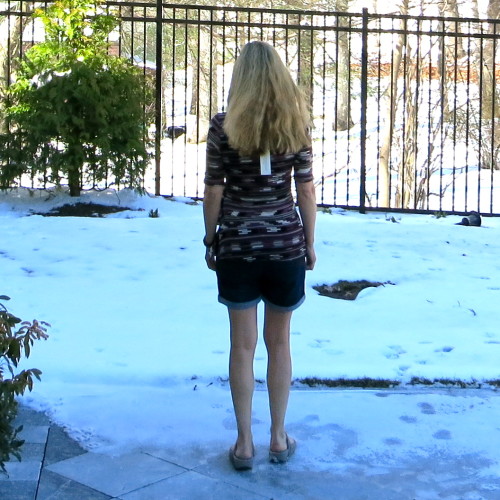 It's soft, fitted, makes my boobs look bigger than they are, and has a cute tie on the left hand side. Also the colors are gorgeous. The cardigan Jen sent goes perfectly with this top.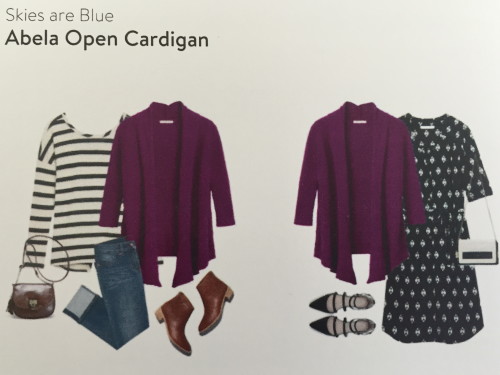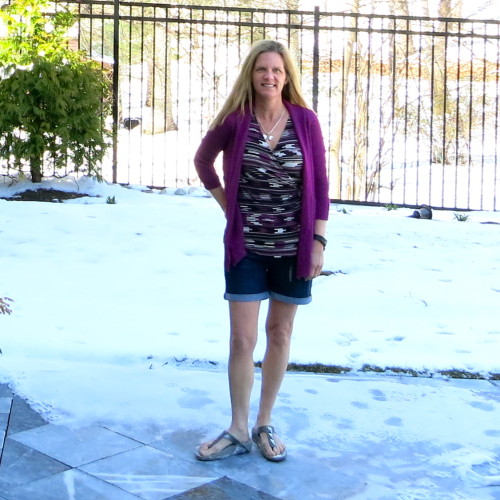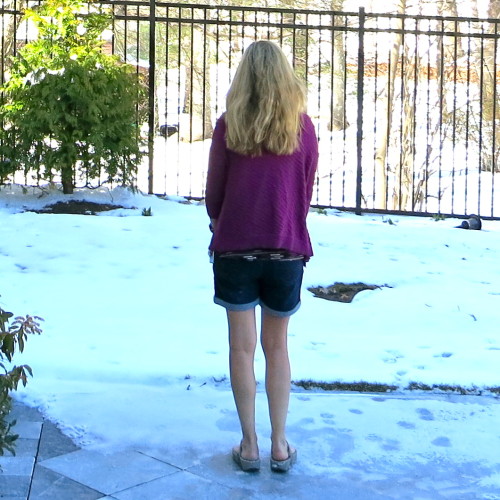 The cardigan looks boxy in the photos but it's really not. I think the shorts are creating the boxiness. And I have to apologize again for the poor lighting. Here is a better shot of the colors: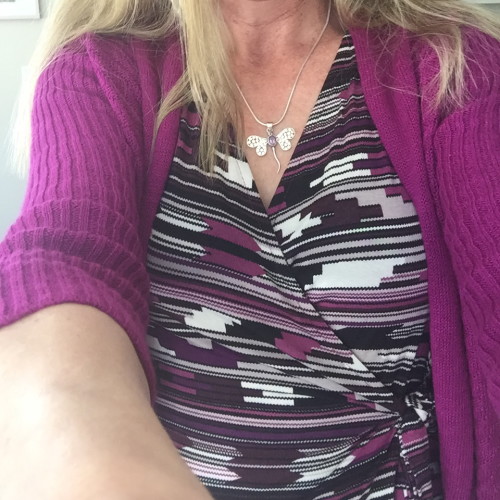 Love these colors!
So what did I keep? Since I knew people are after shorts right now, I posted them on the Facebook Buy/Sell/Trade group and they both sold within 5 minutes. So glad cuffed denim shorts make some people happy! I liked the other three items enough to keep, especially at the discounted prices. Not sure when I can actually wear them though. IT'S NOT SPRING YET HERE!
If you'd like to give Stitch Fix a try and don't mind using this link, I'll get a $25 referral credit towards my next fix once yours ships. And that would be awesome.
(I have no affiliation with Stitch Fix other than a referral code. I buy these clothes myself and all opinions are mine).
Here are links to my first 20 fixes:
Stitch Fix #20: March 2016 #2
Stitch Fix #19: March 2016
Stitch Fix #18: February 2016
Stitch Fix #17: January 2016
Stitch Fix #16: Holiday 2015 Edition 
Stitch Fix #15: December 2015
Stitch Fix #14: November 2015 Thanksgiving Edition
Stitch Fix #13: November 2015
Stitch Fix #12: October 2015
Stitch Fix #11: September / October 2015
Stitch Fix #10: September 2015
Stitch Fix #9: August 2015: I kept it all!
Stitch Fix #8: July 2015
Stitch Fix #7: June 2015
Stitch Fix #6: May 2015
Stitch Fix #5: May 2015
Stitch Fix #4: April 2015: I kept it all!
Stitch Fix #3: March 2015
Stitch Fix #2: February 2015
Stitch Fix #1: January 2015