Stitch Fix Review #20: March 2016 #2
My second (!!!!) March fix came on a cold rainy/sleety day. I love how the mailman tucked it by the back door so it wouldn't get wet.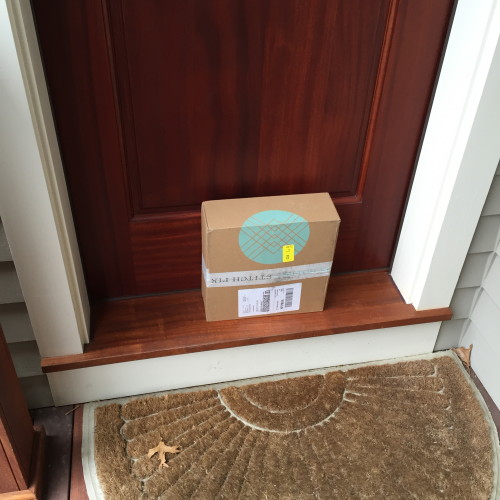 This is my 20th fix! That means I've received 100 items from Stitch Fix since I started in January of last year. Wow! Good thing I didn't keep everything because that is a LOT of stuff. I actually recently sold a bunch of my items that I wasn't wearing, quite a few of them still with the tags on. The good news is I was able to get what I paid for those. The bad news is that it means I have kept things that I didn't need or didn't love as much as I thought. I am going to try to be a bit more mindful about what I keep. It's just that the process is so incredibly addicting and so much fun! That's why I'm on my 20th Stitch Fix box.
My favorite moment is when I first open the box and peek at the colors. I love surprises! Then, I read the note and look at the styling cards to see what the items are.  It's still not very warm here so I asked my stylist for a vest and transitional tops (no bottoms or dresses) to get me through the cool New England spring. And color color color, of course! Here is the first glance: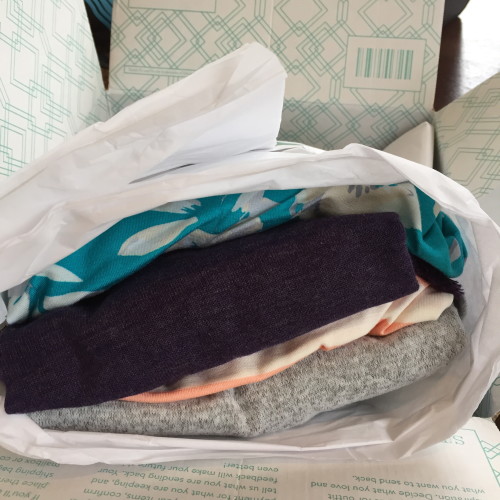 I wasn't so sure about the grey because I don't love light earth tones on me, but of course, you never know until you try with Stitch Fix. That's part of the fun.
If you've heard of Stitch Fix, skip this paragraph! Never heard of Stitch Fix? Briefly, Stitch Fix is a styling subscription service in which you fill out a profile (sizes, styles, and price point) and receive a customized fix of 5 items (clothes/accessories) delivered right to your doorstep. There is a $20 styling fee but it's credited towards anything you keep. Keeping all 5 items gives you a 25% discount, which is awesome when it happens. You dictate the frequency of your fixes. If you'd like to try it, I have a referral link here and also at the end of this post and if you sign up through my link I get a small commission at no cost to you. Yay!
Layla writes the best notes! They are always so personal and I love that she takes the time to put in details that indicate she is attentive to my notes and mindful of the temperatures where I live.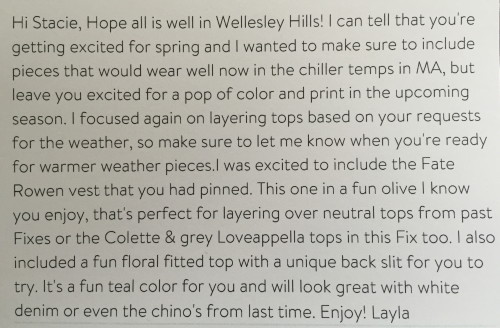 Layla always looks at my Stitch Fix Pinterest boards too. I love her. Here is what she sent:
Olive & Oak Mulliken Raglan Striped Knit Shirt, light pink, $48 ($36 with discount)
Loveappella Tiffina Knit Top, $54 ($41)
Colette Carsin Fringe Hem Knit Top, XS, dark purple, $48 ($36)
Fate Rowen Quilted Vest, XS, olive, $78 ($59)
Loveappella Jina Back Slit Knit Top, XS, teal green, $54 ($41)
The Olive & Oak top is one of those that everybody seems to want. I have seen it in multiple different colors since joining Stitch Fix. Please excuse the fact that my 12-year-old photographer didn't notice the dog taking a leak in the background. Haha.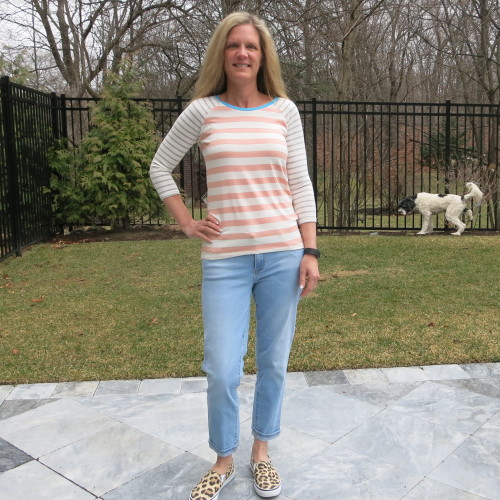 Back: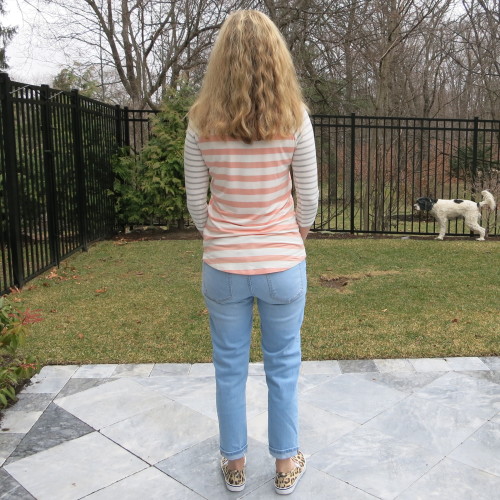 This shirt is really soft and flattering. But I didn't love the color enough on me to keep it because it made me look washed out. I would love this in a different color though. I sold this on the Facebook But/Sell/Trade group so fast that I forgot to take a picture of the style card before sending it off to its new owner. Oops.
Next I tried on the Loveappella Tiffina Knit Top.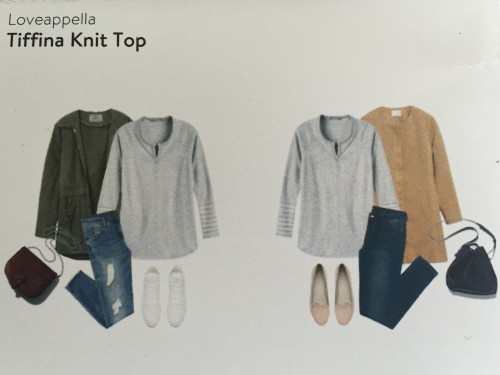 This is the one I was worried about. Light grey doesn't do me any favors.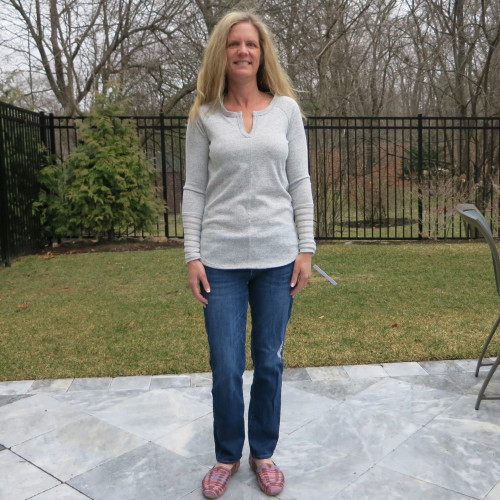 And this top is no exception.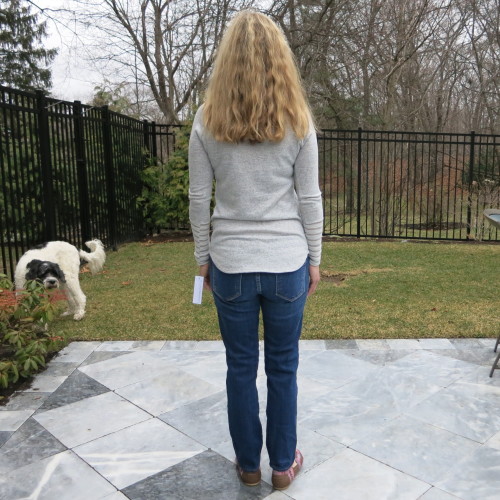 This top is really soft and comfy though and the sleeve detailing is really cute.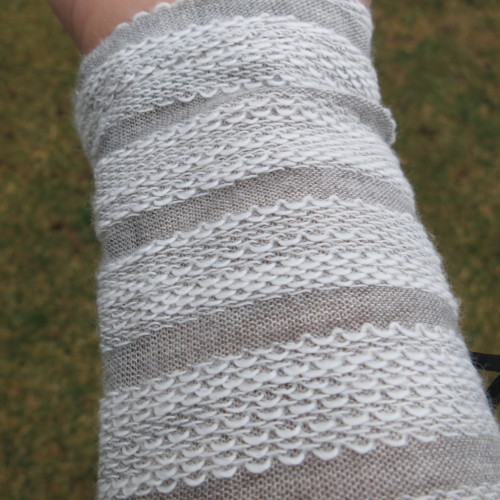 But it wasn't a keeper because of the color.
Next up: Colette Carsin Fringe Hem Knit Top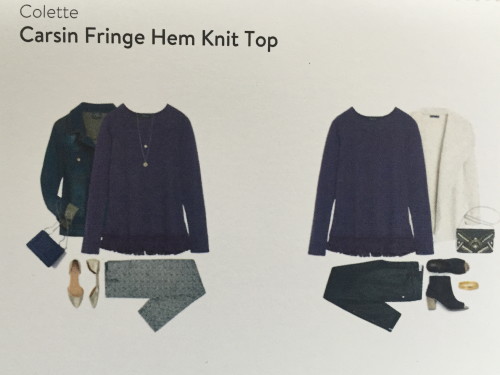 I loved everything about this top when I pulled it out of the box. It's purple, which I love and the fringe is so cute. Plus, it's really soft.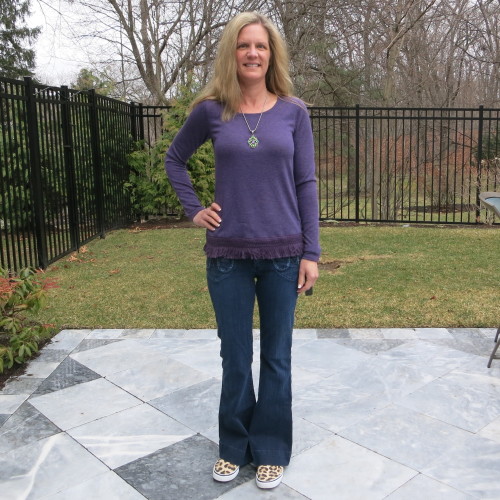 Love it!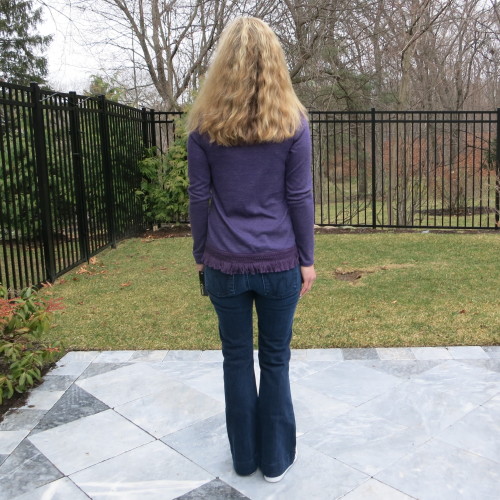 I put the Fate Rowen Quilted Vest on right over the previous outfit as per Layla's advice.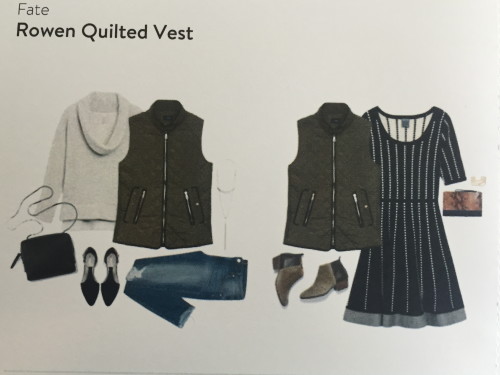 I had pinned this vest in navy but I love the olive too.
Even unzipped, it's form fitting in the back, which is great.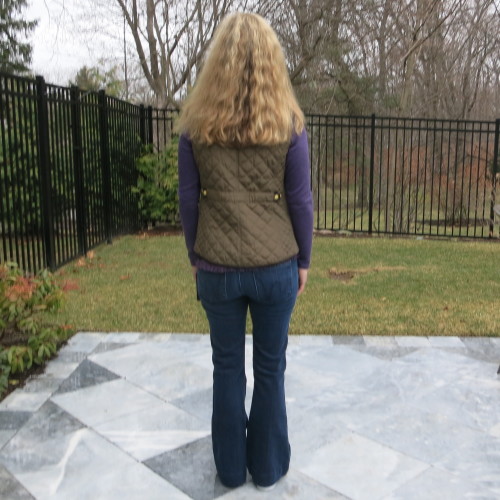 It's cute zipped too. I love how the fringe peeks out of the bottom.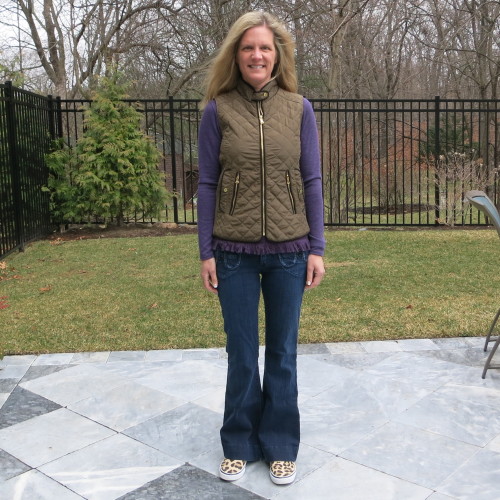 It was really cold and windy during the photoshoot! Haha.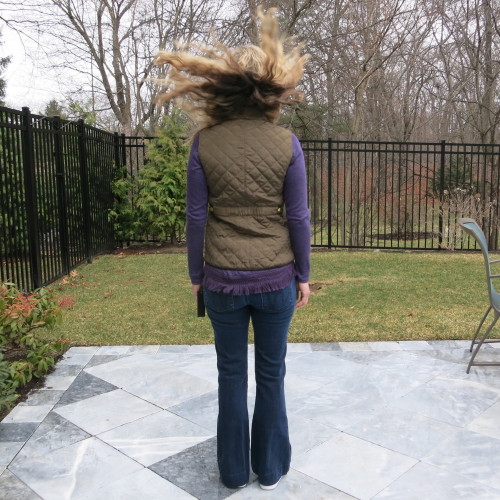 This is the back when it's zipped. That crease doesn't have to be there. Again, my photographer didn't notice. He did notice the hair though and took another shot but in the end I thought this one was funnier!
And finally, the Loveappella Jina Back Slit Knit Top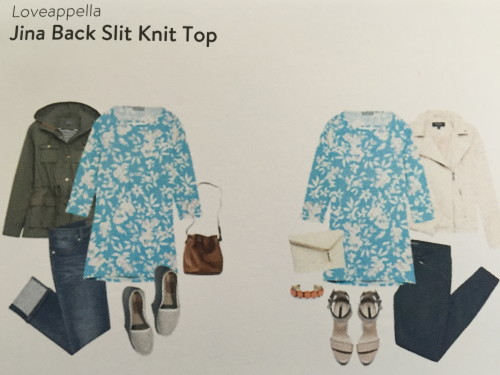 Love the color and pattern of this top!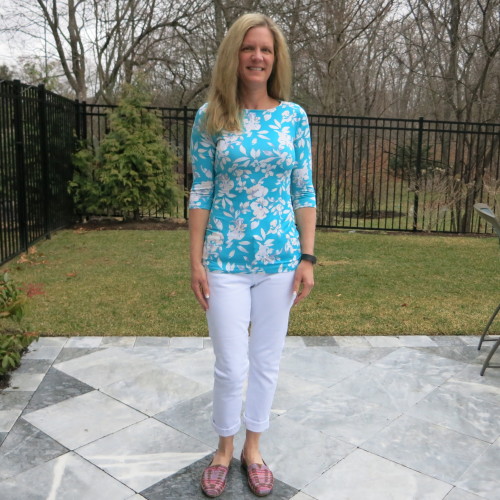 The back is super cute too.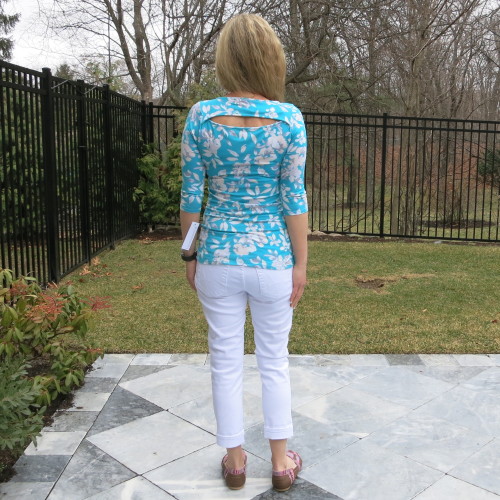 I didn't end up keeping this top because it was a bit snug for my taste. As in bra-bulge snug. The pattern detracts from that some but I was concerned I wouldn't reach for it so I let it go per my new more mindful self. Still, 2/5 LOVES is not bad!
And that's my 20th Stitch Fix Review! So much fun, as always.
If you'd like to give Stitch Fix a try and don't mind using this link, I'll get a $25 referral credit towards my next fix once yours ships. And that would be awesome.
(I have no affiliation with Stitch Fix other than a referral code. I buy these clothes myself and all opinions are mine).
Here are links to my first 19 fixes:
Stitch Fix #19: March 2016
Stitch Fix #18: February 2016
Stitch Fix #17: January 2016
Stitch Fix #16: Holiday 2015 Edition 
Stitch Fix #15: December 2015
Stitch Fix #14: November 2015 Thanksgiving Edition
Stitch Fix #13: November 2015
Stitch Fix #12: October 2015
Stitch Fix #11: September / October 2015
Stitch Fix #10: September 2015
Stitch Fix #9: August 2015: I kept it all!
Stitch Fix #8: July 2015
Stitch Fix #7: June 2015
Stitch Fix #6: May 2015
Stitch Fix #5: May 2015
Stitch Fix #4: April 2015: I kept it all!
Stitch Fix #3: March 2015
Stitch Fix #2: February 2015
Stitch Fix #1: January 2015