Stitch Fix Review #19: March 2016
Spring must be in the air because look how skinny my Stitch Fix box is.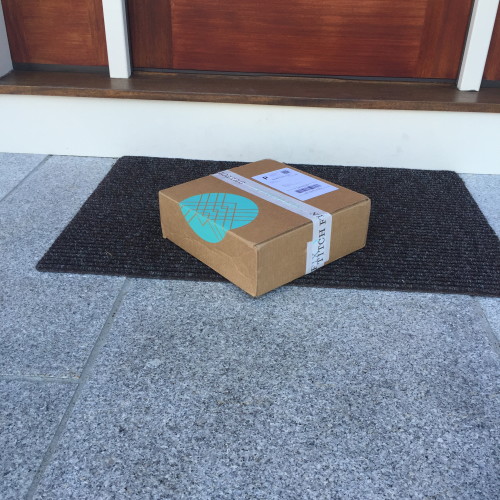 No cozy sweaters or jackets in this fix, that's for sure. I can't believe this is my 19th Stitch Fix Review! The fun is still going strong and I'm definitely not quitting any time soon. I get such a rush when I see the box on my doorstep. Also, some people look at what's coming once it ships but I never peek. Opening the box is so much more fun that way. I love surprises! I was pleased with the colors I saw this month.
If you've heard of Stitch Fix, skip this paragraph! Never heard of Stitch Fix? Briefly, Stitch Fix is a styling subscription service in which you fill out a profile (sizes, styles, and price point) and receive a customized fix of 5 items (clothes/accessories) delivered right to your doorstep. There is a $20 styling fee but it's credited towards anything you keep. Keeping all 5 items gives you a 25% discount, which is awesome when it happens. You dictate the frequency of your fixes. If you'd like to try it, I have a referral link here and also at the end of this post and if you sign up through my link I get a small commission at no cost to you. Yay!
In my note to my stylist I mentioned it was still cold and not ready for short sleeves, dresses, skirts, or shorts. Here's my note from Layla: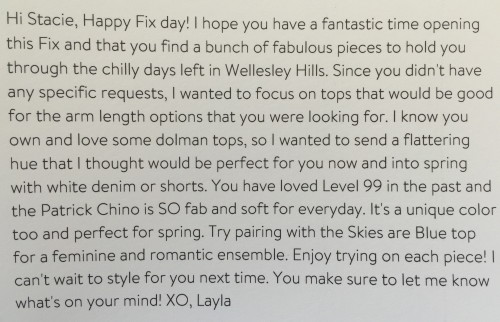 Layla is clearly paying attention to my note AND my Stitch Fix Pinterest boards. That is the mark of a great stylist. Here is what she sent:
Skies are Blue Jonston Braider Neckline Knit Top, navy, $54 ($41 with discount)
Level 99 Patrick Chino Pant, 4, dark pink, $108 ($81)
41Hawthorn Berneen Dolman Knit Top, XS, teal green, $58 ($44)
Papermoon Dillin V-Neck Knit Top, XS, black, $48 ($36)
Le Lis Dustan Contrast Sleeve Knit Top, XS, olive, $54 ($41)
I took Layla's advice immediately and tried on the Level 99 chinos with the Skies are Blue top.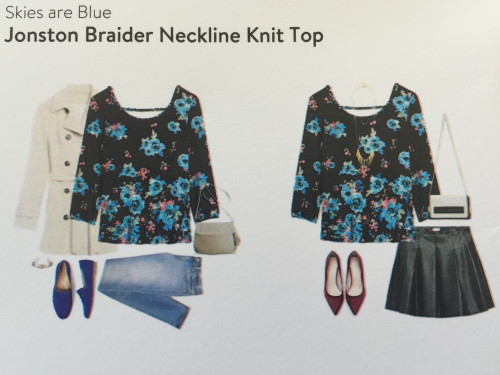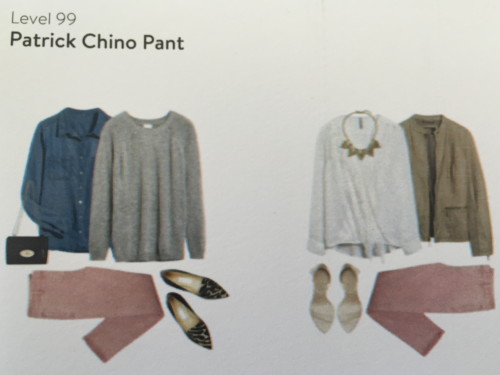 She wasn't kidding. These chinos are super soft and the color is amazing. The floral top paired with them perfectly too! And the pattern is similar to a different shirt I pinned so props to Layla.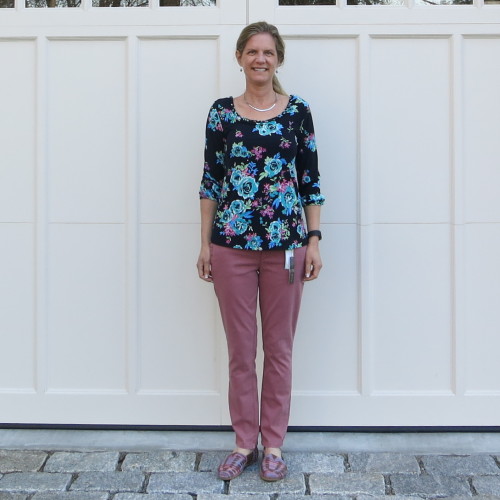 The back of the top is super cute but still bra-friendly.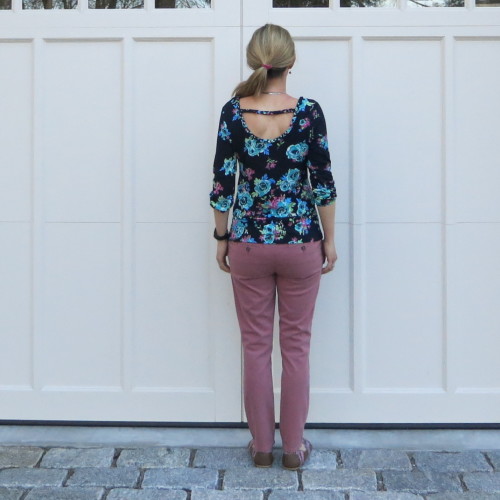 The braided trim on the shirt is a really fun detail. It was hard to see in the photos above so I took a closer shot.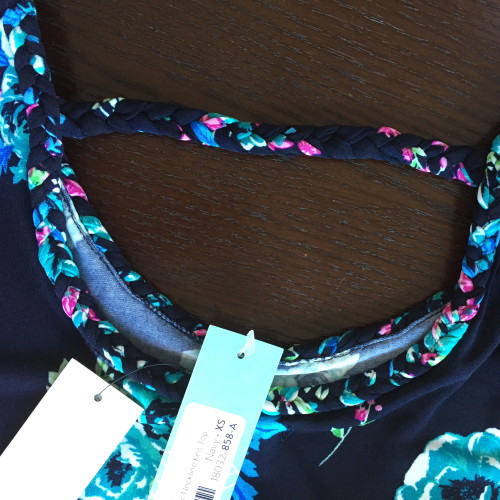 I knew immediately I'd keep both things. Next I tried on the dolman.
I actually bought this shirt in another color off a B/S/T group but this color is way better on me. I'll probably try to sell the other one since I haven't worn it yet and it's still new with tags.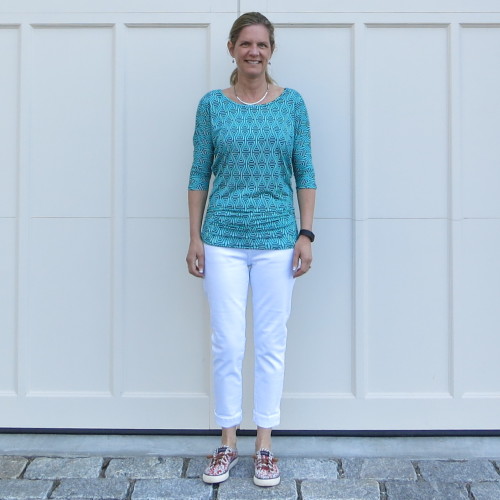 This dolman is cute because the arms aren't too bat-like. And the fitted bottom and ruching on the side make it more flattering than some dolmans.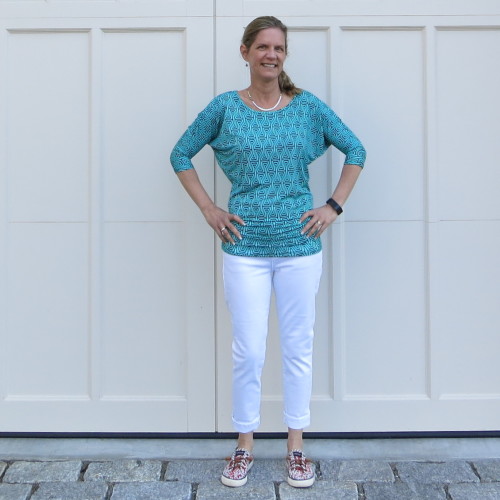 Back.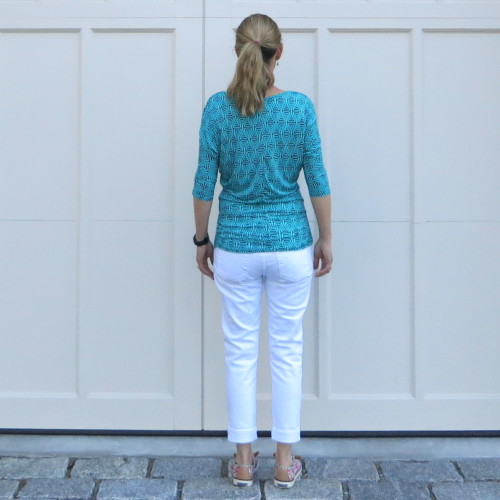 I was pretty excited by the first three things but right out of the box, I didn't love the color of the V-Neck top.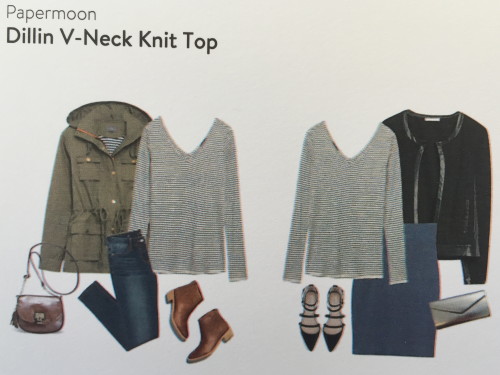 This top is really soft and comfy but I don't think the color does anything for me. I paired it with my olive KUT Brayden cargo pants.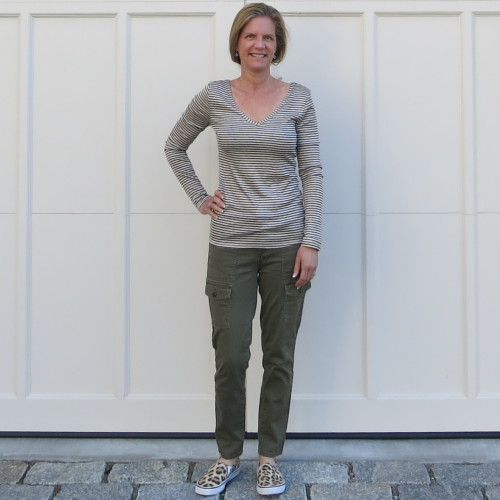 The V in the back is really cute, but I don't love this overall.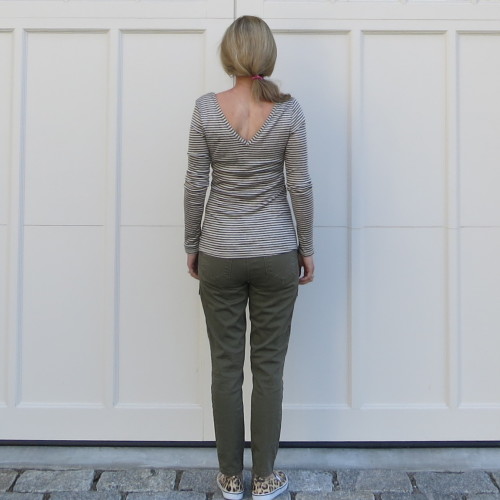 The last item I tried was a colorful Le Lis Top.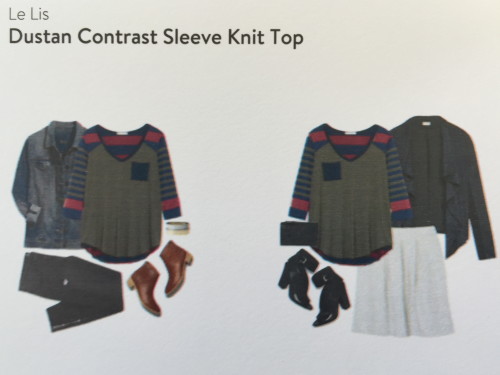 I really love the colors but this top is a bit too flowy for my taste.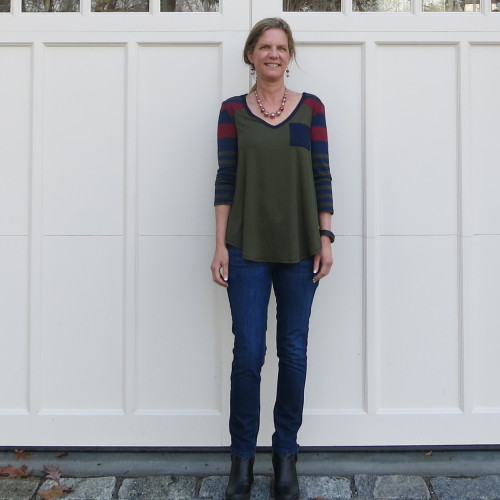 The back is longer and really cute with all of those stripes.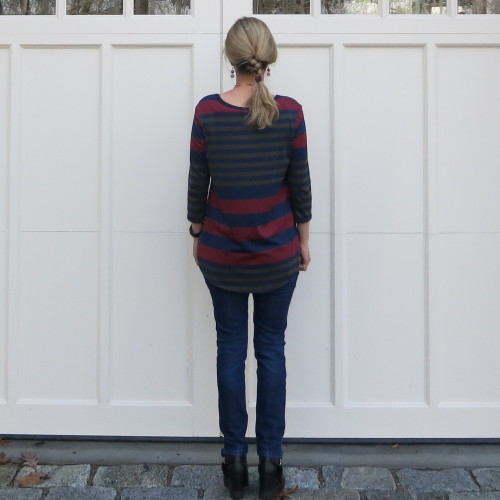 But as mentioned, I didn't love the way this fit. However, I ended up keeping these last two shirts because since I was already keeping the three most expensive items, it was only $1.50 more to keep these last two tops too. I will try to sell them. Even if only one sells, I'm better off.
And that's my 19th Stitch Fix Review! So much fun, as always.
If you'd like to give Stitch Fix a try and don't mind using this link, I'll get a $25 referral credit towards my next fix once yours ships. And that would be awesome.
(I have no affiliation with Stitch Fix other than a referral code. I buy these clothes myself and all opinions are mine).
Here are links to my first 18 fixes:
Stitch Fix #18: February 2016
Stitch Fix #17: January 2016
Stitch Fix #16: Holiday 2015 Edition 
Stitch Fix #15: December 2015
Stitch Fix #14: November 2015 Thanksgiving Edition
Stitch Fix #13: November 2015
Stitch Fix #12: October 2015
Stitch Fix #11: September / October 2015
Stitch Fix #10: September 2015
Stitch Fix #9: August 2015: I kept it all!
Stitch Fix #8: July 2015
Stitch Fix #7: June 2015
Stitch Fix #6: May 2015
Stitch Fix #5: May 2015
Stitch Fix #4: April 2015: I kept it all!
Stitch Fix #3: March 2015
Stitch Fix #2: February 2015
Stitch Fix #1: January 2015