Stitch Fix Review #18: February 2016
You know what makes me happy? It's been spring-like weather here in the Greater Boston Area AND Punxsutawney Phil did not see his shadow today, which means early spring for real! Never mind our MA groundhog, Ms. G of Lincoln, predicted 6 more weeks of winter. Phil is the real deal. Please?
You know what else makes me happy? Stitch Fix! Every time I see a Stitch Fix box on my doorstep, I know it's going to be a great day. See how my February box was just jammed to the brim, bursting with goodness?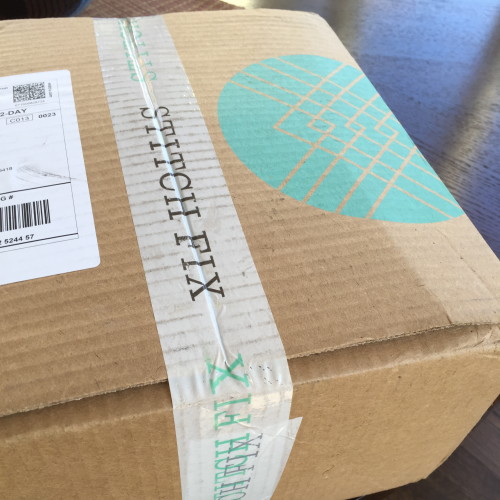 I can't believe this is my 18th Stitch Fix Review! This was my third fix since my long time stylist, Katie, left Stitch Fix. Layla did a great job with my first post-Katie fix so I was super excited to see that she styled this one as well. Let's have a look, shall we?
Ooooooh.
If you've heard of Stitch Fix, skip forward to the note! If you've never heard of Stitch Fix? Briefly, Stitch Fix is a styling subscription service in which you fill out a profile (sizes, styles, and price point) and receive a customized fix of 5 items (clothes/accessories) delivered right to your doorstep. There is a $20 styling fee but it's credited towards anything you keep. Keeping all 5 items gives you a 25% discount, which is awesome when it happens. You dictate the frequency of your fixes. If you'd like to try it, I have a referral link here and also at the end of this post and if you sign up through my link I get a small commission at no cost to you. Yay!
In my note to my stylist I mentioned I didn't need "bottoms, unless I pinned them" and to please pay attention to my "Stitch Fix I Own" Pinterest board since I pin Stitch Fix items I buy on FB or elsewhere on that board. Last time, I received a shirt I already owned, so I didn't want that to happen again. I also mentioned I'm still not ready for short sleeves. Here's my note from Layla: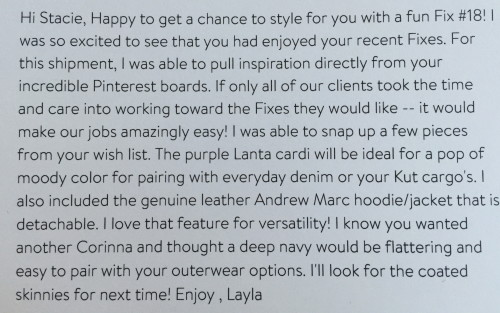 Layla is clearly paying attention to my note AND my Stitch Fix Pinterest boards. That is the mark of a great stylist. Here is what she sent:
Papermoon Ambrosio Lace Back Panel Knit Top, indigo, $48 ($36 with discount)
Andrew Marc Tolna Real Leather Jacket, XS, black, $258 ($194)
Market & Spruce Lanta Open Drape Cardigan, XS, purple, $68 ($51)
Moon Lauri Zipper Detail Pullover Sweater, XS, navy, $68 ($51)
Market & Spruce Corinna Striped Dolman Top, XS, navy, $48 ($36)
When I saw the Papermoon Ambrosio Lace Back Panel Knit Top, I might have swooned. I hadn't seen this particular top on blogs or Stitch Fix Facebook groups before (otherwise I would have pinned it).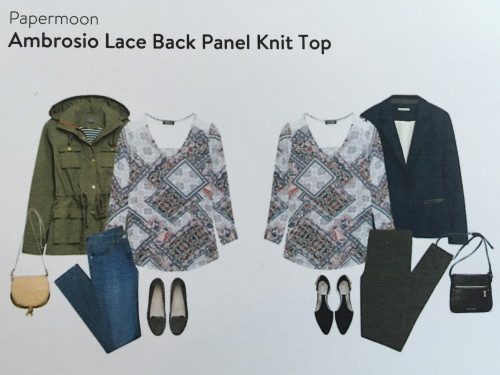 So I had to try it on before the other stuff.
I mean, look at how fun the pattern is!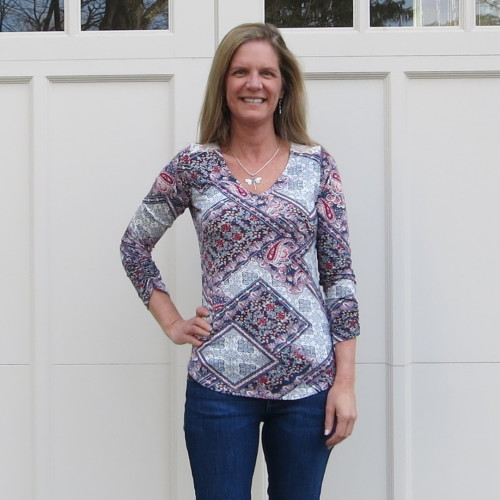 I only thought of it after I finished the pictures but this will also look amazing with my pale pink jeans! I love EVERYTHING about this shirt. It's fitted, soft (rayon/spandex), a fun pattern in great colors, has ruching on the sleeves (a nice break from tabs) and it has such cute lace detail in the back (excuse the tags oops)! KEEPER!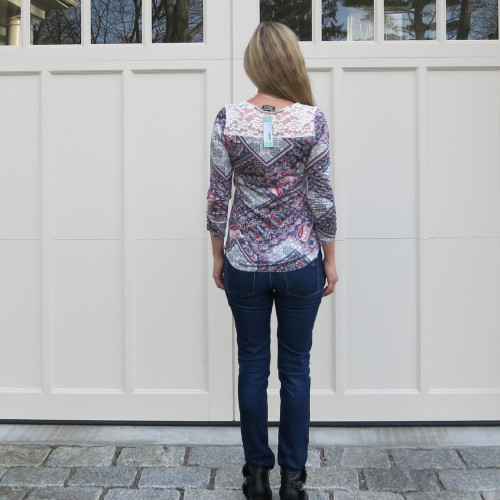 I thought the leather jacket might work with this outfit so I just slipped it on.
I've been without a leather jacket for about five years now and recently I've been keeping my eyes open for one. I saw this one on a blog and pinned it (thanks Layla!).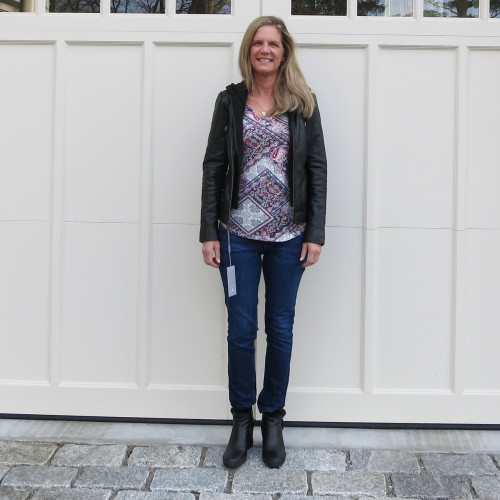 But it was way too small. I think maybe in Stitch Fix outerwear, I'm a S not an XS. (Note: most of my non-SF things are S and outerwear is M. SF runs big!). My chest feels compressed here. Plus, even if I sized up, I think this jacket is shorter than what I want. I'm open minded but this just doesn't seem to be the leather jacket of my dreams. RETURNED.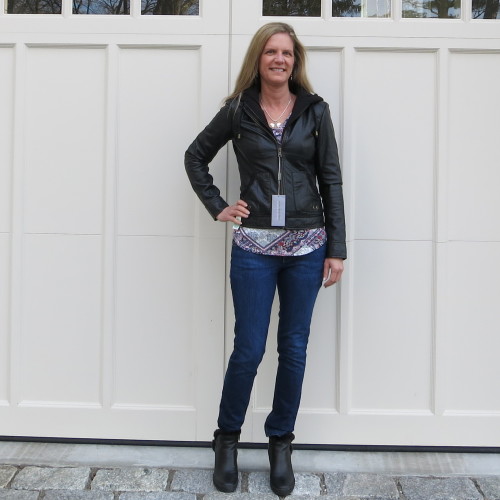 Layla also sent a sweater I had pinned. Go Layla!
I love cozy sweaters in winter and this one looked so promising!
I loved the colors of this sweater but I just didn't love the way it draped enough to pay $68, especially since I have two other drape cardigans from Stitch Fix that I adore and wear all the time. RETURNED.
Annnnddd. I finally got the coveted Market & Spruce Corinna Striped Dolman.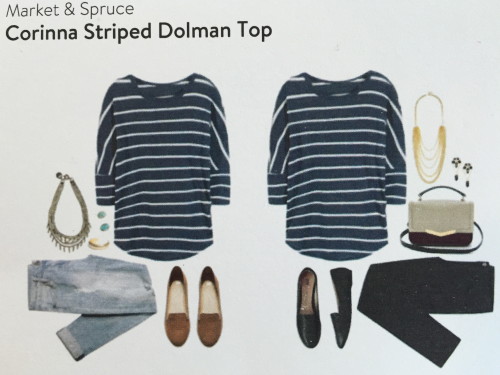 Eeeeee.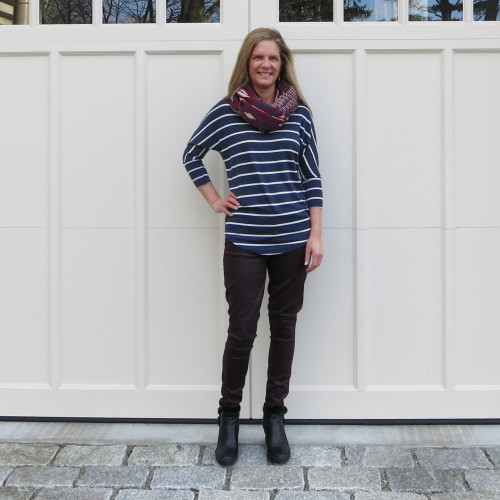 I paired it with the Alzora Zig Zag Infinity Scarf I bought in a FB group and myLevel 99 Charley Zipper Coated Skinny Jeans from my 12th fix . Perfect!
The bat wings aren't particularly huge on this dolman, which is part of what I like. Sometimes that gets a bit out of hand.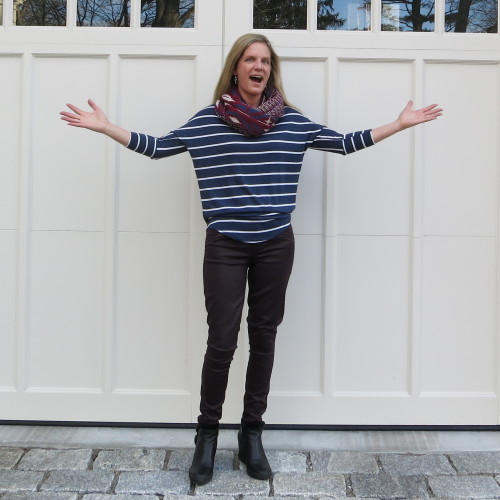 Finally, Layla sent me the Moon Lauri Zipper Detail Pullover Sweater. I loved that she chose this for me because it was a perfect idea.
I actually loved this sweater on too, even though I ended up sending it back (here me out).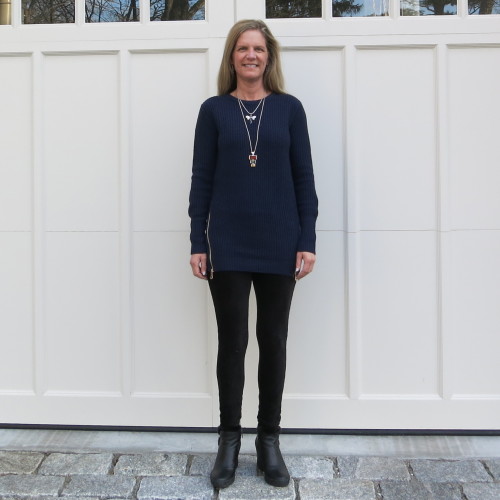 Look at the zippers on the sides!
Love the edge! Also? Look!!! Quilted faux leather elbow patches. Fun!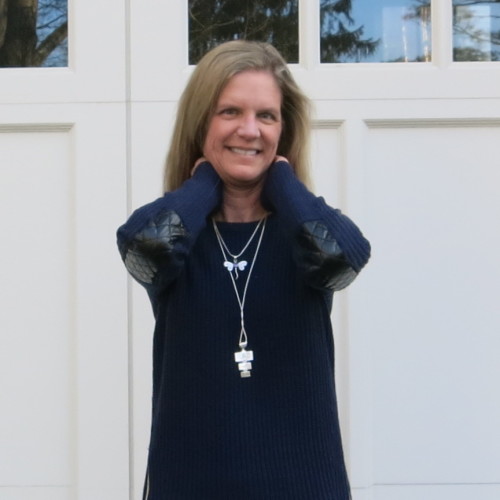 Zippers and elbow patches? Love. I really loved this choice by Layla. Why didn't I keep it? I have SO much navy, including two recent solid navy sweaters from Stitch Fix. If this had been any other color (well, except beige), I'd have kept it in a heart beat. Really good call, Layla. Just no more solid navy for a while, ok?
I thought this was a great fix! It had the perfect combination of pins and surprises. I love the two tops I kept and the entire box was so much fun to try on! I'm already excited to see what I get next time.
If you'd like to give Stitch Fix a try and don't mind using this link, I'll get a $25 referral credit towards my next fix once yours ships. And that would be awesome.
(I have no affiliation with Stitch Fix other than a referral code. I buy these clothes myself and all opinions are mine).
Here are links to my first 17 fixes:
Stitch Fix #17 January 2016
Stitch Fix #16: Holiday 2015 Edition 
Stitch Fix #15: December 2015
Stitch Fix #14: November 2015 Thanksgiving Edition
Stitch Fix #13: November 2015
Stitch Fix #12: October 2015
Stitch Fix #11: September / October 2015
Stitch Fix #10: September 2015
Stitch Fix #9: August 2015: I kept it all!
Stitch Fix #8: July 2015
Stitch Fix #7: June 2015
Stitch Fix #6: May 2015
Stitch Fix #5: May 2015
Stitch Fix #4: April 2015: I kept it all!
Stitch Fix #3: March 2015
Stitch Fix #2: February 2015
Stitch Fix #1: January 2015