Stitch Fix Review #17: January 2016
It's Stitch Fix Review time! My latest fix was coincidentally scheduled for January 12th, which was my son's birthday. I loved the timing because if he's getting presents I should too, right? Stitch Fix makes me feel like every month is my birthday!
In the end this fix arrived a day early so I got my presents first, hehe.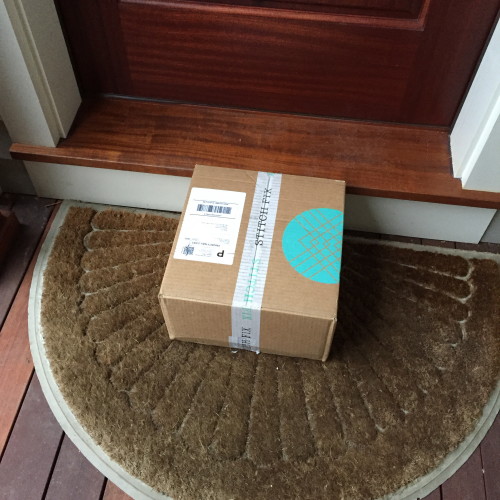 This was my second fix since my long time stylist, Katie, left Stitch Fix. Layla did a great job with my first post-Katie fix so I was excited for this next one. I was assuming I'd get Layla again but instead I got Jen. That's ok though. When Katie left I requested either one of those two so customer service came through in that regard, although I prefer having the same stylist for continuity.
See what's in the box?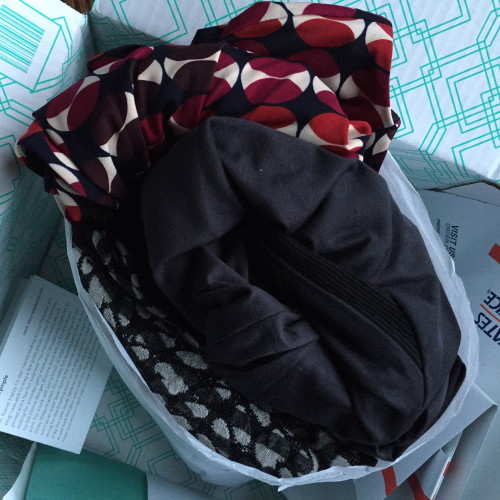 If you've heard of Stitch Fix, skip forward to the note! If you've never heard of Stitch Fix? Briefly, Stitch Fix is a styling subscription service in which you fill out a profile (sizes, styles, and price point) and receive a customized fix of 5 items (clothes/accessories) delivered right to your doorstep. There is a $20 styling fee but it's credited towards anything you keep. Keeping all 5 items gives you a 25% discount, which is awesome when it happens. You dictate the frequency of your fixes. If you'd like to try it, I have a referral link here and also at the end of this post and if you sign up through my link I get a small commission at no cost to you. Yay!
So for this fix, I mentioned in my note that I was still looking for a dress for a late-January holiday party and also that I didn't need "bottoms." Here's my note from Jen (I have no idea why it looks blue. That's a first!):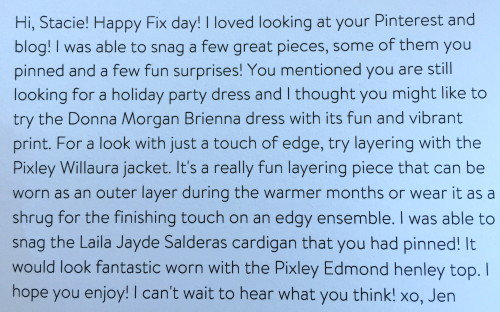 I was happy that Jen mentioned my note as well as my Stitch Fix Pinterest boards. Here is what she sent:
Donna Morgan Brienna Dress, 4, red, $138 ($104 with discount)
Papermoon Endicott Woven Dobby Back Knit Top, XS, black, $58 ($44)
Pixley Willaura Faux Suede Drape Jacket, XS, dark grey, $78 ($59)
Pixley Edmond Chevron Print Henley Shirt, XS, dark purple, $54 ($41)
Laila Jayde Salderas Hooded Cardigan, dark purple, $64 ($48)
Ugh. So, Jen clearly looked at ONE of my Pinterest boards. But I have another called "Stitch Fix I Own," which Katie always checked. On this board I pin Stitch Fix pieces that I bought somewhere else, like in Facebook groups or elsewhere on the internet. It's important for my stylist to check this board as the fact that I already own these pieces won't be in the Stitch Fix database. The Pixley Edmond Chevron Print Henley in dark purple?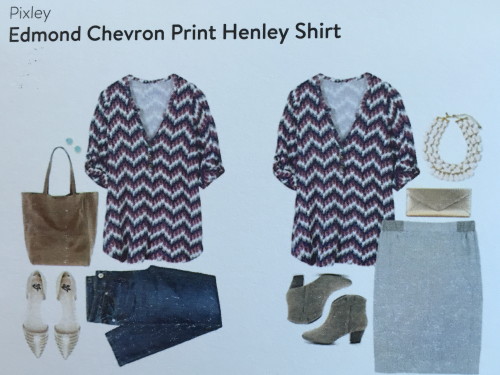 Cute, right?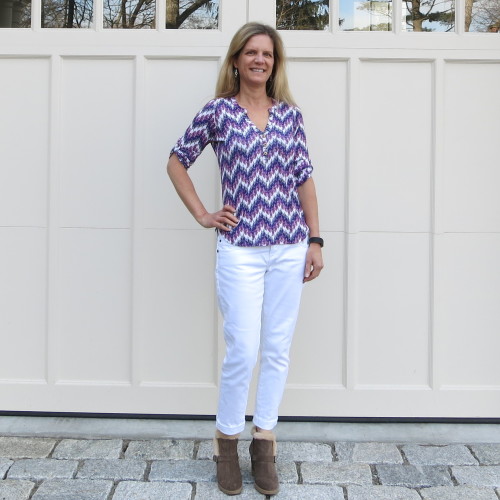 Back: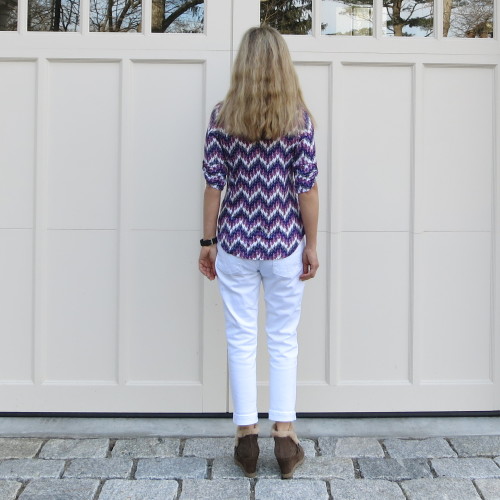 Well, I ALREADY HAVE IT–it's pinned on my "Stitch Fix I Own Board." This is SO disappointing for two reasons. The first is that it negates my ability to get the 25% discount since I'm for sure not keeping a shirt I already have. Second, as much as I love this shirt, it's too short for my long torso, so I'm going to have to sell the one I already have too (I had bought it but not worn it as it's too cold).It's true that Jen picked something that was my style, so at least there's that.
Jen also sent me the Laila Jayde Salderas Hooded Cardigan in dark purple and suggested I wear it over the Pixley henley. I had pinned this sweater when a fellow fixer said it was so awesome she never wanted to take it off.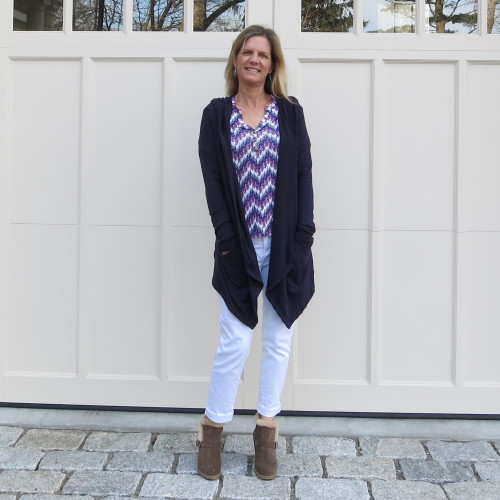 The color worked fine with the henley but, and I'm not sure it's so easy to tell from this photo, the tab sleeves on the henley looked bumpy under the sweater so not a good combo.
Next I tried it on with the Corinna dolman I bought from a Stitch Fix Buy/Sell/Trade group and that worked much better.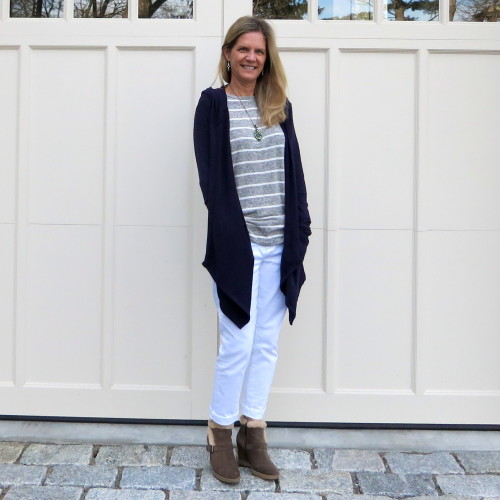 It has pockets! The shot of the back below better represents the color since the photo above looks black. Love the hood!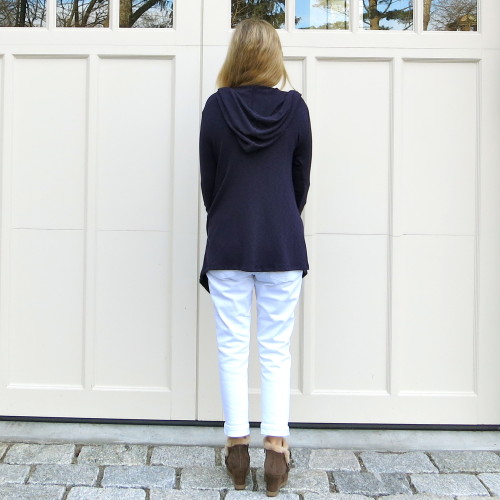 The fact that it's shorter in the back is cute, although I probably won't be wearing it with leggings. I tend to be drawn towards colorful patterns, so this sweater is a nice neutral piece to have in my closet for layering over patterned tops. KEEP.
Speaking of colorful patterns, my husband's holiday party is this coming Saturday. I mentioned I was still looking for a dress so Jen sent this one: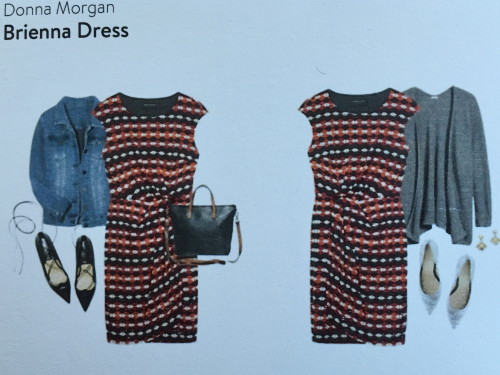 I have to tell you that it was 20°F outside and I was DYING of cold when I took these photos.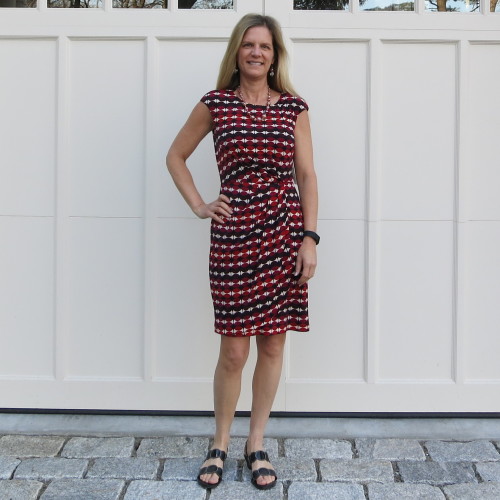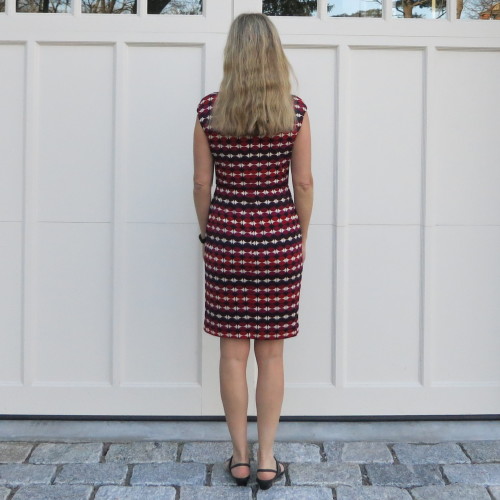 I also received the Pixley Willaura Faux Suede Drape Jacket and Jen suggested I layer it over this dress so here goes: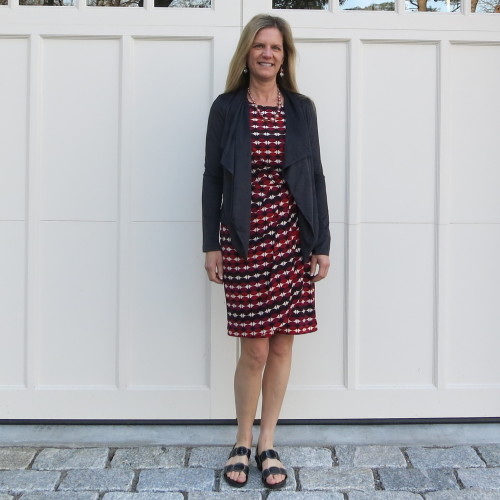 I like the look but I'm not getting the holiday party vibe from this dress. It's cute but I don't need a lot of dresses and I have one already that I like better for a party so I'm sending this one back. I guess I will be dress shopping this week or wearing one I already have. The drape jacket is also going back. The faux suede is really soft and it drapes nicely. But it was a bit snug across my back and biceps. Also, I have another jacket that is similar enough that it wouldn't make sense to keep this even if it fit better.
Finally, I had pinned the Papermoon Endicott Woven Dobby Back Knit Top so YAY. So thrilled to get this top. Here I paired it with my burgundy Level 99 Charley Zipper Coated Skinny Jeans, which are pretty much the best jeans ever, from my 12th fix.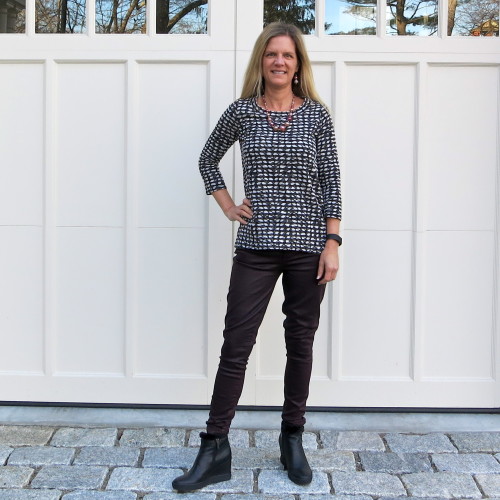 So flattering. Plus? There's a party in the back!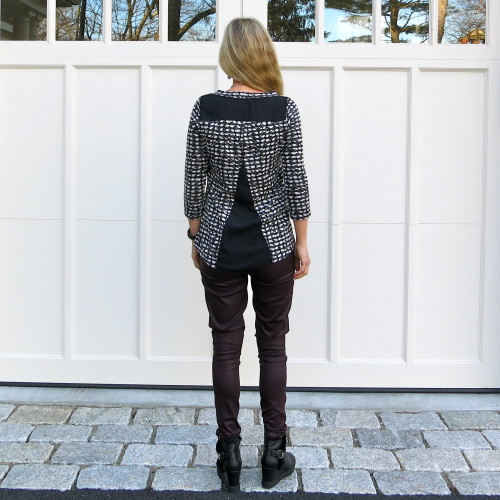 Very cute! And here's the side view. The shirt is longer in the back.
I kept this top becauseI love the way it looks on but I wish the fabric were softer. It's not itchy or anything but it's not as soft as I like.
Overall, I enjoyed this fix. Keeping two items is a win. I realize it might take a while for a new stylist to be in the same sort of groove as Katie. So bring on the next one!
If you'd like to give Stitch Fix a try and don't mind using this link, I'll get a $25 referral credit towards my next fix once yours ships. And that would be awesome.
(I have no affiliation with Stitch Fix other than a referral code. I buy these clothes myself and all opinions are mine).
Here are links to my first 16 fixes:
Stitch Fix #16: Holiday 2015 Edition 
Stitch Fix #15: December 2015
Stitch Fix #14: November 2015 Thanksgiving Edition
Stitch Fix #13: November 2015
Stitch Fix #12: October 2015
Stitch Fix #11: September / October 2015
Stitch Fix #10: September 2015
Stitch Fix #9: August 2015: I kept it all!
Stitch Fix #8: July 2015
Stitch Fix #7: June 2015
Stitch Fix #6: May 2015
Stitch Fix #5: May 2015
Stitch Fix #4: April 2015: I kept it all!
Stitch Fix #3: March 2015
Stitch Fix #2: February 2015
Stitch Fix #1: January 2015