Stitch Fix Review #16: Holiday 2015 Editon
Even though I already had a birthday fix this month, I felt a holiday fix was also in order because why not? Obviously, I am completely addicted to Stitch Fix. Receiving surprises on my doorstep every few weeks brings me such joy. I can't seem to get enough! Little did my husband Rich know the monster he would create when he gave me a gift certificate for my birthday last year. Bwa ha ha.
But you guys, I was kind of nervous about this fix. My stylist Katie, who styled my last 12 fixes left Stitch Fix! I am of course excited for her that she is taking the next step in her career. But what about MEeeeeee??!! I ended up emailing customer service and requesting one of two stylists: one of Katie's friends, Jen, or Layla, who is indirectly responsible for probably half of my Pinterest pins because I love the way she styles other bloggers.
Customer service delivered! My 16th Stitch Fix Review is brought to you by Layla. Look at the colors…oooohhhhh.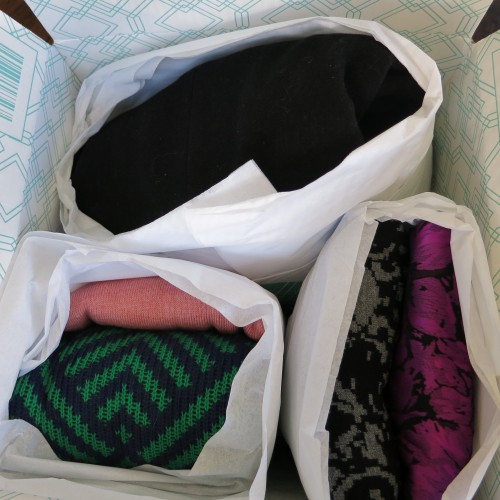 Never heard of Stitch Fix? Briefly, Stitch Fix is a styling subscription service in which you fill out a profile (sizes, styles, and price point) and receive a customized fix of 5 items (clothes/accessories) delivered right to your doorstep. There is a $20 styling fee but it's credited towards anything you keep. Keeping all 5 items gives you a 25% discount, which is awesome when it happens. You dictate the frequency of your fixes. If you'd like to try it, I have a referral link here and also at the end of this post and if you sign up through my link I get a small commission at no cost to you. Yay!
So for this fix, I mentioned in my note that Rich's holiday party was in January. Also, because my stylist was "new" to me, I emphasized my love for color and (for now) items appropriate for Boston winters.
Here's my note from Layla: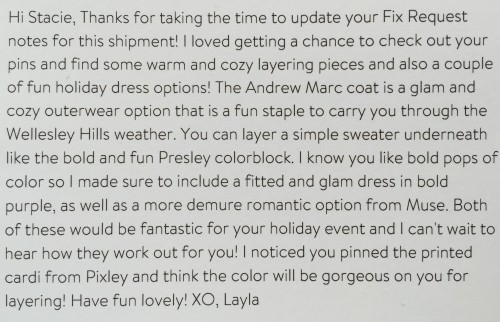 I was instantly impressed because it was obvious that Layla paid attention to my note as well as my Stitch Fix Pinterest boards. Here is what she sent:
Adrianna Papell Kalla Dress, 4, purple, $78 ($59 with discount)
Muse Kamira Dress, S, dark grey, $118 ($89)
Andrew Marc Adriana Wool Coat, 4, black, $198 ($149)
41 Hawthorn Presley Colorblock Button-Back Sweater, XS, coral, $68 ($51)
Pixley Dali Open Drape Cardigan, green, $78 ($59)
I immediately reached for the Adrianna Papell Kalla Dress because look at the color/pattern! So me!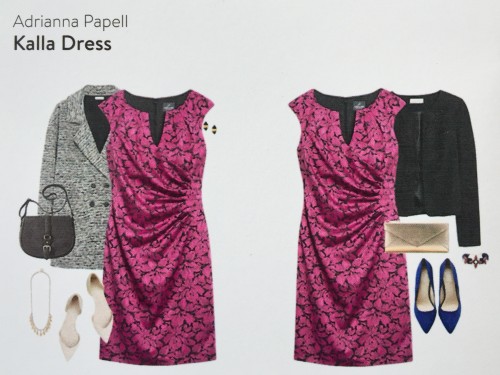 I have to apologize for the indoor photos. It's been raining and I didn't have a chance to take pictures outside.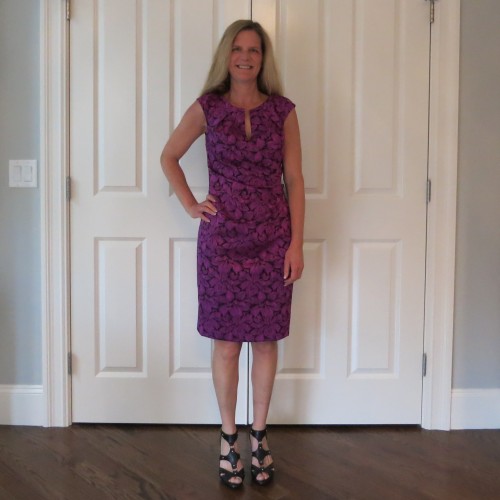 At first glance this was cute! I adored the color. On the style card, it looks more pink but my photos show it as magenta, which is the true color of the dress.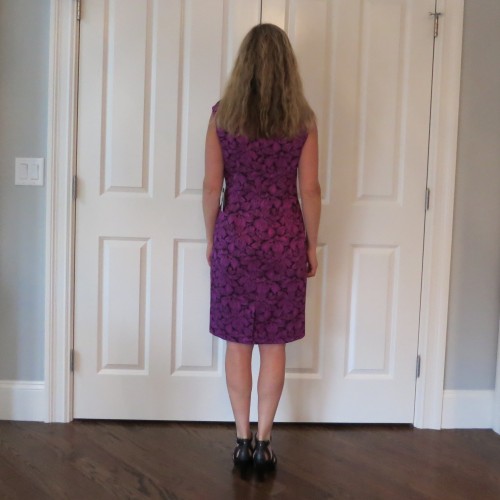 But there were a couple of issues, not all obvious from the photos. The first was that, even though I normally love ruching, the side view of this particular dress was not very flattering.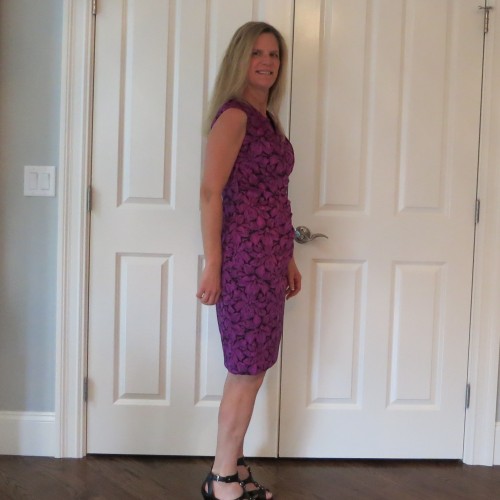 My stomach is actually fairly flat and this added girth that I don't have. Another issue was that this dress is made for someone with a bigger chest than I have. It gaped in the bust, especially when I leaned over. I wouldn't have been able to size down because it fit everywhere else. Finally, I didn't love the feel of the material. The dress is polyester, which doesn't bother me when it's soft. But this had more of an old school polyester feel. RETURN.
Next, I tried on the Andrew Marc Adriana Wool Coat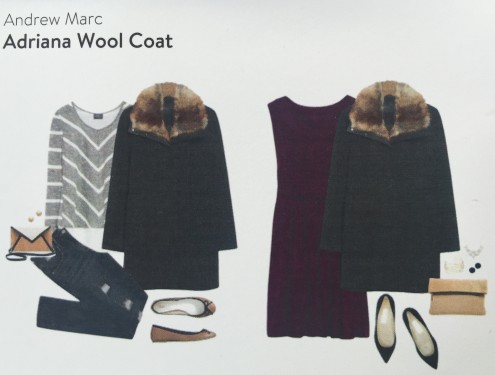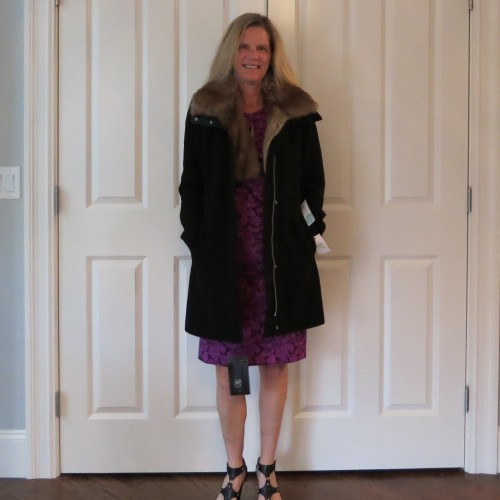 I loved this coat! So comfy and warm and the faux fur trim is a nice touch (it's removable!). I also loved that it zipped.
There was only one problem. I have a black cashmere coat already that occupies this exact niche. I don't need a second black wool winter coat. But I probably would have kept this if I didn't already have something so similar. Layla did good here. She obviously can't know about non SF items already in my closet. RETURN.
Moving on to the Muse Kamira Dress.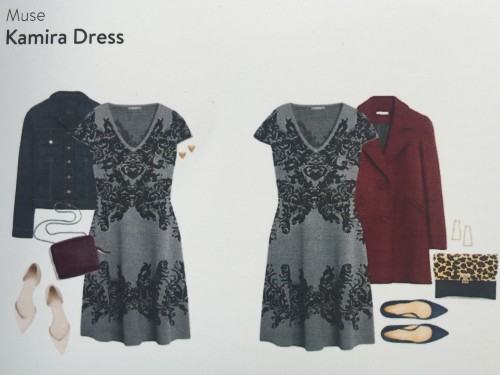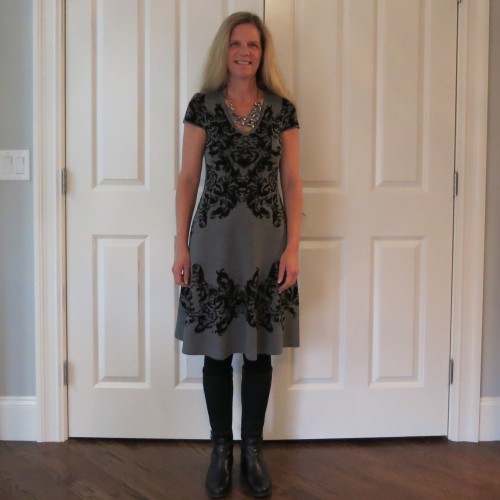 I loved the fabric of this dress. So soft and nice and heavy for winter.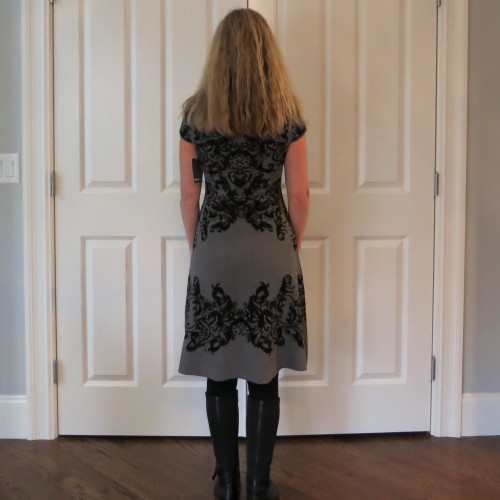 But I really really would have preferred this to have 3/4 or long sleeves, given that the fabric was wintery.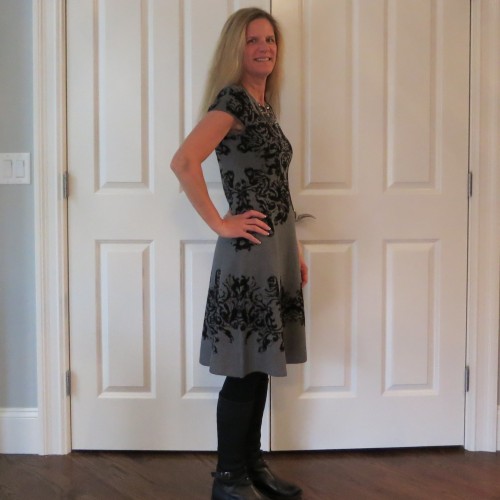 I would have tried it on with a red or burgundy cardi but sadly, I don't have one! I also didn't really see it as something I'd wear to a holiday party and being short sleeved, I wasn't sure if I'd ever wear it in winter. I know I'm going to get comments that I should have kept this dress, but in the end I sent it back.
And now for the sweaters! First, the 41 Hawthorn Presley Colorblock Button-Back Sweater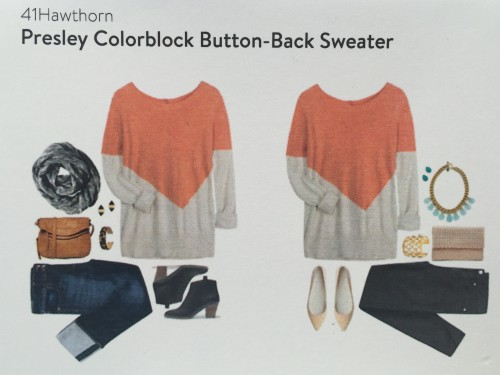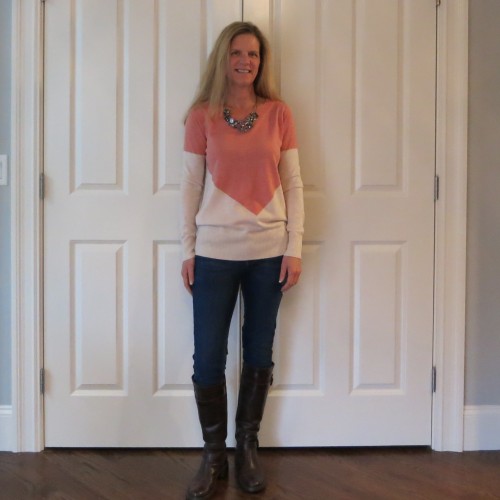 This sweater has cute buttons in the back!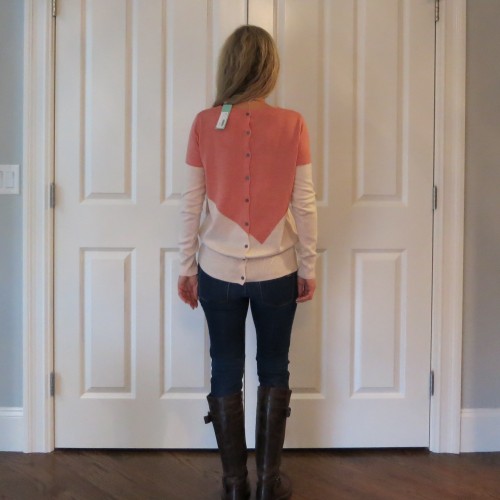 I liked the feel and cut of the sweater but the colors didn't do much for me. The coral was close to a pastel and didn't go well with my skin tone. It made me look washed out even more in person than in the photos. RETURN.
Finally, I had pinned the Pixley Dali Open Drape Cardigan and was super-excited to see it in my fix.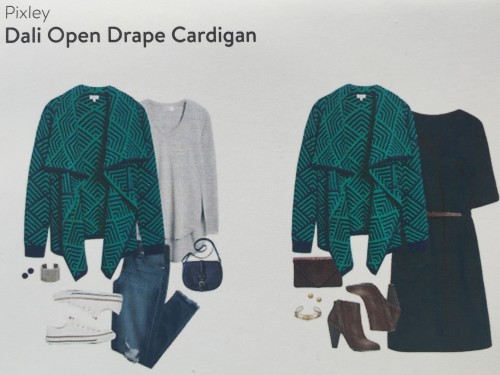 This is exactly the kind of colorful snuggly fun I love for the cold winters here in the Boston area!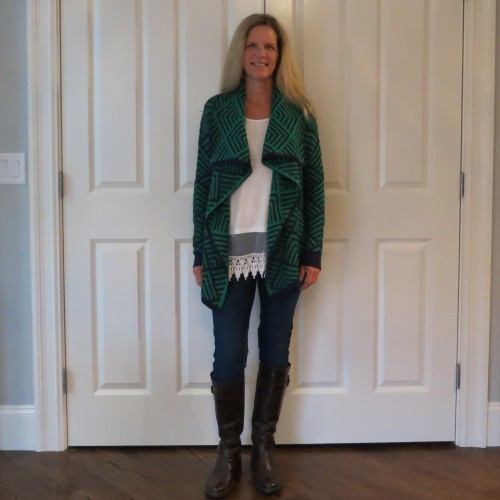 It's slightly shorter in the back, so I thought it would be cute with this lace-trimmed top.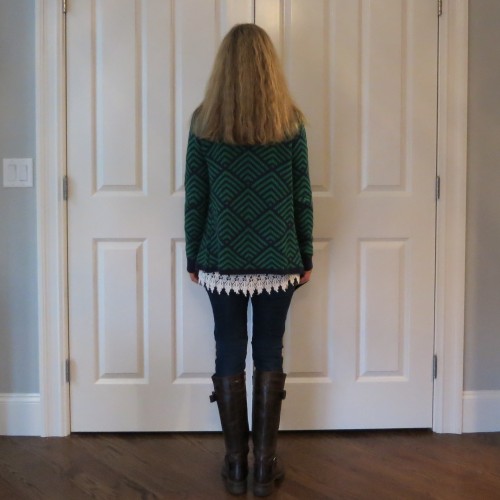 Perfect, right? Also, this sweater is just as soft and cozy as it looks! This was the only item I kept from this fix.
What did I think of my first post-Katie fix? I loved it! Even though I only kept one thing, Layla was really attentive and made excellent choices based on my profile and Pinterest boards. Hopefully I'll get Layla again for my first 2016 fix next month!
If you'd like to give Stitch Fix a try and don't mind using this link, I'll get a $25 referral credit towards my next fix once yours ships. And that would be awesome.
(I have no affiliation with Stitch Fix other than a referral code. I buy these clothes myself and all opinions are mine).
Here are links to my first 15 fixes:
Stitch Fix #15: December 2015
Stitch Fix #14: November 2015 Thanksgiving Edition
Stitch Fix #13: November 2015
Stitch Fix #12: October 2015
Stitch Fix #11: September / October 2015
Stitch Fix #10: September 2015
Stitch Fix #9: August 2015: I kept it all!
Stitch Fix #8: July 2015
Stitch Fix #7: June 2015
Stitch Fix #6: May 2015
Stitch Fix #5: May 2015
Stitch Fix #4: April 2015: I kept it all!
Stitch Fix #3: March 2015
Stitch Fix #2: February 2015
Stitch Fix #1: January 2015
____