Stitch Fix Review #15: December 2015
You are probably starting to think I have a little problem, and maybe I do. I just received Stitch Fix #14 two weeks ago, and #13 two weeks before that. But when I saw I could schedule a fix ON my birthday, I absolutely couldn't resist. Happy Birthday to me!!! My fix was scheduled for December 5th but tracking indicated it was out for delivery a day early, on the 4th. Normally, FedEx delivers to my house before 3pm but yesterday they were SO slow. I kept checking and checking. It was torture! My package didn't come until after dark! Of course, the sun sets just after 4pm right now so my fix still arrived before dinner.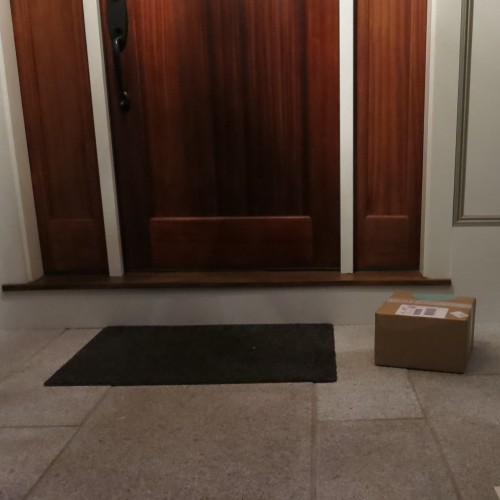 Never heard of Stitch Fix? Briefly, Stitch Fix is a styling subscription service in which you fill out a profile (sizes, styles, and price point) and receive a customized fix of 5 items (clothes/accessories) delivered right to your doorstep. There is a $20 styling fee but it's credited towards anything you keep. Keeping all 5 items gives you a 25% discount, which is awesome when it happens. You dictate the frequency of your fixes. If you'd like to try it, I have a referral link here and also at the end of this post and if you sign up through my link I get a small commission at no cost to you. Yay!
My note to my stylist was very simple this time: It's my birthday, surprise me!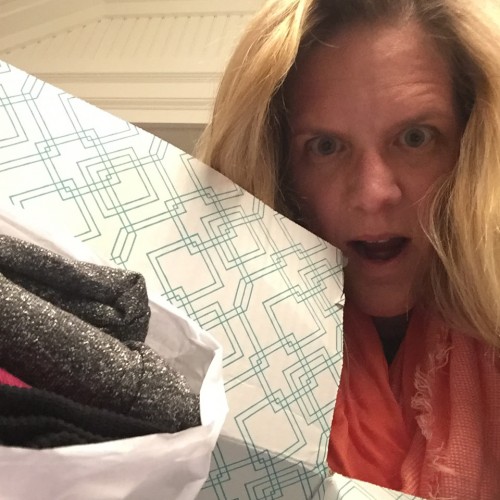 Oooh, I definitely see one thing that I pinned. And sparkles! But I had to wait until my actual birthday to take most of the pictures for this post because of the darkness. I really don't like these short days.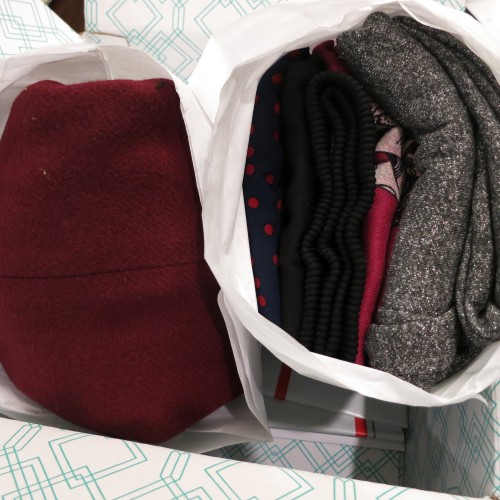 Today, I was able to take photos outside so let's carry on with my 15th Stitch Fix Review (my 12th fix with my amazing stylist, Katie)!
Here's my note from Katie: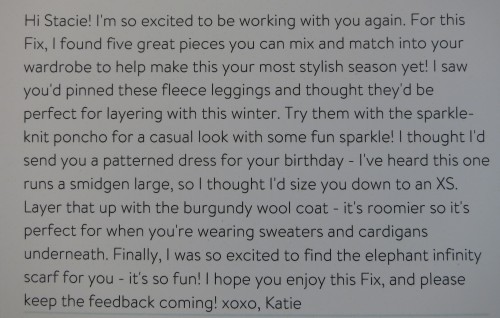 After reading the note, I knew Katie sent not one, but two things that I pinned. I love it that Katie pays such careful attention to my Stitch Fix Pinterest boards. Here is what I received this time:
RD Style London Sparkle Knit Poncho, XS, black, $68 ($51 with discount)
MTLA Kristin Fleece Legging, S, black, $38 ($29)
Leota Abilene Printed Sweetheart Dress, XS, black, $148 ($111)
See U Soon Chelston Oversized Wool Coat, XS, burgundy, $168 ($126)
Octavia Ellis Elephant Print Infinity Scarf, burgundy, $28 ($21)
I pinned these fleece leggings because FLEECE, so needless to say I was thrilled to see them in my fix.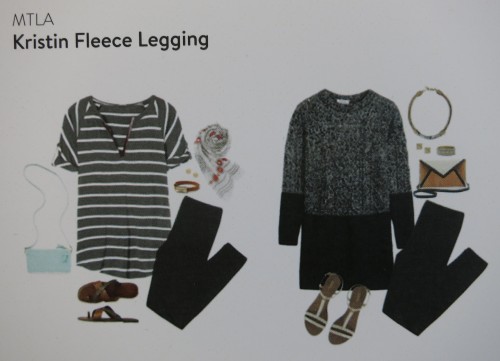 I also had pinned several ponchos I liked. Katie couldn't find any of those, I know, or she'd have sent one. Instead she sent this sparkly poncho and suggested pairing it with the leggings.
When I first pulled this poncho out of the box, I was sure I wasn't keeping it. I liked the sparkles because fun for the holidays. But the material was fairly thin and not all that soft, although I think "less soft" is typical when sparkles are involved. I've just been spoiled by how super soft most of the Stitch Fix sweaters are.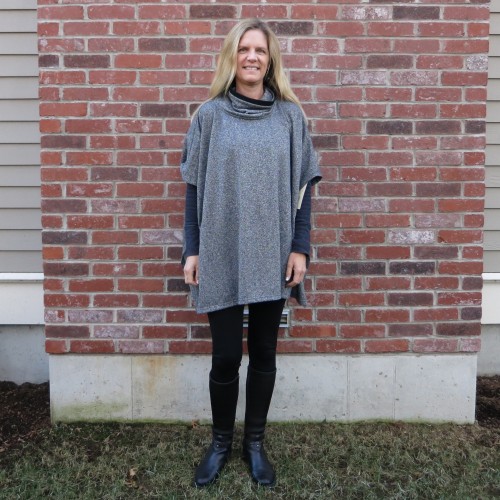 My husband, Rich, liked it though. And it is cute on! The front is not uneven. I think that's just the way I'm standing. Also, I see now I didn't turn the neck down like I should have. Style fail.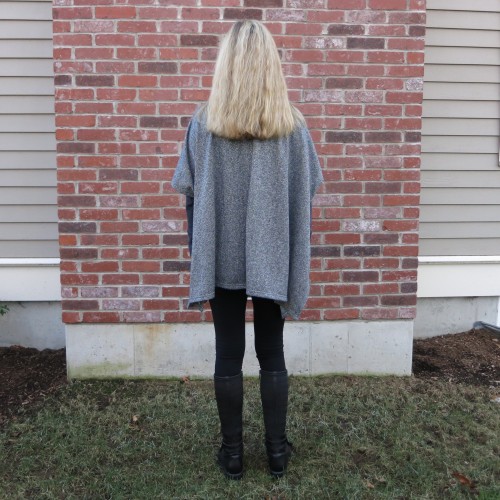 The poncho is slightly shorter in the back. Once I had it on, with a soft shirt underneath, the material didn't bother me at all. And the leggings? They were so cozy, especially for their weight. I saw in a FB group that some people have said these have a tendency to pill. Hmmmm.
I thought the burgundy coat would look great with this outfit.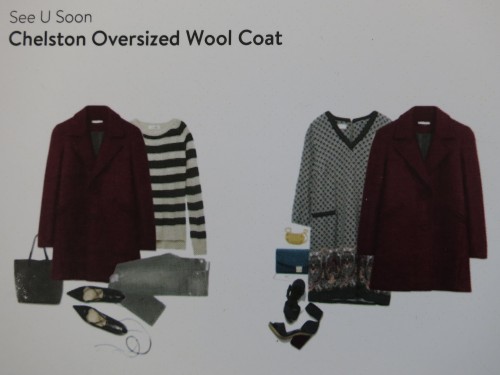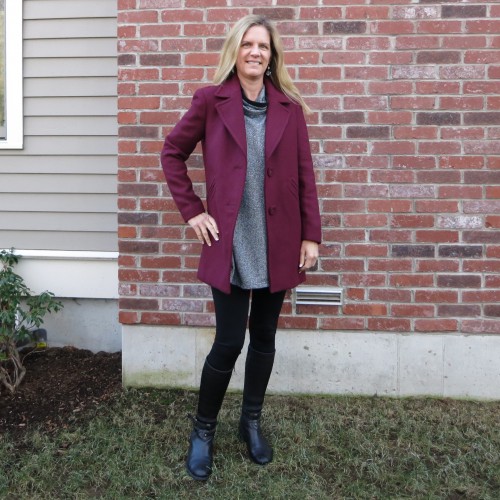 Wow, so cute! It's funny, because last night, I didn't think I was keeping this coat either but now I love it. It's 30% wool, so it's nice and warm but not itchy the way 100% wool often is. Plus I have a ton of burgundy right now and this coat goes with almost everything I'll be wearing this winter! What was I thinking last night? This is one of the things I adore about Stitch Fix, that I don't have to make a spontaneous decision in a dressing room. I have time to try things on, sleep on my decisions and, yes, sometimes change my mind. Several of my favorite pieces from Stitch Fix are items I didn't initially think I would keep. Amazing, right?!!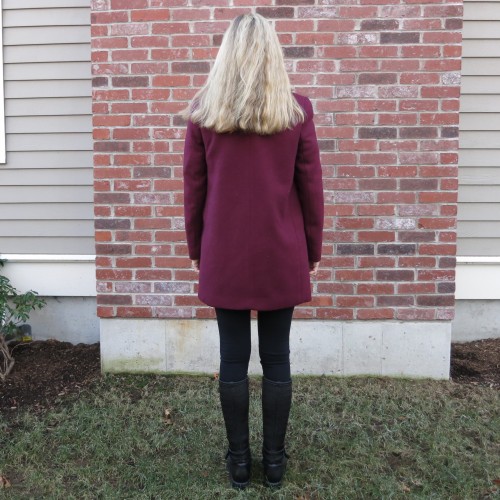 Love the color combo so much!  I should have styled the poncho with a burgundy shirt underneath to break up the grey. I didn't realize that until uploading the photos and seeing the poncho with the jacket, and by then it was already dark. But I'm wearing this outfit now to go out on my birthday in a little while. So, while the lighting isn't the best, I have to show you how much better the poncho looks the way I styled it tonight.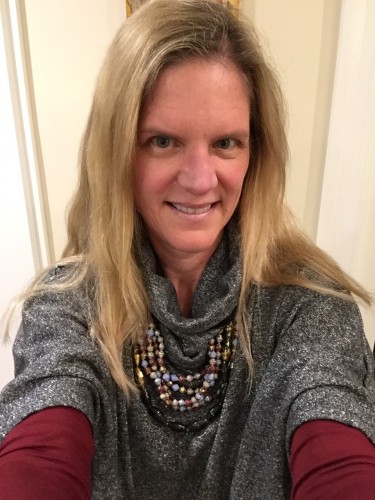 Burgundy layering shirt? Check! Collar tucked? Check! Oh, and my 31 Bits Lunar Light Beaded Necklace from my last fix goes perfectly with this outfit! Winning! And to think I wasn't going to keep this poncho last night. I'm so happy I changed my mind!
Speaking of change, we are having a relatively mild fall here in the greater Boston area, but it's still cold. I generally don't want dresses this time of year but I gave Katie free reign to surprise me and she sent me a dress.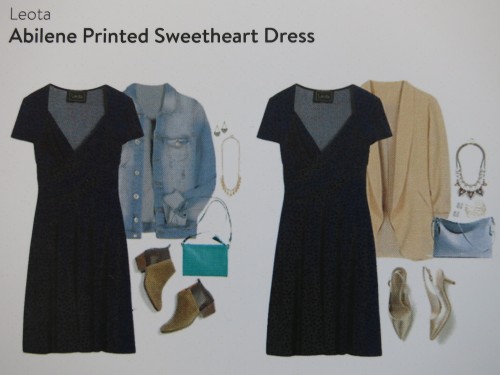 First, I styled it with my Liverpool jean jacket, just like on the style card but with taller boots.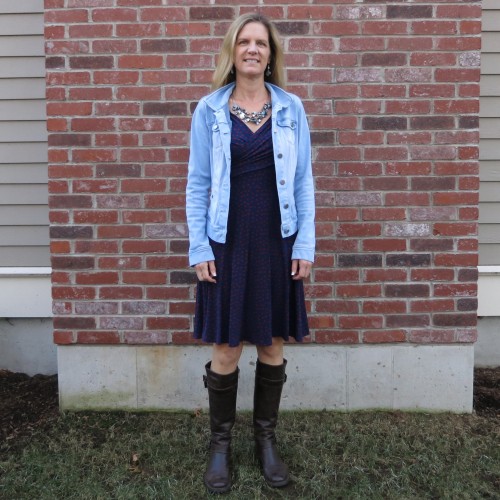 Yes, I realize I need some tights on with this outfit!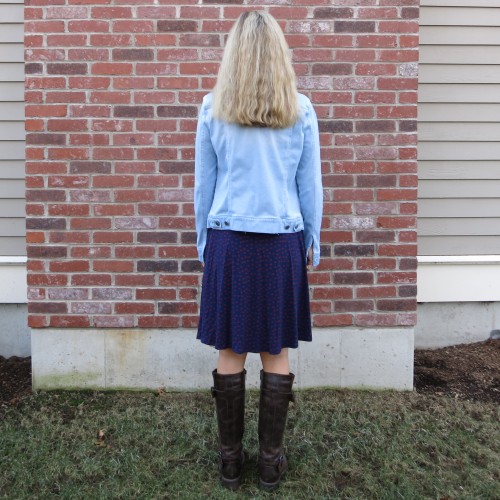 Then, I made a sacrifice for you guys and took off the jacket, brrrrrrr.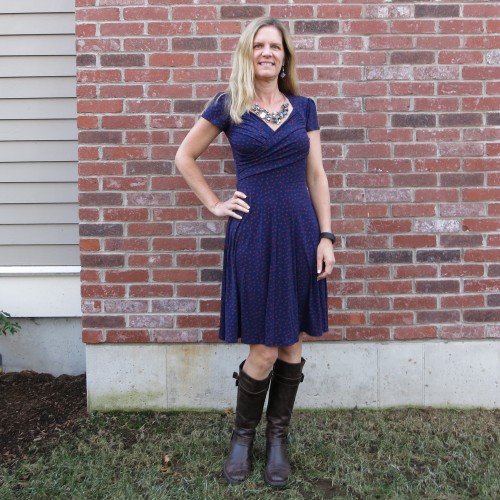 This close up better shows the cute neckline and fun pattern.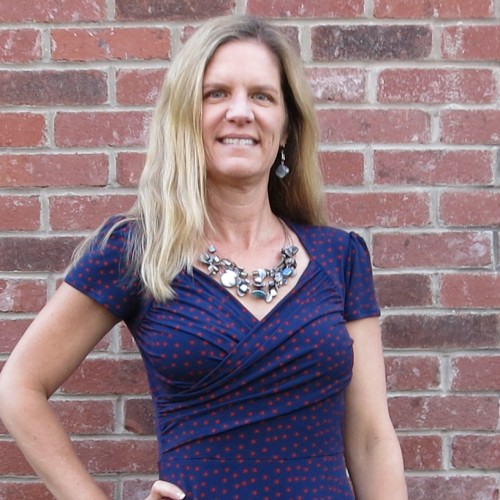 You know how they say photos are more flattering if taken from slightly above? Well, when your photographer is eleven, that's not an option.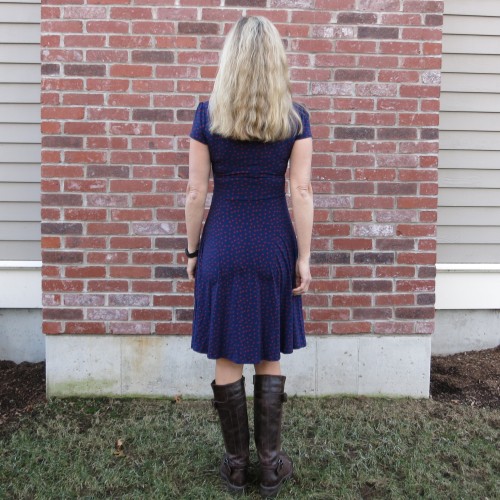 Honestly, I am not sure how often I'll wear this dress in the coming months. I could wear it now, but once it gets the least bit colder, the dress will have to hibernate. But it's so cute and I'll for sure wear it even more when the weather gets warmer again. Katie suggested pairing the coat with the dress, so of course I had to try that too. The color looks really nice but I think I might prefer a shorter jacket with the dress.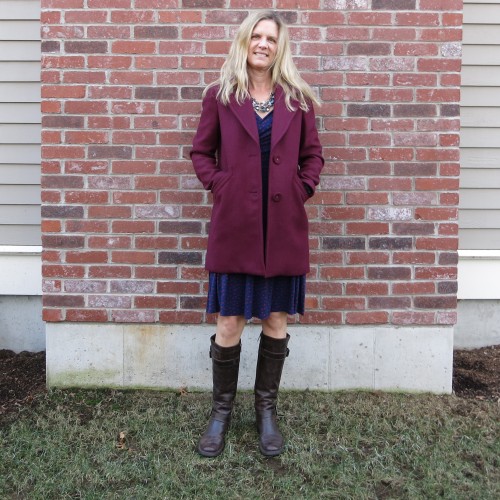 Fun fact: I almost never button coats that have buttons. Functionally, I prefer zippers. I love the way buttons look but I'd rather they were decorative.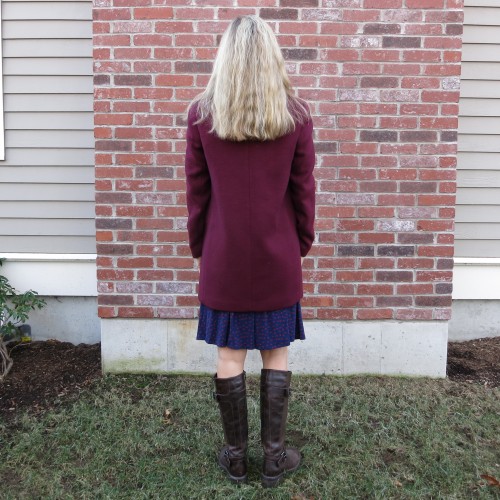 I definitely need tights! Maybe with tights the coat wouldn't seem too long with this outfit?
Finally, I had pinned the Ellis scarf thinking it would be really cute with the Market & Spruce Fierro Elbow Patch Crew Neck Sweater that I bought from a Stitch Fix board.  And Katie found it for me! Look how cute the elephants are!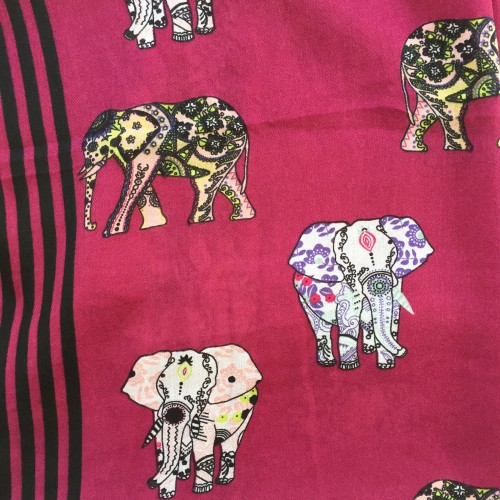 When I saw on the invoice that this scarf was "burgundy," I had to laugh because it's definitely pink. Not sure if that was a typo or what! The true color is the one in the photo below.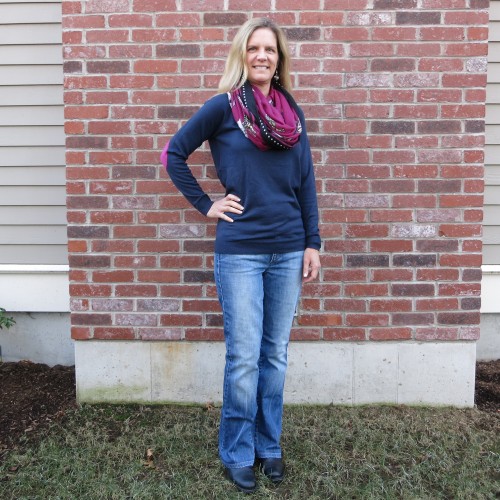 I was right! This scarf works really well with this sweater and helps break up all of that navy. The scarf is slightly darker than the elbow patch but totally the right tone! I need to work on my scarf profile, clearly.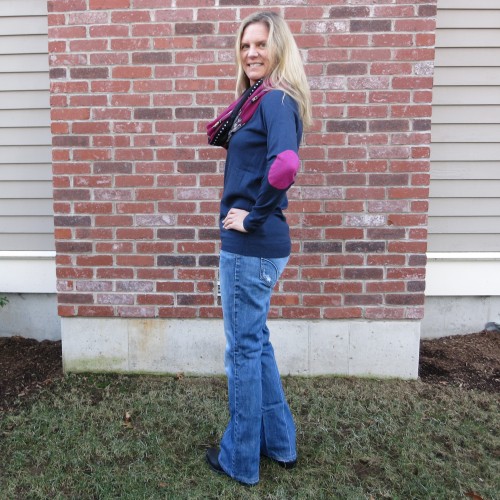 YOU GUYS, I KEPT IT ALL! I'm concerned about the leggings pilling based on what others have said but it didn't make sense to send the leggings back because they were much less expensive than the discount. So, I'll have to be careful and hope for the best!
If you'd like to give Stitch Fix a try and don't mind using this link, I'll get a $25 referral credit towards my next fix once yours ships. And that would be awesome.
(I have no affiliation with Stitch Fix other than a referral code. I buy these clothes myself and all opinions are mine).
Here are links to my first 14 fixes:
Stitch Fix #14: November 2015 Thanksgiving Edition
Stitch Fix #13: November 2015
Stitch Fix #12: October 2015
Stitch Fix #11: September / October 2015
Stitch Fix #10: September 2015
Stitch Fix #9: August 2015: I kept it all!
Stitch Fix #8: July 2015
Stitch Fix #7: June 2015
Stitch Fix #6: May 2015
Stitch Fix #5: May 2015
Stitch Fix #4: April 2015: I kept it all!
Stitch Fix #3: March 2015
Stitch Fix #2: February 2015
Stitch Fix #1: January 2015
____