Stitch Fix Review #13: November 2015
My Stitch Fix box arrived on my doorstep FOUR days early! That pretty much never happens and I'm still stunned by my good fortune. Who said 13 was unlucky? Certainly it wasn't for me (spoiler: I kept it all)! Plus, fix 13 hit that sweet spot where I have enough items to create multiple cute outfits by mixing and matching across my fixes. Ahhhh, I'm so obsessed.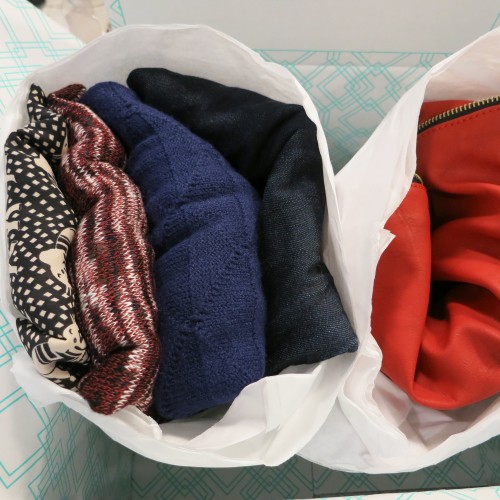 Look at the colors! Plus, I spy elephants!
Never heard of Stitch Fix? Briefly, Stitch Fix is a styling subscription service in which you fill out a profile (sizes, styles, and price point) and receive a customized fix of 5 items (clothes/accessories) delivered right to your doorstep. There is a $20 styling fee but it's credited towards anything you keep. Keeping all 5 items gives you a 25% discount, which is awesome when it happens. You dictate the frequency of your fixes. If you'd like to try it, I have a referral link here and also at the end of this post and if you sign up through my link I get a small commission at no cost to you. Yay!
Let's get on with my 13th Stitch Fix Review (my 10th fix with my amazing stylist, Katie)!
In this fix, I received:
Level 99 Jessa Wide Leg Denim Trouser, 4P, navy, $118 ($89 with discount)
Pixley Ellie Printed 3/4 Blouse, XS, black, $48 ($36)
Pixley Nilla Button Back Sweater, XS, navy, $68 ($51)
Market & Spruce Sawyer Space Dye Dolman Sleeve Knit Top, XS, burgundy, $58 ($44)
Urban Expressions Elisha Zipper Accent Structured Satchel, red, $58 ($44)
Here's my note from Katie: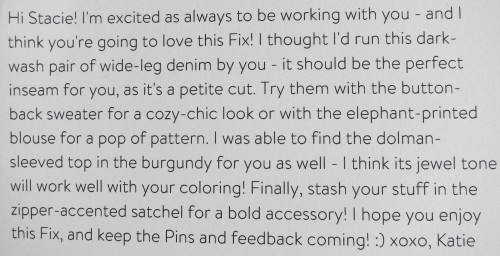 When I saw "wide-leg denim" I have to admit, I was a bit unsure whether they'd be flattering or make my legs look really wide.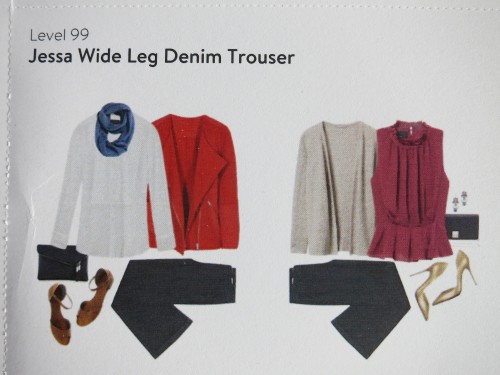 This is the perfect example of why you should try everything on. I tried the jeans on with the Ellie Elephant blouse.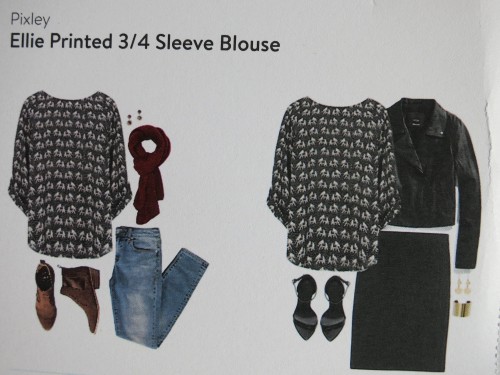 YOU GUYS!!! Literally EVERYONE wants this blouse. I couldn't believe it was in my box. I pinned it a while ago, although I hadn't been holding my breath since it's so popular. But now here I am sporting elephants! This blouse is just as much fun as everyone says!  I also put on the 31 Bits Nikalia Multi-Layer Beaded Necklace I got in my 5th fix but I think this outfit might need a bolder, more colorful statement necklace (which I don't have yet).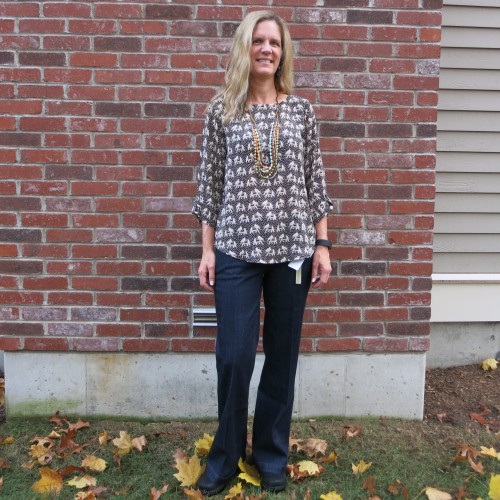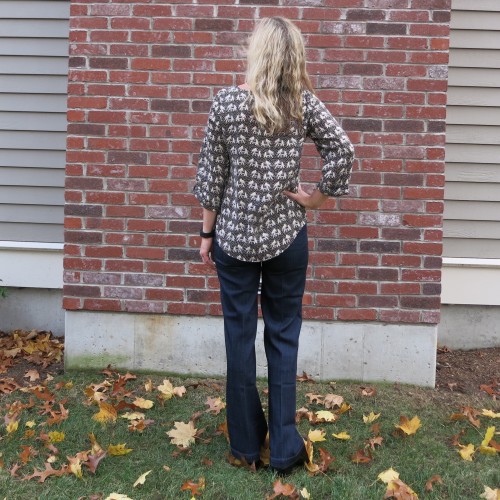 Butt shot: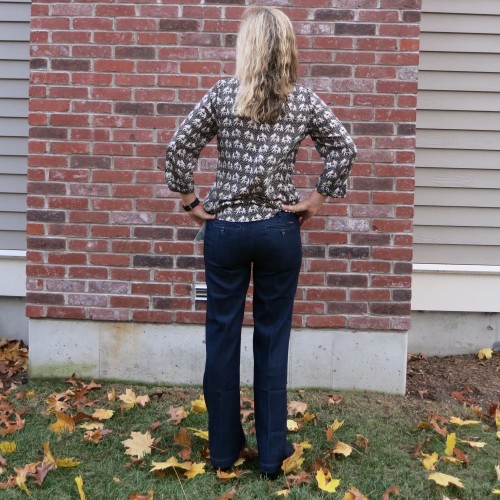 These jeans are really, really comfortable and also flattering. This is the second pair of Level 99s I'm keeping, so the brand seems to fit me well. I am so happy because other than KUT jeans, I was not having the same amazing Stitch Fix jeans experience that people always rave about.
Next up, the Pixley Nilla Button Back Sweater.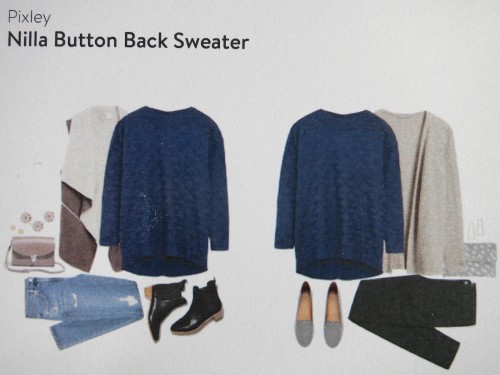 I thought the color of this sweater would look nice with the burgundy Level 99 Charley Zipper Coated Skinny Jeans from my last fix! (These jeans are everything – get them in your closet right now!). Wow is this sweater soft! It's also quite warm for a medium-weight sweater. Although the texture is super cute, the solid navy looked a bit plain, so I added a pop of color with the Octavia Beau Fringe Infinity Scarf I bought off of a Stitch Fix Buy/Sell/Trade board. I think a plaid scarf would also be fun, especially if it had a touch of burgundy to tie in with the jeans. Maybe Katie will find one for me.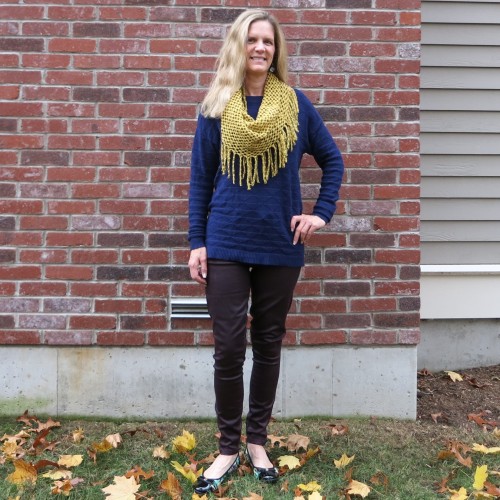 This sweater also looked great with the Margaret M Emer Polka Dot Print Hight Waisted Cropped Pants from my 8th fix and the Octavia Francesca Mini Dot Scarf from my 4th fix. Plus it was the perfect outfit for highlighting the Urban Expressions Elisha Zipper Accent Structured Satchel that I just received.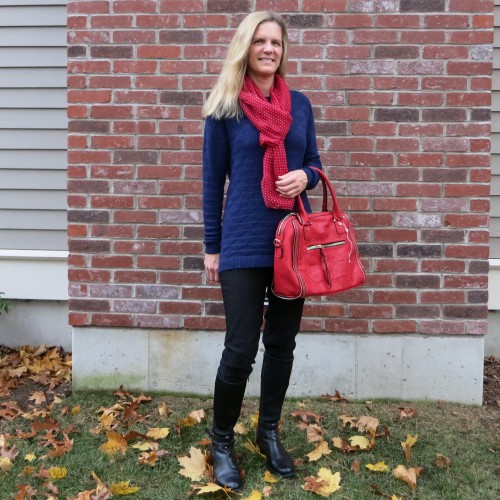 The back of this sweater is my favorite thing about it.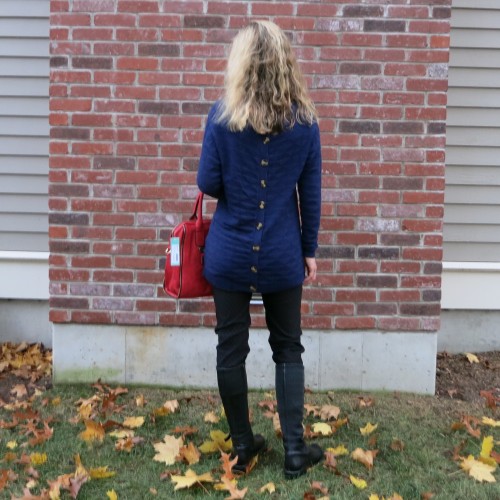 So, I have no jewelry and no bags checked in my style profile. Mostly because I'm really picky about those things (and I don't need a large quantity). But when I find items I like, I pin them and Katie totally pays attention to that. She sent the 31 bits necklace and this satchel based on my pins. Look at the inside of this bag! How cute are those polka dots?! Also, you can see it has a strap for cross-body use, which I love.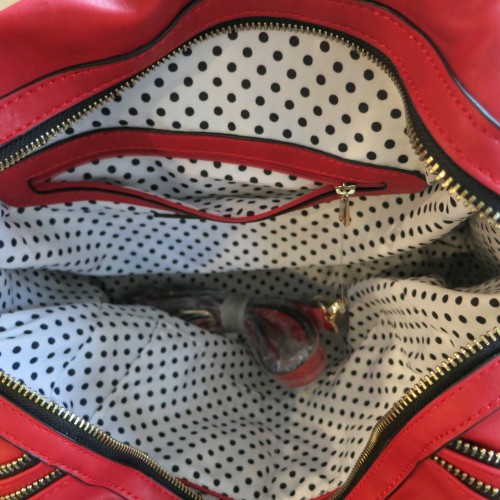 Honestly, I was surprised to see this satchel in my fix. I had pinned it last spring in a different color, so I had kind of forgotten about it. The red will be beautiful for the holidays and I love this bag so much, I might request whatever color is on trend this coming spring.
Speaking of requesting the same item in another color, I had pinned this Market & Spruce Sawyer Space Dye Dolman Sleeve Knit Top in burgundy and pretty much BEGGED for it in the pin comment. Katie sent me the top in green in my last fix, and I adored it so much that I let her know I still wanted the burgundy. And she delivered!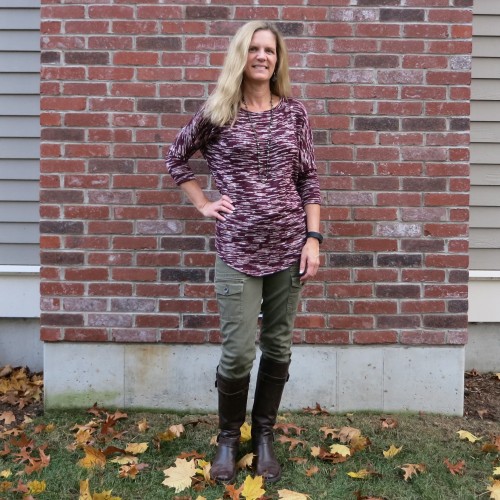 The pants are KUT from the Kloth Brayden Cargo Skinnys I received via a trade in a Stitch Fix Buy/Sell Trade group.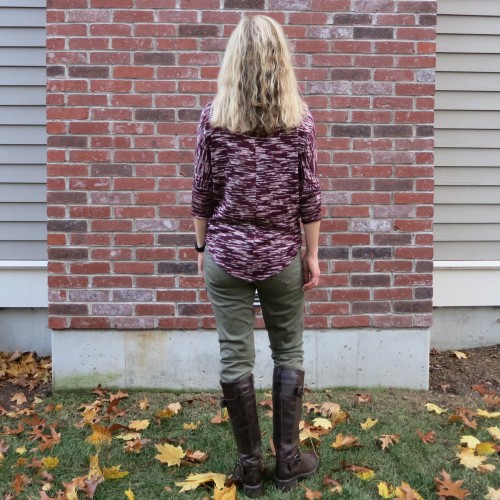 Sorry to leave you with my back end, ha!
Katie is really nailing my fixes now and, as mentioned above, I kept EVERYTHING and got the discount! If you'd like to give Stitch Fix a try and don't mind using this link, I'll get a $25 referral credit towards my next fix once yours ships. And that would be awesome.
(I have no affiliation with Stitch Fix other than a referral code. I buy these clothes myself and all opinions are mine).
Here are links to my first 12 fixes:
Stitch Fix #12: October 2015
Stitch Fix #11: September / October 2015
Stitch Fix #10: September 2015
Stitch Fix #9: August 2015: I kept it all!
Stitch Fix #8: July 2015
Stitch Fix #7: June 2015
Stitch Fix #6: May 2015
Stitch Fix #5: May 2015
Stitch Fix #4: April 2015: I kept it all!
Stitch Fix #3: March 2015
Stitch Fix #2: February 2015
Stitch Fix #1: January 2015
____
This is yeah write's NoMo writing challenge Day 7.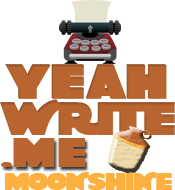 I am also tapping in to Maria's Stitch Fix Review parade.