I've still been receiving fixes every month only you haven't seen the last 15 because I've been in a funk.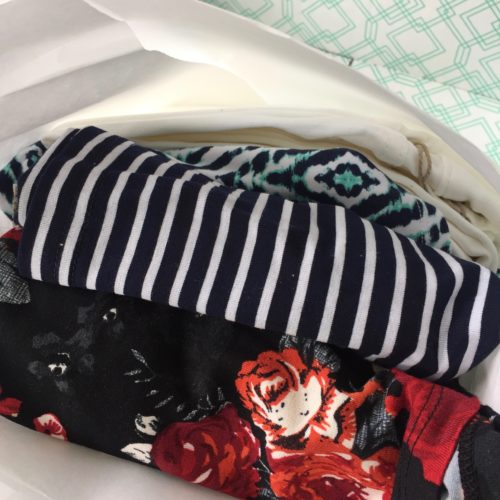 I blame Trump. I mean, who can think about reviewing clothes when everything is going to shit?
But then the two friends that actually read these reviews said they missed them and I figured maybe a small thing I can do is distract them with clothing for a few minutes until more terrible things happen or until 45 and his team get nailed by Mueller, preferably the latter. And so, another Stitch Fix Review is born.
If you've heard of Stitch Fix, skip this paragraph! Never heard of Stitch Fix? Briefly, Stitch Fix is a styling subscription service in which you fill out a profile (sizes, styles, and price point) and receive a customized fix of 5 items (clothes/accessories) delivered right to your doorstep. There is a $20 styling fee but it's credited towards anything you keep. Keeping all 5 items gives you a 25% discount, which is awesome when it happens. You dictate the frequency of your fixes. If you'd like to try it, I have a referral link here and also at the end of this post and if you sign up through my link I get a small commission at no cost to you. Yay! And now for my review of my 39th Stitch Fix box!
This month's fix was styled by Austyn, who has been my stylist for a few months now. She always tries really hard and writes nice notes.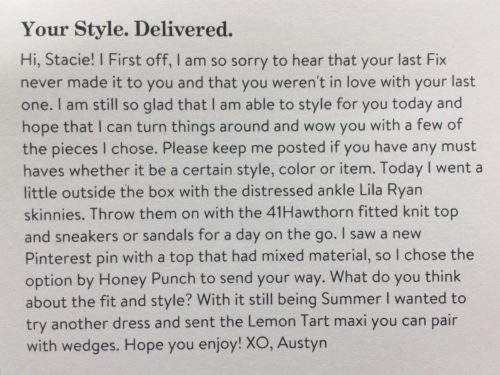 Here is what Austyn sent:
Lila Ryan Liza Distressed Skinny Jean, 2, white, $98 ($74 with discount)
Daniel Rainn Katarena Lace Detail Knit Top, XS, black, $58 ($44)
41Hawthorn Abberly Cut Out Detail Knit Top, XS, navy, $44 ($33)
Honey Punch Seaside Mix Material Top, XS, black, $38 ($29)
Lemon Tart Shania Knit Maxi Dress, XS, $98 ($74)
I liked the colors and patterns in this fix, but I am getting super-picky and hard to please, mostly because I don't really need anything so I have to love anything I might keep. This makes Austyn's job really difficult.
First I tried on the Katarena Lace Detail Knit Top with the Liza Distressed Skinny Jeans.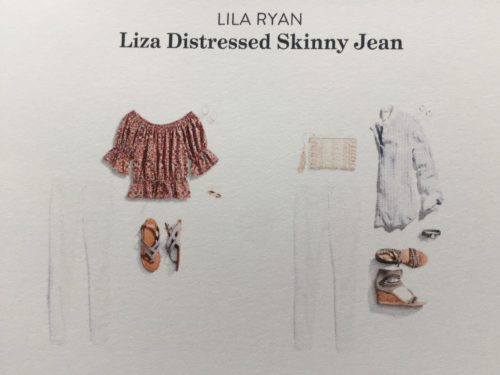 Aren't my flowers pretty?
I loved the pattern of this top right out of the box. It's got a cute meshy area up top and also in the back.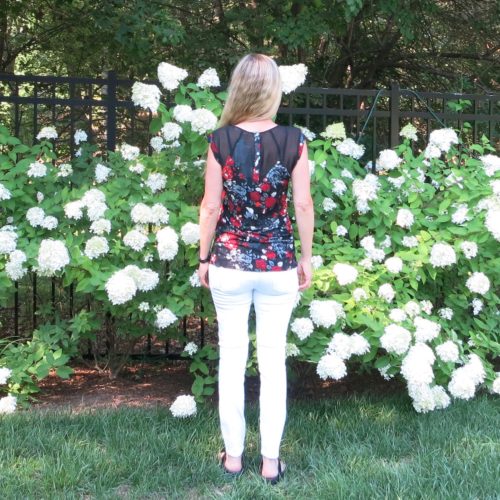 I'm not sure I love the sleeves though. I think this would be cuter sleeveless. I like this outfit but I'm not sure it's worth the price. I have two pairs of white jeans already, boyfriend and flares. Do I really need white skinny distressed jeans when I spend most of my time in sweatpants or athletic shorts? Probably not.
Next up: same jeans, Abberly Cut Out Detail Knit Top.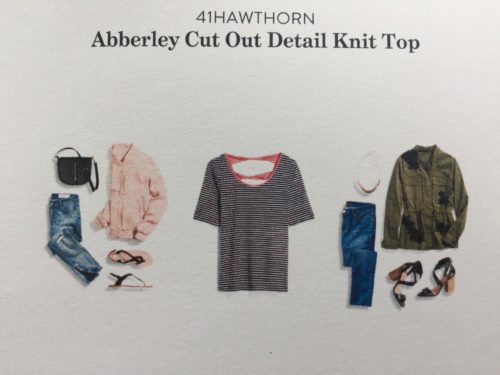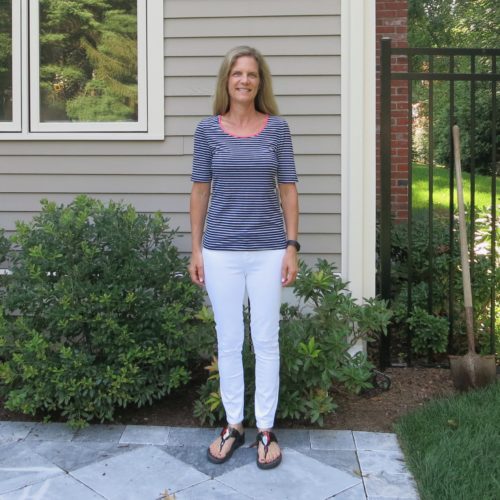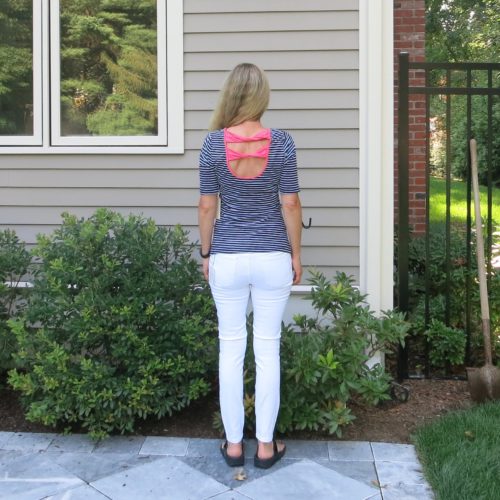 This top was ok and the coral detailing is fun. But I just don't see myself wearing this. The sleeve length is weird to me (here I go again with the sleeves). I'd tend to wear sleeveless or 3/4 before I'd do this just above the elbow thing.
Same jeans, Seaside Mix Material Top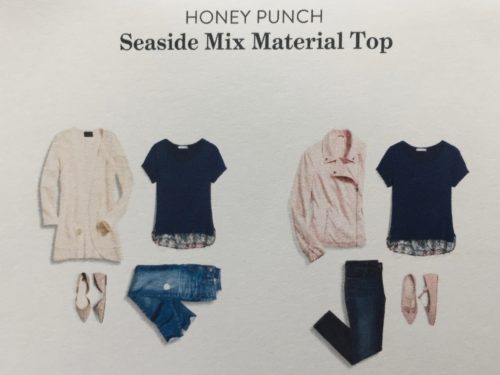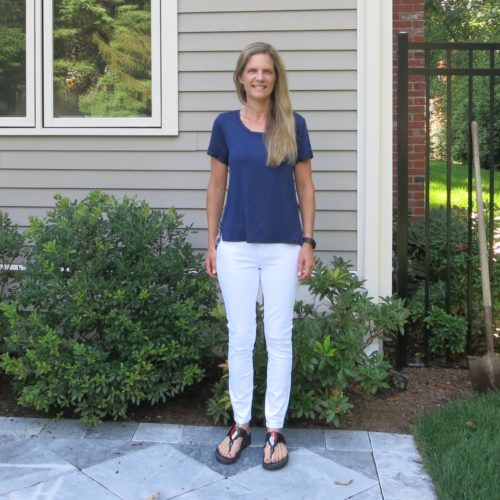 This is pretty short for my long torso! And also not so interesting from the front.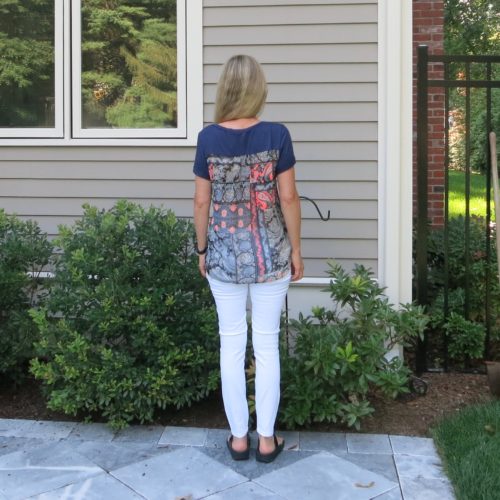 I like the pattern in the back but the front is a deal-breaker. It's got that high-low thing going on, which I don't mind unless the front is too short!
The last thing I tried on was the Shania Knit Maxi Dress.
This dress was super-similar to a dress I returned in the last fix I blogged about here.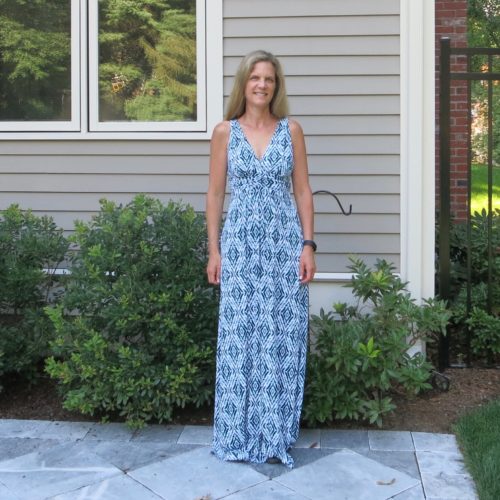 This fits well on top, but it's so so long. I'm 5'5." Not petite by definition but I tend to need petite maxis, and Austyn sent a petite one last time that I kept (and didn't' blog about) so I'm not sure what happened this time.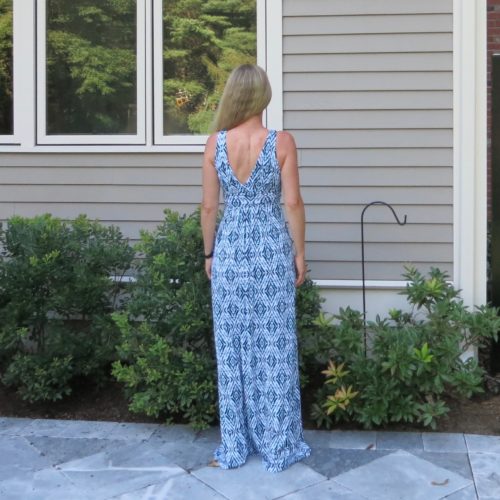 The other thing about this dress is that the fabric is really heavy. That is not exactly what I like for summer.
I am leaning towards not keeping anything this time. What do you think?
If you'd like to give Stitch Fix a try and don't mind using this link, I'll get a $25 referral credit towards my next fix once yours ships. And that would be awesome.
(I have no affiliation with Stitch Fix other than a referral code. I buy these clothes myself and all opinions are mine).
Here are links to my other Stitch Fix Reviews:
Stitch Fix #25: August 2016
Stitch Fix #24: July 2016
Stitch Fix #23: June 2016
Stitch Fix #22: May 2016
Stitch Fix #21: April 2016
Stitch Fix #20: March 2016 #2
Stitch Fix #19: March 2016
Stitch Fix #18: February 2016
Stitch Fix #17: January 2016
Stitch Fix #16: Holiday 2015 Edition 
Stitch Fix #15: December 2015
Stitch Fix #14: November 2015 Thanksgiving Edition
Stitch Fix #13: November 2015
Stitch Fix #12: October 2015
Stitch Fix #11: September / October 2015
Stitch Fix #10: September 2015
Stitch Fix #9: August 2015: I kept it all!
Stitch Fix #8: July 2015
Stitch Fix #7: June 2015
Stitch Fix #6: May 2015
Stitch Fix #5: May 2015
Stitch Fix #4: April 2015: I kept it all!
Stitch Fix #3: March 2015
Stitch Fix #2: February 2015
Stitch Fix #1: January 2015