I was looking forward to a nice relaxing Saturday night in, watching NFL playoff games without stress since my 49ers had a bye in the first round.
Football, accompanied by grilled swordfish and wine. Not the typical sports fare, I know, but in my mind: Perfect.
Everything was off to a promising start too, until Buster started limping.
It was my fault, sort of. On Friday, he'd bloodied his paw in the woods. Upon closer inspection, I saw that he had wrenched his nail. But the bleeding stopped and it wasn't bothering him, so I didn't give it another thought. Especially since we went back into the woods Saturday afternoon and he ran around happily with no issue.
But here's the thing – the wound itself was minor, but how many germs do you think a dog's foot is exposed to? When I looked at his paw again on Saturday night, some 30 hours after his injury, it was clearly infected. I knew right then I was in for a trip to the doggie ER.
The infection wasn't life threatening, at least not acutely, so I jammed down some swordfish first. Obviously, I needed nourishment to carry me through the upcoming ordeal. The swordfish tasted divine, making me even more disappointed that I couldn't continue the evening by staying home and watching football in my sweatpants, while swilling wine.
Of course, there was no question I had to take care of my youngest baby. But why do these things always happen on the weekend?
Not that Buster was enjoying himself either. After making the 30 minute drive to the doggie ER and walking through the door, Buster figured out what was happening and proceeded to tremble and hyperventilate the entire time in the waiting room.
9pm in the doggie ER: I was having a great time.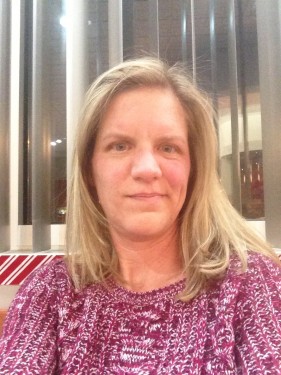 After all, there was plenty of entertainment. The Whippet with a gash that required stitches. The mutt in distress that, when induced to vomit, spewed up piles and piles of aluminum foil (fortunately, I only know this because I overheard the vet telling the owners after they politely declined to inspect their dog's vomit). A cat with some undisclosed problem other than being a cat in a hospital full of dogs. It could always be worse, I supposed.
We were called into the treatment room, finally, and the vet informed me that Buster had an infected nail bed (Yes, I know) and that he would need antibiotics (Yes, I know that too. Hence our presence at your esteemed facility).
After a shot of antibiotics, a shot of an anti-inflammatory, a bandage, pills to take home, and nearly $500, we drove home.
I knew what I would have rather been doing during those 2 hours. So instead, I thought about the awesome things I could have done with that $500: Multiple nice dinners out. An airline ticket to someplace warm. A pair of new boots (good ones), or two. And then I thought about how much I love my dog.
When we got home, Buster established the family room rug as his recovery area, and I finally drank my wine.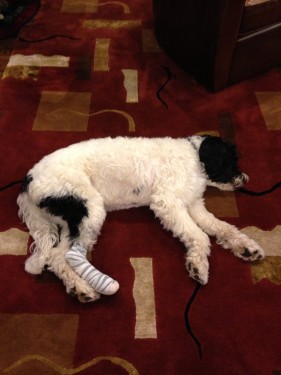 Maybe this Saturday will be better. We have plenty of wine, my 49ers have the late playoff game, and I should be able to wash my most comfortable sweatpants by then.
I might yet have my nice relaxing Saturday night. As long as the 49ers win, that is.
___
I'm hanging out with the wonderful community at yeah write. Come join the fun!