I sat in the waiting room, book open, staring at the words but not seeing them, my mind racing.
Several other women, all well beyond my 34 years, also waited in the room with powder blue carpet and swirly-patterned chairs that weren't all that comfortable.
A woman with short gray hair busied herself knitting a cabled sweater, her needles as confident as the expression on her face. The brunette sitting closest to me read People Magazine, the one featuring Cher after Sonny's death. She flipped the pages casually, smiling every once in awhile, presumably not because Sonny had skied into a tree. Everyone looked so calm.
"HOW CAN YOU JUST SIT THERE LIKE THAT? DON'T YOU KNOW?!!" I wanted to scream.
But I was sitting there too, hiding my inner screaming, perhaps looking much less scared than I actually felt.
After my breast cancer diagnosis, the oncologist ordered three "routine" tests.
Routine: Performed as part of a regular procedure rather than for a special reason; ordinary.
Whereas it's true that those tests are performed as part of a regular procedure for newly diagnosed breast cancer patients, they are done for a very special very scary reason: to determine whether the cancer has spread to other organs.
Breast cancer doesn't kill if the malignant cells stay in the breast or even if they migrate to the lymph nodes. But once those traitorous cells populate other organs, that's stage IV and the prognosis turns grim.
The problem with having a Ph.D. in biology and a background in cancer research was that, as a patient, I knew way too much. My training, although useful for making treatment-related decisions, mostly just unnecessarily scared the living crap out of me.
Unlike those other women, I knew the results of those tests were anything but routine. They were life versus death.
During the first two tests, I tearfully expressed my greatest fear to the technicians: that I wouldn't be around for my baby, that I'd never even see him go to kindergarten. The results?
Life.
I'd just done the final test, the bone scan, my radioactive body rendering me unable to see my young son for the rest of the day.
And then I waited to learn whether this cancer would kill me or if I had a chance to beat it and die of something else, hopefully much later. That didn't feel remotely routine to me.
The other women in the waiting room were blissfully ignorant, and I envied them enormously.
"Stacie, there's a spot on your scan. We need to redo it."
Death.
I hung my head in despair as the tears flowed.
But it turned out to be a technical issue. The repeat scan detected no cancer in my bones.
Not only did I live to see my baby go to kindergarten, two days ago he asked a lovely young lady to his junior prom.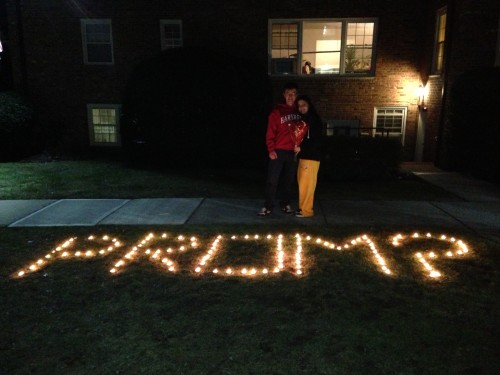 She said yes.
And I lived to see that too, because my tests were routine after all.
___
Thankfully, I am nearly 15 years cancer-free. Click on the links if you'd like to read about my diagnosis, an acquaintance's missed diagnosis, how I can't bear to part with my pre-cancer ponytail, or my harrowing chemo experience.
I'm linking up with yeah write. It's a birthday bash and there are presents! Come check out all of the awesome posts on the grid. You won't be sorry!