The magic was all in the finishing touches. Every detail, so important.
Pushing the room service cart into the corner for the time being, he made the bed – but not perfectly, sat on it to create a depression and a few wrinkles to suggest someone had messed it up at some point after housekeeping rounds. He straightened the lamp shade, leaving it slightly askew but not enough to draw attention, and then clicked the lamp on. He drew back the heavy velvet drapes, but left the blackout drapes closed. He placed the book – 50 Shades of Grey - on the end table, and smiled. He really didn't believe in the whole inner goddess thing. He knew better.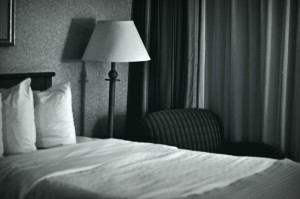 Moving to the bathroom, he ran a bubble bath and then immediately drained the tub. An already damp bath towel hung over the rack, a nice touch that he had nothing to do with. He wet the toothbrush and placed it brush up inside a water glass, while leaving the rest of the toiletries in the bag.
Back in the main room, he cleared the room service dishes from the desk and loaded them on top of his cart. He drew aside the cloth covering the cart, and placed the empty wine bottle on the bottom level so that it was hidden. The nearly empty bottle from the room next door, he placed by the book, along with a glass which he filled partially with the remaining splash of wine. Finally, he wiped the crumbs from the desk and ran his white gloved finger over the still drying wood. Clean.
Satisfied, he pushed his cart out of the door and headed down the hallway to the elevator, his prize gagged and bound underneath, a safeguard for when the alcohol and roofies wore off.
___
I'm playing over at the yeah write speakeasy again, the awesome place for poetry and fiction. We had to use the photo prompt and start with the sentence "The magic was all in the finishing touches." Please come join the fun!