The steamy hot shower felt incredibly good, until I found a lump the size of a marble in my right breast. After that, nothing felt good at all.
My first thought, of course, was that I was a dead woman – not that I had cancer and would die a slow lingering death over the course of a few years, but that I would die within the week, if not immediately.
Yes, I realize my thought process was not the least bit rational. Cancer doesn't grow that fast, I know. I have a Ph.D. in biology with a background that includes cancer research. I know.
I was terrified, though. Rationality and terror avoid each other. They are not friends. And since terror was in charge, Rich and I rushed to Urgent Care that same morning for my catastrophic emergency rather than waiting a week to see my regular doctor.
I had an exam (it didn't feel like a "bad" lump), an ultrasound (it was solid, not a cyst), and a mammogram.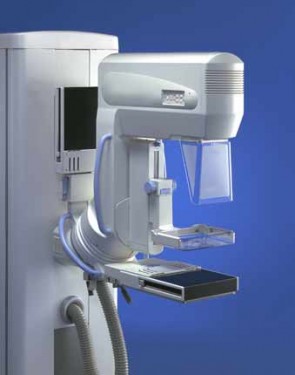 [source]
We had to wait for the mammography results.
For those of you blissfully ignorant, the technicians that manhandle, flatten, and take x-rays of your boobs don't read the films. We had to wait for the radiologist to read the films and then report back to the surgeon who did my original exam.
And wait we did.
For a long time.
The expansive waiting room held little by way of entertainment. Rich and I were both too worried for small talk. The magazines sucked, not that I could concentrate on reading anyway. The dearth of distractions left me alone with some pretty dark thoughts: A toddler not yet two, my Conor, without a mother. Rich growing old, without me. I didn't even have a diagnosis yet, but I was already envisioning my funeral. Should I –
"Stace, it's time," Rich said, startling me out of my overblown fear spiral.
Hand in hand, we followed the nurse towards the office to face the future, for better or for worse.
The surgeon ushered us in, sat us down, and immediately smiled. Relief engulfed us as we listened to the results. The mammogram was negative. The lump appeared to be a fibroadenoma, a benign growth common in young women. No follow-up would be required.
I didn't have cancer after all.
That answer transformed me from a dead woman into one very much alive, one with a bright future.
That beautiful perfect answer fueled me for more than a month.
But the lump didn't disappear. They don't, you know.
Ever so slowly, a nagging feeling crept in, took hold, and refused to let go. It forced me to think.
Sure, I got the answer I wanted.
However, when not gripped with terror, I am rational – extremely so.  I'm also thorough. I wasn't the least bit concerned, after the previous results. All the same, I knew I needed a second opinion, just to be certain.
I made an appointment to see another surgeon, an actual breast surgeon not a general surgeon. He also thought the lump was benign but insisted on doing a surgical biopsy because even a benign lump didn't have any business lodging in my breast. I agreed.
He called it "Peace of Mind Surgery."
Only it wasn't, for me.
For me, it was cancer.
_______
October is breast cancer awareness month. I was 34 years old when a doctor missed my cancer diagnosis. I wouldn't be here, more than 14 years later, if I hadn't gotten a second opinion. Doctors make mistakes. Do self exams. Get mammograms, if appropriate. If you have a lump, insist on a biopsy.  A biopsy is the only definitive way to diagnose breast cancer.  Be your own advocate in every health situation. Your diligence could save your life.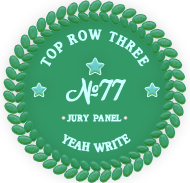 Once again, I'm hanging out with yeah write. Join the fun! Submit a post or click on the buttons and go read some awesome blogs.
I'm also hanging out with Mama Kat: Share a moment I felt surprised.