On the back of my right arm, I have a numb spot the size of a quarter, the result of nerves that were severed during my axillary lymph node dissection 15 years ago.
In plain English, that's the armpit surgery that accompanied my lumpectomy, the resection that removed the cancer from my breast.  I lost one-third of my already small breast and gained a numb spot all in about two hours under general anesthesia. A quarter-sized spot was actually a coup for the surgeon.  And for me. Usually it's bigger.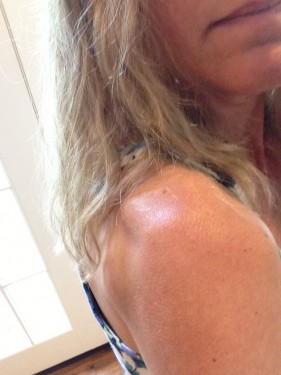 This operation was scary, not because of the general anesthesia  (which makes me puke every time) or because it might have resulted in permanent arm swelling called lymphedema (which fortunately it didn't). The frightening thing about it was the pathology report. This single sheet of paper would be the best predictor of my overall chances of surviving breast cancer. As a scientist I knew this, knew too much.
Even with all of the great strides made in better understanding breast cancer, the number of cancer-positive lymph nodes was (and still is) the best prognostic factor for survival, so I worried. About what I didn't yet know.
The size of my tumor categorized me as a stage 1 cancer patient, but cancer present in my lymph nodes would change that to stage II or III, depending on how many were found, with more being worse.
After the procedure, the surgeon told me everything looked promising. He couldn't be certain that my lymph nodes were clear, but he could tell me that they were all of normal size, meaning any cancer that might be present hadn't grown very much.
That was good, of course. Still, I worried about the pathology report.
When the path came back, the results indicated that I had cancer in one out of the fourteen lymph nodes removed. This micro-metastasis classified my disease as stage II instead of the stage I I was hoping for. The surgeon pointed out that this lesion was less than a millimeter, and overall the results were quite encouraging.
But even as my incisions were healing, my brain froze in fear, numbing me to rationality. Good news would have been zero positive lymph nodes. But no, I had one.
The cancer got out.
Cancer in the breast doesn't kill. Cancer in the lymph nodes doesn't kill either, but the nodes are the gateway to invading other organs. And that's what's deadly. So I worried about cells that might have escaped and migrated to my liver or lungs or bones.
I had a hard time viewing the news as favorable and was still mentally going over worst case scenarios.
Until my family made me snap out of it. We went out to dinner that very night and actually celebrated for the first time since receiving my diagnosis two weeks earlier. That's right. We celebrated my one positive lymph node. The numbness in my brain receded over a big plate of pasta and an even bigger helping of love.
But the numb spot on my arm remains as a constant reminder of what turned out to be good news after all.
____
Back on the yeah write challenge grid, and happy to be here!