I thought it was just a one time thing, Chobani sending me a free case of creamy deliciousness after reading my comment on Holly's blog.
So imagine my surprise when another case of Chobani goodness arrived at my doorstep today.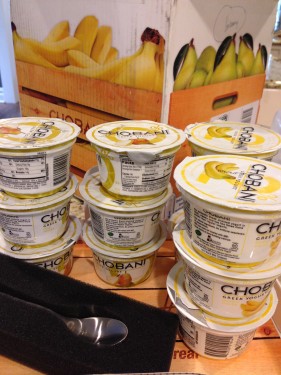 New flavors, banana and pear! And a really cool spoon, which I didn't get last time. Score! I ate a banana yogurt and it was so good I had a TBO.* Thanks Chobani! I'm up for continuing this love affair indefinitely.
The timing of this delivery couldn't have been better, since it was definitely a multi-yogurt day. I've had a rough 24 hours. Yesterday, Buster found another disembodied deer leg in the woods and carried it on our entire 3 mile hike, stopping to gnaw on it whenever he pleased. Ew. I had to wrestle this fleshy, hoofy, cartilagy thing away from him after he jumped in the car because he sure as hell wasn't coming anywhere near me before it was time to go home. Ew. Then, I had to clean up the family room floor when he hacked up half a deer hoof and some foamy white I-don't-want-to-know stuff six hours later. Ew. Dogs are gross.
As if that weren't enough, I updated my iPhone operating system and lost a bunch of stuff, deleted by technology (or rather my lack thereof) and had to spend all morning at the Genius Bar. I couldn't get anything back, of course, and now have to go through a bunch of time consuming steps to make sure that never happens again. At the risk of making myself look like a complete idiot, I may blog about that later. Stay tuned.
For now, I'm going to eat another yogurt.
___
*taste bud orgasm, a term that I'm pretty sure originated from my dear friend Terri. Hi Terri!