We had snow sometime last night, followed by freezing rain. Frozen droplets decorated the trees and bushes this morning.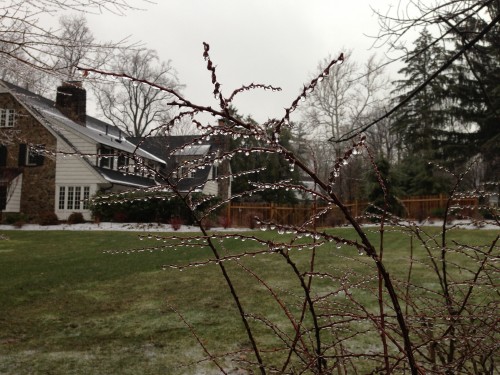 My friend Kristin's son aptly called them frozen "tear drops because the plant misses spring." I love that. Never before had I seen this phenomenon, and it was so lovely – all of the weeping trees and bushes frozen in the moment, sparkling. What wasn't so lovely is the slushy mess that ensued as the temperature crept up. It's all fine if you can stay indoors, but when the dog needs walking, it's ugly.
Normally on this type of day, I'd bring Buster to doggie daycare, where he can run around with his friends, get wet (but not muddy), and tire himself out – while I hide inside doing really important Real Housewife things.
But I couldn't do that today – because Buster's toenail is still infected. When I saw blood again on Monday, I took him to the vet. The antibiotics the ER gave me didn't cure the infection. So I forked over even more money, the grand total now approaching $700, and received a new protocol. It's time to get serious about this war on bacteria:  Another week of a different antibiotic. No rough play. No off leash. And his foot is rebandaged and must remain so for at least 5, preferably 7 days. We're only on day 3 and it's already working itself off or, more likely, Buster is chewing on it when I'm not looking. But to add in the Cone of Shame just seems unfair.
He's already upset that he can't play with his friends.
He's already upset that he has to wear an IV bag over his bandage to keep it from getting wet when we go outside. Buster doesn't love boots the way that I do.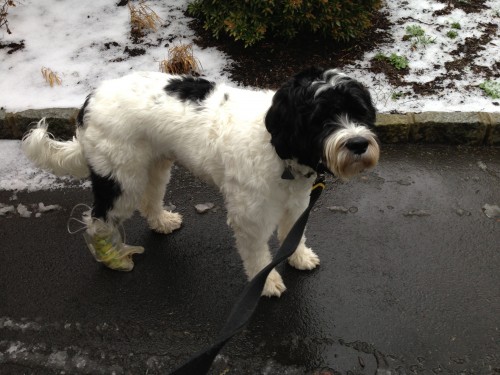 If I cone him, then I'll have to worry about doggie depression, exacerbated by the fact that he's not getting enough exercise because no matter how many times I walk him, it's not the same as running off leash in the woods or playing with his doggie friends at daycare.
Did I mention we're only on day 3?
I don't know how I'm going to manage 4 more days of my stir crazy dog and his makeshift IV bag boot.
Maybe some new boots for me?