Do designers really think we are so easily influenced, so gullible?
The last time I shopped for jeans, more than 5 years ago at the Gap Outlet, I purchased several styles, all size 4. Those jeans still fit but I've worn them ragged, generating small holes in unseemly places.
I am not lucky enough to have a Gap Outlet near where I live now, so I figured the half-yearly sale at Nordstrom would provide a good opportunity to replenish my denim at a reasonable cost. After collecting several different brands, all size 4, I proceeded to the dressing rooms to try them on.
Looking in the full length mirror, I saw the jeans pooched out a couple of inches at the waist, sagged slightly in the butt. Not just one brand, but all of the size 4s hung a bit too loosely.
There's NO way I'm a size 2.
Let me give you a little history. Back in high school, I wore a size 6. I'm pretty sure – no, I'm positive – that after two babies and more than 30 years, I am not thinner than my high school self.
In college, I gained 15 pounds but still wore a size 6. Had the designers not engaged in resizing, maybe I'd have curbed my late night beer drinking, burrito eating habits sooner. Instead, I ate and drank too much, cheered on by my size 6 jeans: Girl, you may look chunky but you're still a size 6!
I lost the college weight fairly easily once I stopped those bad habits and have been a fairly consistent size 4 ever since. I am very fortunate to fluctuate within a 5 pound range that determines only the size of my muffin top, not my jeans.
Yet I left Nordstrom with 3 pairs of jeans, all size 2. Remember, my existing size 4 jeans still fit. If I'm not shrinking, then the jeans must be growing.
Does this mean in 5 years I'll be a size 0? Plenty of women are thinner than I am – what size will they wear?  000?  Shame on the fashion industry for trying to trick us into believing we've slimmed down (or stayed the same) over the years, even though we haven't. Shame on them for propagating the notion that skinnier is better. In fact, their strategy of allowing women to claim a smaller size enables unhealthy habits and weight gain.
Are women really fooled by this trickery?
Weeeee…look at me, I'm a size 2!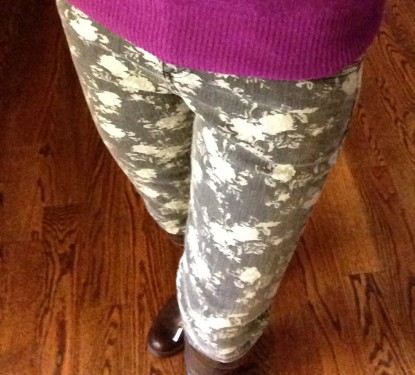 Only I'm not, really.
And I know it despite what the labels on my new jeans say.
___
Linking up with the wonderful yeah write community. Head on over to read some amazing blogs!