Back in the day, there was an unspoken moratorium on Christmas before Thanksgiving. Now, Christmas items creep into the stores on or just before Hallowe'en. Because retailers.
I don't know about you, but I am not ready to see the Ghost of Christmas Past, Present, or Future until the Hallowe'en ones are long gone and my belly is so full of turkey that I proclaim I'm never eating again (until leftovers the next day, of course). And that's still almost three weeks away. I have never pulled out the holiday decorations until after Thanksgiving and I don't think anyone else should either.
Except for me, when I have a good reason. Today in the mail, I received a handmade Santa doll that I ordered a couple of months ago from my friend Jacq. Her work is gorgeously detailed and full of love.
Just look at him.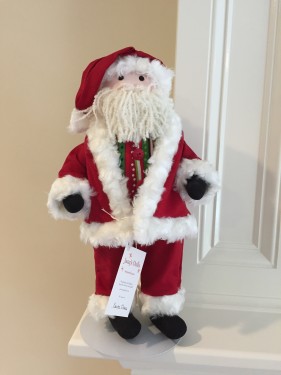 He is perfect. There is no way I can put him back in his box until after Thanksgiving. So he is staying and I don't even care that I am breaking my own rule.
Jacq makes all sorts of beautiful dolls. Some are ready to go or you can custom order. She makes babies, girls, boys, Santas (obviously), ballerinas, etc. The best part is she will make them in any skin tone you like. Is your Santa African-American? She's got you covered. Jacq will even make dolls of your kids and dress them in fabric saved from your favorite outfits. How amazing is that? She makes quilts too! I am so thrilled with my Santa that I already want another doll.
If you want one too, you can check out her website here. I am betting you will fall in love, just like I did.
___
This is yeah write's NoMo writing challenge Day 6.