Business takes Rich to California fairly frequently, which I put in the category of "Hey, that's not fair!"
He's there now. Most of the time he's working, sure, but these trips land him one town over from where we used to live. He can have dinner with our friends! He can enjoy the superior weather! He can dine at our favorite restaurants! While I stay in NJ. Fair?  I think not.
As if all of that weren't torturous enough, this time he stayed an extra day. To go to Wine Country. Without me. While it might be true that he asked first and I gave him permission, I'm still jealous that he's there and I'm not. We got married there. We want to retire there. We love it that much.
So last night I had to take matters into my own hands before I ended up in Whine Country, which holds even less appeal than being left behind in NJ.
First, I decided to use my imagination and creative play skills to bring Wine Country to NJ. I started by opening a bottle of our favorite Dry Creek zin, Rafanelli. The velvety fruity wine did not disappoint. But it didn't really work the way I'd hoped – I mean, I was drinking awesome wine but it was still dark and cold outside, with no view of rolling hills covered in vineyards. So, I aborted my plan to transform my family room into Wine Country.
Instead, I decided that maybe I'd garner a little sympathy.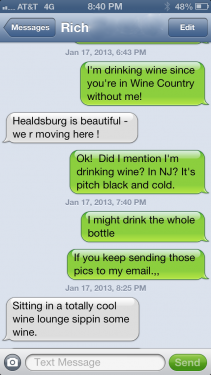 Clearly, that didn't work either.
The only sympathy I got at all came from Buster, whose big brown eyes looked at me, knowingly. So I put on his IV bag boot, and took him out to do his business.
My ungloved hands got so cold that they physically hurt. After that, there was no second attempt at pretending to be in Wine Country.
Only fantasizing, with my sympathetic dog at my feet.
But while Rich sits on a plane for six hours tonight, exposed to viruses and airline grime and who knows what else, I'll curl up on our couch, in our nice house, and sip some fine wine – not plane wine. And that's not fair either.
Life never is.
___
Left alone in NJ, I'm hooking up with Dude Write, where the cool Dudes hang out, so to speak. Only this week, it's for Dudettes! Check it out!