While I was busy for the last couple of weeks talking about breast cancer awareness, dabbling in fiction writing, having mishaps with the Harlem Globetrotters, and getting my fitness on, the lovely Cassie over at Foto Friendly Family gave me the Sunshine Award!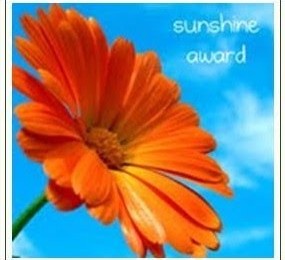 I'm so touched that Cassie gave me this award, even though I've written an entire hilarious post about how blog awards are like chain letters. This one is not nearly as much work as the Liebster Award was (the source of said chain letter post), so I'm just going to get right to it.
The conditions of this award are to answer the 8 questions below, then nominate 10 other awesome bloggers so they can repeat the process!

1.  What is your favorite Christmas/Holiday movie?
Christmas Vacation and Jingle All The Way are two must-watch movies for me. Chevy Chase and Phil Hartman are so funny! Oh, and Elf too!
2.  What is your favorite flower?
Orchids for their look; gardenias for their smell.
3.  What is your favorite (non-alcoholic) beverage?
Does wine count? No? Ok, latte then.
4.  What is your passion?
My family. After that, right now I'm passionate about 50 Shades of Fitness. And wine, of course.
5.  What is your favorite time of year?
Summer! I hate being cold and I love the longer days.
6.  What is your favorite time of the day?
Morning. Not when I'm rushing around on a school day but lazy weekend mornings.
7.  What is your favorite physical activity?
Hiking!
8.  What is your favorite vacation?
Hawaii. I miss going there – It's so far from the East Coast!
Normally, it's hard for me to nominate other bloggers for these awards since I have trouble choosing from all of the awesome blogs I read. I went with a different strategy this time. I decided to nominate bloggers who have written at least one post this week that indicates they could use a little sunshine. Plus, I love all of these blogs and think you should check them out if you haven't already!
Sending some rays to:
A Teachable Mom: Mary's poor cuticles suffer no matter what her mood.
Fancy This Fancy That: Ameena's husband called her heartless (but she's just fine!).
Fit and Forty Something: Kalli has had enough worries to give herself an ulcer.
Fractured Family Tales: Robbie's son is having a hard time in middle school.
IA Soup Mama: Courtenay had a rough week and now she has to go to Chuck E Cheese. She got an award this week already, but I'm sending her more sunshine anyway!
Just Begin From Here: Melisa has been sick AND has freaky skin.
Naptime Writing: Naptimewriting is locked in the bathroom.
Outlaw Mama: Someone asked Christie if she's pregnant. She's not.
Time Out For Mom: RoryBore is in a time out for the sin of super hero omission.
50 Peach: Peach broke up with her boyfriend.
Please do whatever you want with this award. Ignore it or post about it. I get the chain letter aspect. I just wanted to pass along some sunshine!
Happy weekend to all!